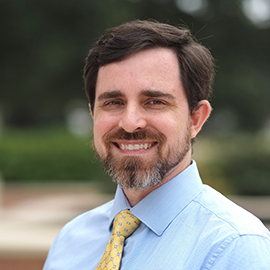 Geoffrey Hudson, Ph.D., CSCS
Associate Professor and Exercise Science Undergraduate Program CoordinatorExercise Science

---
Education
B.S., Chemistry, University of Alabama, 2004
M.A., Human Performance, University of Alabama, 2006
Ph.D., Exercise, Nutrition, & Preventive Health, Baylor University, 2010
---
Teaching Philosophy
My primary objective as a teacher is to facilitate learning. My aim is to guide students through the learning process. Acquisition of this skill will benefit students beyond the limitations of their tenure as a student and prepare them to be a life-long learner. Integral to this process is helping students develop critical thinking skills. Upon becoming professionals, students will encounter unexpected situations and be required to integrate academic and practical knowledge in order to solve the complex problems presented in their field. As a result, development of these higher order thinking skills is critical to their success. In my teaching experience, a blend of the following three objectives are encompassed in most of my courses: 1) build foundational knowledge for future coursework; 2) acquire knowledge and develop skills for a career; and/or 3) cultivate higher order thinking skills. Before teaching a course, I assess the degree to which these three objectives are expected from the course and implement teaching methods that will be most beneficial for achieving those objectives. I try to incorporate some of my practical experiences as a researcher and working in the field of sports nutrition into lectures whenever possible to help make some of the more difficult content more relatable to my students. No matter the course objective or difficulty of the material, I always try to emphasize the purpose of the content that we are covering / assignment that they have completed and how it relates to those main objectives that will help the students in their futures courses or careers.
---
Research
Most of my current research interests are related to the prevention of obesity and type II diabetes.
More specifically, I am currently researching the utilization of optical body fat scanners for digital anthropometry and estimation of percent body fat. I have also completed numerous research projects investigating the effects of exercise training, nutritional interventions, and aging on the physiological adaptations and biochemical mechanisms involved in the regulation of metabolism, body composition, insulin sensitivity/glucose uptake, weight loss and weight management. Additional research interests of mine include the effects of caffeine on anaerobic exercise performance and pain perception. Below is a summary of my current projects:
The AVATAR Study: Validation of digital anthropometric measurements of 3D virtual models and development of a prediction algorithm for percent body fat
Impact of Body Fat Testing on Body Esteem
Utilizing virtual 3D avatars to improve body self-perception assessments
Energy system specific analytical techniques for Wingate anaerobic capacity tests
---
Outreach
I am member of the American College of Sports Medicine (ACSM) and the National Strength & Conditioning Association (NSCA). I serve as the Certified Strength & Conditioning Specialist (CSCS) sponsor for the NSCA recognized undergraduate program in HKS. I also serve as a manuscript reviewer of sports nutrition research for numerous academic journals. I appreciate the opportunity to serve the HKS department on a number of academic committees and enjoy serving the Mobile community through my local church.
---
Biography
I grew up in Jasper, AL and went to school as a Pre-Med, Chemistry major
I grew up in Jasper, AL and have always loved helping people. I found that often helped through teaching or mentoring. I was also intrigued by the science of how the human body worked, so putting those two passions together led me to believe that Pre-Med would be the best track for me in college. With that intention in mind, I chose to be a Chemistry major and Nutrition minor at The University of Alabama. As a Senior, I discovered the field of Exercise Physiology and knew that this was actually the field for which I had been searching. I loved working with college students as a tutor, a resident adviser, and through campus ministries as an undergraduate student and knew that a career in academia would be a great fit. After getting a Master's degree in Exercise Physiology at Alabama, I pursued an integrated PhD program at Baylor University to learn more about sports nutrition, but along the way I gained an interest in the etiology/pathophysiology of obesity and type II diabetes. After Baylor, I served as an Assistant Professor at The University of Southern Mississippi in Hattiesburg, MS, and was then at The George Washington University in Washington, DC for 5 years. I appreciate the collaborations that I built at these schools, but am happy to call Mobile and the University of South Alabama home.
In my spare time, I like to go to the park and the beach with my wife and young daughter. I enjoy playing guitar, beach volleyball, tennis, and strategy board games. I also love watching NBA basketball and college football.
---
Courses
KIN 474 - Sport and Fitness Conditioning
KIN 476 - Exercise Physiology
KIN 486 - Advanced Exercise Physiology
KIN 505 - Research Methods in Health, Kinesiology, and Sport
KIN 571 - Exercise Management for Chronic Diseases & Disabilities