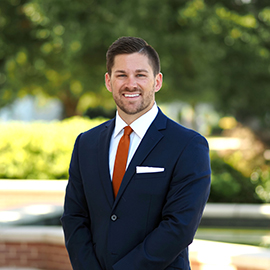 Joshua Keller, Ph.D., CSCS*D, CISSN
Assistant Professor - Department of Health, Kinesiology and SportExercise Science

---
Education
B.S., Exercise and Movement Sciences, University of Cincinnati, 2014
M.S.E., Exercise Sciences, University of Dayton, 2016
Ph.D., Exercise Physiology, University of Nebraska-Lincoln, 2020
---
Teaching Philosophy
Diversity is being invited to the table. Inclusion is having a seat at the table. Belonging is having your voice heard at the table. My understanding of this includes the promotion and inclusion of all races, socioeconomic groups, genders, and sexual orientations within and outside of higher education. It is my goal to continue developing my ability to empathize with others, acknowledge differences, establish commonalities, and build relationships. In conjunction with this goal, my teaching philosophy includes treating students as active participants in the learning process, invoking a synthesis of information, and encouraging high-level critical thinking. It is my belief that the most effective educators possess the ability to motivate students to explore their own attitudes and opinions regarding classroom content.
---
Research
My research interests include the examination of sex differences under a wide range of physiological conditions such as during exercise and during periods of transient ischemia. It is the current goal of our laboratory group to investigate specific exercise prescriptions targeted at the improvement of peripheral vascular function in attempt to promote healthy aging and the maintenance of cognitive health. To address these and related topics, we primarily use non-invasive methods such as near-infrared spectroscopy, pulse-wave doppler ultrasound, and electromyography. It is my personal goal to better understand the robust benefits of exercise, so that more effective and individualized recommendations may be developed for individuals across the lifespan.
---
Outreach
I am actively involved in professional organizations such as the National Strength and Conditioning Association, American College of Sports Medicine, and American Physiological Society. Additionally, I regularly volunteer with the organization Heart for Athletes, which aims to prevent sudden cardiac arrest in youth.
---
Biography
I am originally from Dayton, OH where I attended high school and participated in varsity football, basketball, baseball, and track & field as a pole vaulter. I graduated from the University of Cincinnati (UC) with a BS in Exercise and Movement Sciences (2014). While at UC, I was a varsity cheerleader and was very involved in the Greek community. I earned my Master's in Exercise Science at the University of Dayton (2016). Before starting my Ph.D., I worked in the Division of Nephrology within UC's College of Medicine. I completed my Ph.D. in Exercise Physiology at the University of Nebraska-Lincoln (2020). During my time in Nebraska, I advised a national Fraternity chapter and I frequently traveled to Colorado to enjoy outdoor activities such as snowboarding and hiking. My personal physical activity now consists of regularly cycling with various groups around Mobile and Fairhope. While not working or cycling, my wife and I are proudly raising an Aussiedoddle named Leucine "Lucy" Keller, she is essential.
Courses
KIN 479: Fitness Assessments and Exercise Prescription
KIN 476: Exercise Physiology