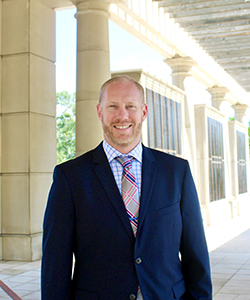 Mitchell Woltring, Ph.D.
Associate Professor, Department of Health, Kinesiology and Sport Sport Management and Recreation Studies

---
Education
B.S., Sport Management, Minnesota State University, 2009
M.S., Sport Management, Middle Tennessee State University, 2013
Ph.D., Human Performance (Concentration in Leisure and Sport Management), Middle Tennessee State University, 2015
---
Teaching Philosophy
First and foremost, I strive for continuous improvement in my craft as an educator as it is vital to meeting the priorities of our major, department, college, and university. In my time at the University of South Alabama, I find myself focusing on two ideas when it comes to improvement to teaching (as well as research and service): integration and collaboration. I believe that teaching in the field of Sport Management is significantly enriched when connections are forged with the other fundamental aspects of one's professional career. In that same vein, the education process is not improved in a vacuum; a multitude of constituents from experts, administrators, peers, and students deserve inclusion for holistic improvement.
---
Research
My research agenda and interests have evolved over my time at The University of South Alabama. Currently, much of my research is in conjunction with colleagues, and relates very closely to important issues in both sport management, and issues specifically important to The University of South Alabama. These areas are research into the student-athlete experience, and the impact of service learning in the Sport Management discipline. As with my teaching and service, I see integration and collaboration as cornerstones of effective research. When research interests among colleagues exists, leveraging such combined inquisitiveness can substantially impact production, and the overall contribution to the body of knowledge.
---
Outreach
I believe that service is an integral component of my position. As I have progressed I have looked to take on more service responsibilities in its many forms – as assigned, as sought out professionally, and within the community. One element that I have tried to be cognizant of with my service is its connection to the other basic components of my position – teaching and research. Not everything will have a direct impact on those other components, but I believe it is important to seek out those that do. In addition to the department, college, and university-level committees I have worked with, I have sought out non-compulsory service at the university level such as serving on Faculty Senate, and at the college level such as serving on Faculty Council. Within that, I also took on the role of Caucus Leader for the College of Education for two years. Two organizations I have worked with, ASAHPERD and the Senior Bowl, present diverse perspectives on the role of service. I have been a member of ASAHPERD as well as served as a committee chair for the Research Council. Becoming a member of the Senior Bowl Committee is service that has helped to forge bonds within the local community not only for me, but for the benefit of my students. Many of our students have worked with the Senior Bowl as volunteers, seasonal workers, or as interns. My goal is to continue to grow the relationship between the Senior Bowl and our Sport Management program, so that in the future when the Senior Bowl is looking to fill positions, they start with USA Sport Management.
---
Biography

Dr. Woltring is originally from West Bend, Wisconsin and is married to Sarah Woltring, a teacher at Murphy High School in Mobile. Together they have dog named Lambeau, and are both avid Green Bay Packer and Milwaukee Brewer fans. In addition to his educational background, he has served many professional roles in the field of sport management. He has worked in high school sports, worked for the Middle Tennessee State University baseball team, and has also worked for the La Crosse Loggers Baseball Club, the Milwaukee Brewers Baseball Club, and the New York Mets Baseball Club. These professional involvements supplement my teaching as I am able to incorporate them into my lessons and class discussions.
---
Courses
SM 286 Sport Governance and Policy
SM 384 Sports Marketing
SM 391 Leadership in SMRS
SM 483 Issues in HKS
KIN 376 Coaching Basketball
KIN 475 Organization and Administration of Health and Physical Education