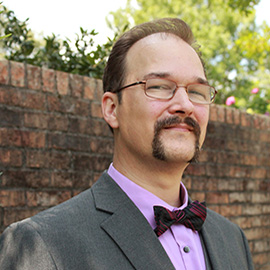 Danny L. McCarty
Assistant Professor, Department of Counseling and Instructional Sciences, Clinical Mental Health Counseling

---
Education
B.A., Psychology, University of South Alabama, 2012
M.S. Clinical Mental Health Counseling, University of South Alabama, 2015
Ph.D., Counselor Education and Supervision, University of Arkansas, 2019
---
Teaching Philosophy
People often learn best through cooperative experience and reflection. I therefore use an integration of the Adventure Wave and the Experiential Learning Cycle to give students an experience of lectures, activities, and class discussions. I strive for this integration because students create new ways of understanding as they reflect on their experience. This cooperative creation of meaning helps students take ownership of their learning. The learning process resembles a wave—the Adventure Wave. Students prepare for the coming wave through debriefing, which could include anything from a lecture to an explanation of a class activity. Students then ride the wave by doing a relevant activity. Afterward, I use the Experiential Learning Cycle to inform the debrief of the experience. The debriefing involves reflecting, generalizing, and transferring new knowledge.
---
Research
I primarily develop and investigate creative applications of Adlerian theory (sometimes using Adventure concepts), and research how these applications both cultivate counseling progress in clients and help people who are at risk in our communities. I love applying creativity to theory and practice.
---
Outreach
I want to help people who are at risk, specifically in our local and surrounding communities. And all people recovering from addiction are close to my heart.
---
Biography
I was born in Louisiana and moved to Satsuma, Alabama at the age of 10. I like to hike, write, read philosophy, and study Hebrew. I have a wife and two wonderful children; and one of my favorite things to do is read bedtime stories to my children.
---
Courses
CED 562 ' Addictions Counseling
CED 571' Foundations of Clinical Mental Health Counseling
CED 586' Counseling Skills and Process
CED 590' Special Topics: Adlerian Counseling
CED 597 – Internship in Clinical Mental Health Counseling