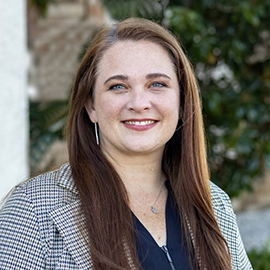 Karen Morrison, PhD
Assistant Professor of Elementary EducationDepartment of Leadership and Teacher Education

---
Education
Ph.D. The University of Alabama, 2019
EdS. University of West Alabama, 2012
M.Ed. University of Montevallo, 2008
B.S. University of Montevallo, 2003
---
Teaching Philosophy
The power of a classroom where students are confident in taking risks within their learning and supported through research and discovery of content are critical elements for successful learners. I believe all students can learn and each bring diverse backgrounds and experiences into the classroom, which leads to rich conversations and perspective. It is my desire to provide effective teaching through modeling, collaboration, support and guidance throughout each course to develop skilled and prepared teachers. I emphasize the value of being a life-long learner and model this through community and professional involvement across local and USA campus events.
---
Research
My research focuses on early and emergent literacy strategies and instruction. I am also interested in visual and graphical literacy in the content areas.
---
Outreach
I serve the LTE Department by being an active participant in the following: Faculty Service and Development Committee, CPAC, Display Case, Co-Program Coordinator for Early Childhood Studies, Kappa Delta Pi Sponsor, New Faculty Scholars, and the Faculty Learning Community.
---
Biography
I am a graduate of The University of Alabama, with a Ph.D. in Curriculum and Instruction in Elementary Literacy. I earned an Educational Specialist Degree from the University of West Alabama in Elementary Education. I also received my Masters and Bachelors of Science in Elementary Education from the University of Montevallo. A certificate in Early Childhood Studies from the University of Alabama at Birmingham opened the door for my public school experience, where I taught 15 years in preschool, kindergarten and 2nd grades in Bibb County, Alabama.
While working on my Ph.D., I had the opportunity to co-teach Early Childhood Education courses to undergraduate students paired with field experience at The University of Alabama.
As an Assistant Professor of Elementary Education in the LTE department at the University of South Alabama, I am able to share my collective knowledge and experiences with inservice and preservice students.
My husband and I have been married for 26 years and celebrate 2 grown children who are both in college! Our daughter attends the University of South Alabama and our son attends The University of Alabama.
---
Courses
LTE 645 Curriculum Leadership
LTE 646 Community and School Leadership
RED 531 Trends and Practices in Teaching Reading
RED 648 Literacy Coaching Teacher Leaders