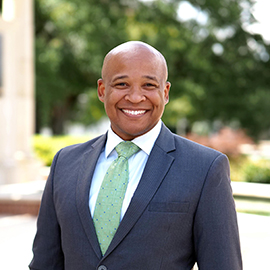 Benterah C. Morton, Ph.D.
Assistant Professor Department of Leadership and Teacher Education Educational Leadership and Administration

---
Education
A.S., Teacher Education, Dekalb College, 1998
B.S., Secondary Science Education, University of West Georgia, 2001
M.Ed., Administration and Supervision, University of West Georgia, 2003
Ed.S., Educational Leadership, Louisiana State University, 2015
Ph.D., Curriculum and Instruction, Louisiana State University, 2015
---
Teaching Philosophy
In understanding educational leadership we must consider two types of leadership: educational leaders and administrators. Administrators are often very good facilitators of resources, people, and the physical plant. However, their primary focus is often on management, prioritizing the intricacies of curriculum and instruction is secondary or tertiary at best. By contrast, the instructional leader intentionally embarks on the journey to balance the expectations of an administrator while making curriculum and instruction a primary priority. An instructional leader leads through service and integrity all while keeping the main thing, student achievement and success, in focus. They are well rounded educational leaders who are actively engaged in best practices. Further, they understand that best practice is not synonymous with equal distribution of resources. Instead, best practice is more closely related to the provision of equity in opportunities for all students to experience success continually.
Leadership, I believe, is more than a word that implies that one person is more superior in skill, talent, and status than another person is, instead leadership is the ability of one person or group of persons to discern the necessities of the group and provide guidance and support in such a way that those necessities are met or exceeded. There are a variety of strategies and styles that can be utilized to reach the desired outcome of the group and a leader must pull from each of these styles individually or combine them when necessary to reach the desired outcomes of the group. Leadership at its core is servanthood. As a result a leader considers the available data and feedback from a variety of sources then makes an informed decision. A leader understands that the decision may not make everyone in the group happy, but it benefits the group as a whole.
---
Research
Currently exploring the role of P-12 instructional leaders in meeting the needs of diverse populations. Research interests include: Curriculum and Instruction, Leadership Preparation, & Mentoring.
---
Outreach
I serve the LTE Department and students by being an active participant of the Diversity Committee. Additionally, I serve on the College's Academic Standards Committee. I look forward to providing support to local schools in consistently making provision for providing equity in opportunities for all students to experience success continually.
---
Biography
I am a graduate of Louisiana State University, with a Ph.D. in Curriculum and Instruction and a Certificate of Education Specialist in Educational Leadership. Teaching courses at USA allows me to utilize current literature and pull from eight years of experience as a school administrator: 3.5 years as assistant principal and 4.5 years as a campus principal. As a campus level administrator and instructional leader, I worked within the organization to promote democracy in education by developing and leading a campus improvement team consisting of parents, teachers, and community members that evaluated campus policy, instructional programming, and campus culture. Our primary goal was to provide equity in opportunities for all of our students to experience success continually. Working closely with parents and teacher leaders I was able to identify innovative ways to educate parents and teachers on strategies for working with children as an extension to daily instruction. In addition, as a collaborative instructional leader I worked with campus and district administrative teams and faculty to develop, promote, implement, and maintain visibility of our Mandarin Chinese and Vietnamese language immersion programs.
As an Assistant Professor of Educational Leadership in the LTE department at the University of South Alabama I bring a wealth of knowledge and a creative perspective including experience working to establish and maintain positive partnerships between universities and K-12 schools and a general understanding of their respective accreditation processes. Developing and teaching courses in educational leadership align with my desire to prepare instructional leaders to lead through service and integrity all while keeping the main thing, student achievement and success, in focus. Additionally, my years of experience as a campus principal working with diverse student populations prepares me to teach best practices in respect to educational law, campus budgeting, quantitative and qualitative research methods, and leadership and organizational change all reinforced through sound educational philosophy. I work with the students to identify characteristics of instructional leaders and contrast those with characteristics of administrators in an effort to show both perspectives and prepare them to be well-rounded educational leaders that are actively engaged in best practices. Furthermore, I call upon my experiences organizing and facilitating study abroad programs to Concepción, Chile to explore the necessities of developing fluid understandings of the diversity of humanity.
---
Courses
EDL 501 - Theories of Instructional Leadership
EDL 502 - Data-Driven Instructional Leadership
EDL 503 - Supervision and Professional Development
EDL 598 - Residency
EDL 607 - Leading Schools in a Multicultural Society
EDL 799