South Alumna Named Middle School Principal of the Year
---
Posted on February 5, 2019 by jwashing@southalabama.edu
jwashing@southalabama.edu
---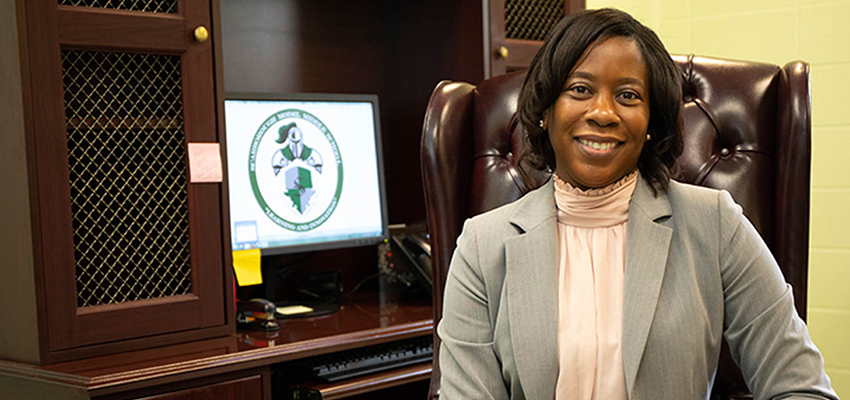 Andrea Dennis, a graduate of the University of South Alabama's College of Education and Professional Studies, is the principal at Scarborough Middle School, where she was recognized statewide for her work.
---
When you drive up to Mobile's Scarborough Model Middle School, the announcement sign out front proclaims "Greatness is in You ... Activate it."
Andrea Dennis, a graduate of the University of South Alabama's College of Education and Professional Studies, is the principal at Scarborough. She was recently greeted with a surprise celebration as she has been named Middle School Principal of the Year for Alabama. Although the spotlight is on her, she applauds her students, teachers, staff and parents for understanding their greatness."
"This was a true team effort at Scarborough," Dennis said. "This award helped reinforce what I have been sharing. I have phenomenal students and teachers. Together, with the parents and community leaders, we have achieved tremendous growth. I advocate daily for my students. They deserve the very best. I have worked hard to establish relationships with my students. It's the core of any improvement process."
Dennis was initially accepted into South Alabama's College of Medicine, but while enjoying the classes, she realized a career in medicine was not in her future. However, she was inspired to pursue a master's in education. With her love for science, she graduated in 2002 with a master's degree in secondary science education. And with the encouragement of her husband Joseph Dennis Jr., she earned her certification in educational administration in 2007.
Dennis said she had a wonderful experience at South Alabama, and was very prepared to start her career in education.
"Ms. Dennis is deeply committed to high academic standards, coupled with providing opportunities for her students to engage in enrichment activities such as after-school clubs and summer programs," noted Dr. Andrea Kent, dean of the College of Education and Professional Studies. "She knows all of her students by name, and she is committed to her teachers, parents and community. She demonstrates that commitment through her personal dedication to help every child succeed at Scarborough. The fact that Ms. Dennis is an alumna of South is simply the icing on the cake."
Dennis, whose mother taught in Mobile public schools for 37 years, started her education career at Theodore High School as a science instructor, moved up to achievement specialist and then assistant principal. She joined Scarborough in 2016 as principal at a time when the school was not performing at its best. Prior to Dennis receiving her top principal award, the school received a jump on the state report card from an 'F' to a 'C.'
Her supervisor, D.H. Walton, school improvement administrator for the Mobile County Public School System, said Dennis is determined. She takes recommendations and executes her plan well.
"Mrs. Dennis never quits," Walton said. "Her perseverance is amazing and her love and dedication for children is remarkable. She diagnosed the problem and created a prescription for students, teachers, staff and parents. She had her eye on the solution, not the problem. "
---
---