Back to the Lab for Summer Research Experience
---
Posted on July 28, 2021 by CEPS
CEPS
---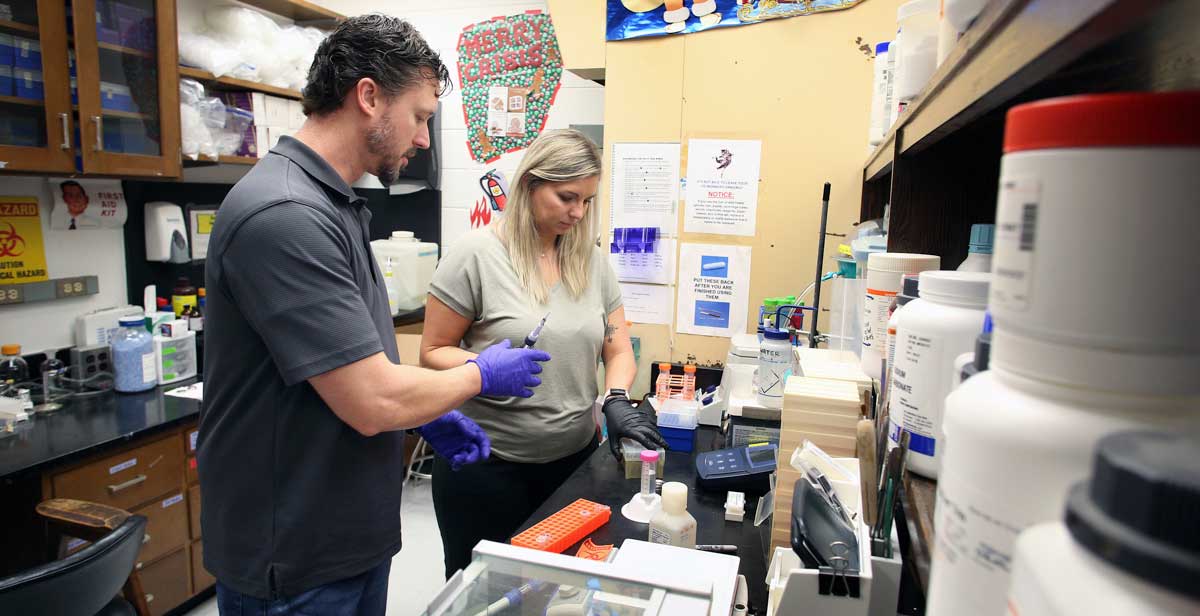 Mike Fletcher and Amber Simpson, a pair of Mobile County public school science teachers, do lab work during a six-week summer program for high school educators at the University of South Alabama.
---
For Amber Simpson, a biology teacher at B.C. Rain High School, summer research is like entering a time machine.
"It feels like I'm back in college," she said at the University of South Alabama, where she and seven other educators are on campus participating in a professional development program. "That first week, doing all the computer systems, I needed a lot of introduction. In the lab, I didn't expect to get as much hands-on work as we've done. We've been able to test samples and do a lot of things on our own."
Her lab partner, Mike Fletcher, a mathematics teacher at Davidson High School, has completed several science projects at South. This summer he signed up for the six-week program, Research Experiences for Teachers in Biologically-Inspired Computing Systems.
"The organization of this experience is different," he said. "It feels more like a team exercise. That's good. Each team depends on the other teams. This seems new. It feels like real research."
Charlene Lockett, who spent 20 years at a local hospital before joining the mathematics faculty at Blount High School, is working through a different kind of new experience.
"When they throw in the math part, I've got it, but when it comes to computer terminology, I'm still learning," she said. "I've been giving myself some homework, so I'm a little more comfortable. I got up early this morning to look at some videos on building a decoder.
"It does feel weird. I'm a teacher, and students think teachers know everything, so my students would be shocked — oh, Mrs. Lockett, you didn't know that?"
The Research Experiences for Teachers program is funded by the National Science Foundation. There will be a second group of educators in 2022 and a third in the summer of 2023.
Summer lab work and lectures are just the beginning of the project. Teachers get a stipend for participation and a budget to purchase equipment for their classrooms.
The goals of the program include University scientists and engineers building relationships with teachers and administrators at local schools. For South, it offers an opportunity to improve teacher experiences and recruit engineering and computing students.
Leading the Research Experiences program are Dr. Na Gong, Warren Nicholson associate professor of electrical and computer engineering, and Dr. Shenghua Zha, assistant professor of counseling and instructional sciences.
Their project was delayed more than a year by the coronavirus pandemic, so they've been excited to get started this summer.
"For me, the biggest surprise is that the teachers learn much faster than I expected," Gong said. "They put in a lot of time and work hard on the research projects. They also discuss how to apply their research in the development of their curriculum, which I am very excited about."
"Everything's going as we had planned, but there's always room for improvement in the next offering of the program," Zha said. "We're excited and the teachers are excited. The mentors and graduate students have both made huge contributions."
Teachers are organized into four groups for the research program in the area of biologically-inspired computing systems, from advanced hyperspectral imaging techniques for early cancer detection to designing biologically-inspired computing chips/systems to advanced power-efficient computer memory chips to support software.
Mentors who are leading the groups are Gong; Dr. Jingshan Huang, professor of computer science; Dr. Silas Leavesley, professor of chemical and biomolecular engineering; and Dr. Jinhui Wang, associate professor of electrical and computer engineering. Drs. Katie Guffey and Chris Parrish from the College of Education and Professional Studies taught two workshops during the summer program and will continue to offer consultation and conduct collaborative research for the upcoming fall and spring semesters. Dr. James Van Haneghan, interim chair of counseling and instructional sciences, leads formative and summative evaluations for the project.
In addition to Simpson, Fletcher and Lockett, participating teachers include Randa Smith from Central Baldwin Middle School, Victoria Wilson from Murphy High School, Anthony Bondora and Ashton Irvin from Davidson High School, and Shila Gilbert from LeFlore High School.
'A Quick Six Weeks'
On the first day of the summer program, teachers were welcomed by school officials and University administrators.
Paul Agnew, an academic supervisor for Mobile County Public Schools, talked about changes in teaching the STEM subjects of science, technology, engineering and mathematics. Instead of following the old "spray and pray" method of teaching facts and figures, the goal is to move toward a more meaningful and memorable education experience.
"This is a great opportunity for you as teachers," Agnew said. "We need you to be role models. If we don't challenge ourselves, we can't challenge our students."
Jeremy King, education technology coordinator for Baldwin County Public Schools, praised the educators for their endurance and enthusiasm. First, they completed the challenge of teaching during the coronavirus pandemic. Then they signed up for a summer project to improve their methods and practices.
"This is something you can bring back with you," King said. "That's why I'm excited about this program."
During the summer research program, teachers do lab work in the morning. In the afternoon, they meet for lectures and lesson plans.
Guffey, assistant professor of leadership and teacher education at South, talked with the teachers about the importance of learning about their students and sharing conversations outside of class subjects. Studies have demonstrated the educational value of these relationships.
She practiced what she preached, telling the class about getting married during the pandemic, and how she's been studying for her pilot's license.
Guffey asked the teachers about their careers and side interests. Most have earned bachelor's or master's degrees at South. Many had changed careers before getting into education.
At B.C. Rain, Simpson teaches everything from biology to anatomy and physiology. She's also starting a volleyball program.
Fletcher, who's been at Davidson High for 23 years, began his teaching career by filling in for a friend on maternity leave. He also got married during the pandemic.
Bondora has been an epidemiologist and worked in pharmaceutical research. He spent a year restoring classic cars for sale.
The role reversal from teacher to student in the South program required some adjustment.
"It was overwhelming at first, but it's been a good experience," Bondora said. "This is right up my alley, learning something new."
The challenge for teachers will be bringing lessons from research to school in the fall. For Simpson, links to her classes are obvious.
Her research team does less computer programming and more lab work. She and Fletcher process samples and generate images that machine learning will recognize as having the characteristics of cancer cells. They also write lab reports and lesson plans.
"I teach anatomy and physiology, so the stuff we're doing here directly relates to those classes," she said. "I'm also looking at ways to relate it to my marine biology class, using bioluminescent algae and running them through spectrometers."
For Fletcher, the summer research program feels like a break from the stressful routine of a public school teacher. He appreciates the chance to use some of the advanced equipment at the University. He enjoys having more than 20 minutes to eat lunch.
"This is much more relaxed than our normal world," he said. "They've taken care not to make it a stressful environment. It doesn't feel like we're under deadlines. It's just every day we learn more."
The summer research program participants recently presented their projects and experience at a symposium. Click here to read about each of their research experiences and to view photos from the presentations.
---
---