USA Professor's Recent Article Widely Read
---
Posted on August 13, 2021 by Joy Washington
Joy Washington
---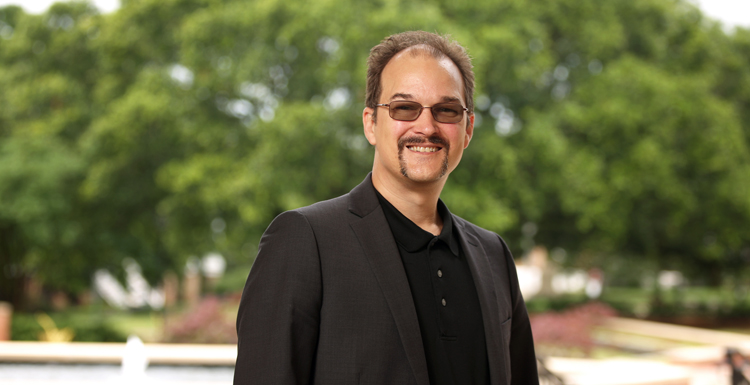 Dr. Danny McCarty, an assistant professor in the department of counseling and instructional sciences, article, titled "Experiential Education during the COVID-19 Pandemic: A Reflective Process," is now the third most-read article ever published in the Journal of Constructivist Psychology.
---
Dr. Danny L. McCarty, assistant professor at the University of South Alabama, recently wrote an article that is now the third most-read article ever published in the Journal of Constructivist Psychology.
McCarty's article, titled "Experiential Education during the COVID-19 Pandemic: A Reflective Process," also has been cited 11 times since publication.
"I find it hard to believe that this is one of the most-read articles. But, it was very self-reflective for me to write this article," McCarty explained. "I am trained in experiential learning and adventure therapy. I used experiential activities to deal with the problems of COVID by Briefing, Doing and Debriefing in my counseling courses. This was an integrative model combining the adventure wave with the experiential learning cycle to aid my students with learning in the virtual classroom."
According to McCarty, who teaches in the department of counseling and instructional sciences in the College of Education and Professional Studies at USA, Experiential learning programs support students in gaining experience, developing technical and interpersonal skills, building career readiness, professional networks and engagements with the community to serve when needed.
"The goal is to guide the students in learning from a particular experience," McCarty noted. "George Kelly, a pioneer in constructivist theory and proponent of experiential education, wrote 'that it is through the process of thinking about the experience that one gains knowledge.' After the students share what they have learned, they list their goals and incorporate what they have learned. Basically, you spend time evaluating your individual experiences."
McCarty also shared how with the COVID-19 pandemic, faculty had to re-think their course instruction to better engage with students during online classes. McCarty also used an Adventure therapy technique called Circles of Comfort.
"Due to COVID-19, we had to improvise," he said. "I had my students imagine a hula hoop as being in the center of the circle, which is the panic zone of being fearful and stressed. The next circle is the comfort zone, which is where we are free of anxiety. I shared with my students that we want to always make decisions that keep us in the stretch zone, which is where we are having new experiences, taking risks, learning, and being successful."
McCarty also shared with his students the importance of being comfortable with clients who are different than they are.
"We discussed multicultural issues in our country and how to grow as humans," McCarty expressed. "What my students learned was that as humans, we have to learn how to adapt to different people and environments. The more we practice it, the better we become."
Based on the success of the article, McCarty was also invited by Yardstick Educational Initiatives to give a presentation to more than one thousand people via Zoom at an international conference on "Experiential Learning Amid the Pandemic."
"I was honored to present with so many incredible presenters," he said. "It was a surreal moment in my life to see me in the same Zoom session with other professionals who are giants in this field of study."
McCarty said his journey to find his career purpose has not been easy. When he first started college, he struggled and dropped out for a while before returning to earn, his bachelor's and master's degrees from South Alabama. He earned his doctorate from the University of Arkansas.
After the death of McCarty's brother, it left him with a sense of heavy grief, but he wanted to remember him through his life's purpose.
"I remember sitting at a red light after my brother died, and I was thinking why I needed to move when the light turned green," he said. "The people I love helped me move forward. And now, I have to honor my departed loved one by doing what I love in his memory. I love teaching, counseling, doing research, and writing. Thanks to my wife and daughters for encouraging me, and for my mentor faculty members at South, I have had a full-circle moment to earn my degrees and now teach at South Alabama, which gave me this opportunity to write for this journal."
McCarty has also authored an article "Using Adventure Therapy Activity to Assess the Adlerian Lifestyle." He was interviewed by Phil Brown regarding this article and it was broadcasted on "Vertical Playpen," the premier podcast for Adventure Therapy on June 8, 2021.
McCarty's articles can be read at the following links:
https://www.tandfonline.com/doi/full/10.1080/10720537.2020.1813666
https://scholarworks.uark.edu/cgi/viewcontent.cgi?article=1004&context=rhrcpub
---
---