Jaguar Wins Gold in Tokyo
---
Posted on September 9, 2021 by Thomas Becnel
Thomas Becnel
---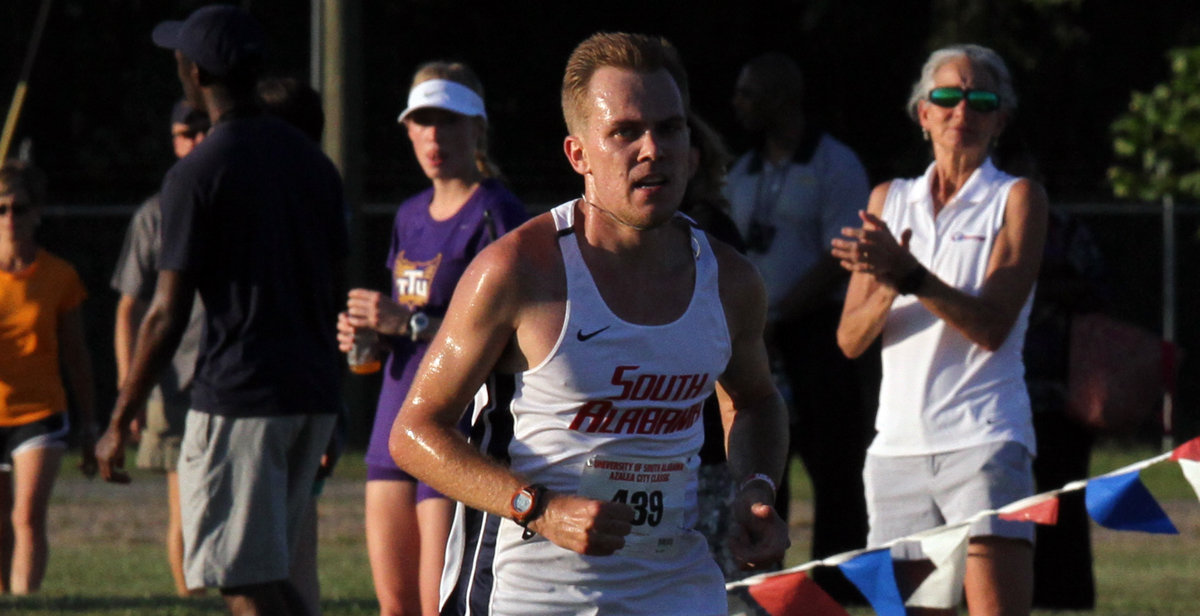 Nate Riech competed for the track and field team at the University of South Alabama in 2015-16. He will compete at the 2020 Summer Paralympic Games in Tokyo.
---
Note: Nate Riech won a gold medal on Saturday, Sept. 4., in the 1,500-meter run at the Tokyo Paralympic Games. This story was published prior to the competition.
After a childhood accident left Nate Riech partially paralyzed on his right side, running became his therapy, his sport and his passion.
He competed for the track and field team at the University of South Alabama in 2015-16, then prepared to find a new focus for his competitive spirit.
"I thought I was going to be out of sport, but then this opportunity came up in the Paralympics," said Riech, 26. "My mom said, 'Look, there's this racing classification that's perfect for you,' and I got thrown into that, and I got to do all this media, which is something I love doing."
He began competing in the T38 classification for athletes with an impairment that results in lack of control and coordination in one or more limbs. He has won the 1,500 meters and set world records in the Pan Am Games and World Championships.
On Sept. 3 and 4, Riech will compete at the 2020 Summer Paralympic Games in Tokyo, Japan.
He hopes to run his races in 3 minutes and 45 seconds. He hopes to set another world record. He hopes to win a gold medal and serve as a role model for all of the disabled youths who dream of competing one day.
"I'm very passionate about working with kids growing up with a disability or a traumatic brain injury like the one I suffered," Riech said. "That's one of reasons I went to South, because they had a Children's & Women's Hospital. I love to volunteer at children's hospitals because I know what it's like to not feel normal, and when you're a kid, that's not something you want to do."
Paul Brueske, the South head coach of track and field, isn't surprised Riech is still racing.
"He's overcome so much in his life," Brueske said. "It hasn't been easy for him, but he never gives up, and you always like to see a person like him succeed. We're always happy to see our athletes continuing to be successful."
Riech studied communications at South before earning a 2017 degree in interdisciplinary studies. His best finish on the track was third place in the indoor mile at the Sun Belt Conference Championships. He also won meets as part of distance medley relay teams.
He was a popular athlete in Mobile. Jaguar runners used to tease him about the huge blender he used to mix kale smoothies. He was part of a group that played golf and watched college football on weekends.
Katleho Dyoyi, a former track athlete at South, used to work out with Reich. They shared dozens of training sessions. He remembers Riech as a good runner and a better teammate.
"It wasn't just about himself," Dyoyi said. "He was about enjoying the moment with everyone. He always had a heart for people. He was someone who embraced teamwork, someone who was reliable, someone who would join you anytime just to make sure you were doing well."
Honoring Sacrifices
Reich, who has dual citizenship, will represent Canada in the 2020 Paralympic Games.
He wanted to honor the sacrifices of his mother, Ardin Tucker, who competed in the pole vault at the national level in Canada. His father, Todd Reich, threw the javelin for the United States at the 1996 Olympic Games in Atlanta. His stepfather, Ben Tucker, played baseball in the San Francisco Giants organization.
Now Riech lives in Victoria, Canada, near Vancouver. He trains at a Canadian Sport Institute. He races against able-bodied runners whenever he can.
As a boy growing up in Arizona, outside Phoenix, Riech was a baseball fan who enjoyed different sports. At the age of 10, he was struck in the back of the head by a golf ball while playing with friends. The impact caused him to have a seizure and left him partially paralyzed, unable to control the right side of his body.
"The doctor at the time told me I'd never walk without a limp, and I'd never play competitive sports, so I probably shouldn't even try," he said. "Now, I still have that hole in my head, and it controls my whole right side, so my recovery profile is definitely delayed. You learn how to train with what you have. I do a lot of corrective work, work on my movement, planes of motion, neuromuscular stretching."
Riech's right arm remains weak and less coordinated. His right leg is weaker, too, though it's hard to notice as he speeds around an oval.
"Track and field people notice more than most people," he said. "My posture is off and I twist a lot. My core is weaker on one side."
After growing up in Arizona, Riech didn't mind the heat and humidity of Mobile. At South, he lived in an apartment across the street from the baseball stadium, where he cheered for the Jaguars.
These days, when he's not running, he likes to play golf.
"I'm horrible, to be sure, but I love getting out there," he says. "And I appreciate the mental aspect of the game."
Riech still enjoys competing, public speaking and promoting the Paralympics in Canada. He's doing Instagram videos and different forms of social media from Japan.
Running remains his therapy, his sport and his passion.
"I've always thought my injury was the best thing that ever happened to me," Riech said. "It taught me how to be competitive, because I never wanted to be limited. I've tried to use my injury and disability as an advantage in my career."
---
---