FeAunte' Preyear Named Title IX Coordinator
---
Posted on September 16, 2021 by Joy Washington
Joy Washington
---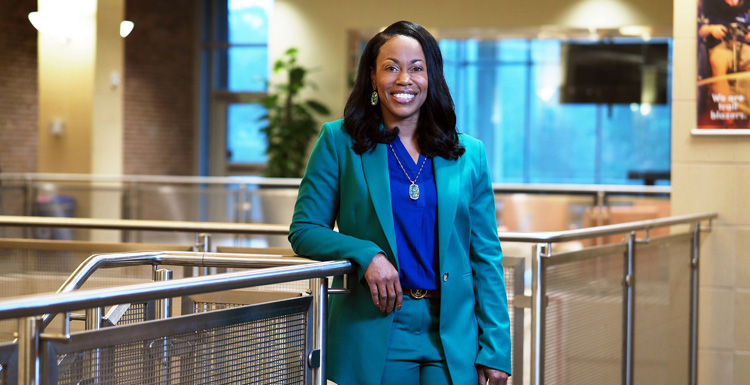 FeAunte' Preyear has been promoted to Coordinator of Title IX in the division of Student Affairs at the University of South Alabama. She says her goal is, "to create an environment that is welcoming, accessible, inclusive and free from discrimination."
---
FeAunte' Preyear has been promoted to Coordinator of Title IX in the division of Student Affairs at the University of South Alabama.
In this role, Preyear will be responsible for overseeing and monitoring the University's compliance with Title IX regulations, which include the implementation of South's Sexual Misconduct Policy and Complaint Resolution Procedures.
Assistant Vice President for Student Affairs Dr. Krista Harrell, said Preyear has officially transitioned into the Coordinator role.
"I am thrilled that FeAunte' Preyear has accepted this new position. She has demonstrated excellence in her previous roles in the Student Health Center, as USA's advocate program coordinator and, most recently, as the specialist and investigator of Title IX," said Harrell, who formerly served as Title IX Coordinator. "I have full confidence in transitioning the Title IX program to FeAunte and know she will continue to evolve the program. I am excited to be able to support her and the Title IX efforts."
Harrell noted that the office will hire two additional new staff members in the next few months, and that Preyear's leadership will be key in ensuring USA is a welcoming and safe environment for students to learn, work and live.
As an advocate for students, Preyear said she is committed to building safe, inclusive and informed communities at South Alabama.
"I am dedicated to serving and supporting South Alabama's efforts to create an environment that is welcoming, accessible, inclusive and free from discrimination," Preyear said. "I will also manage training and prevention efforts for the University, and all other aspects related to South Alabama's Title IX compliance."
Preyear served as a volunteer for the USA Advocate Program for 10 years. She also volunteered as a coordinator in the program for eight of those years.
"The experience I have gained through volunteering for South's Advocate Program will assist me in understanding the significance of Title IX and the negative effects of sex discrimination, sexual harassment and sexual violence on victims/survivors," she explained. "I will ensure that we continue to provide support to individuals who report incidents of sexual misconduct and ensure that we continue to facilitate trauma-informed processes that are fair and equitable throughout our Title IX program."
As an alumna of USA, Preyear has been dedicated to serving students and the community through volunteerism and philanthropic efforts. Recently she was awarded the USA National Alumni Association's Endowed Award for Humanitarian Services.
"I am excited to be honored with this award, and I am grateful to serve the University community in this new capacity," she noted. "I consider it an honor to lead our Title IX Office in its continued efforts in creating a campus that provides a safe space for community members to learn, live, work and engage."
For more information about Title IX, visit the website. Students needing to report sexual assault, violence or harassment incidents can do so by contacting the office or using the online form.
---
---