Move Brings Adventure, New Direction
---
Posted on October 6, 2020 by Jeb Schrenk
Jeb Schrenk
---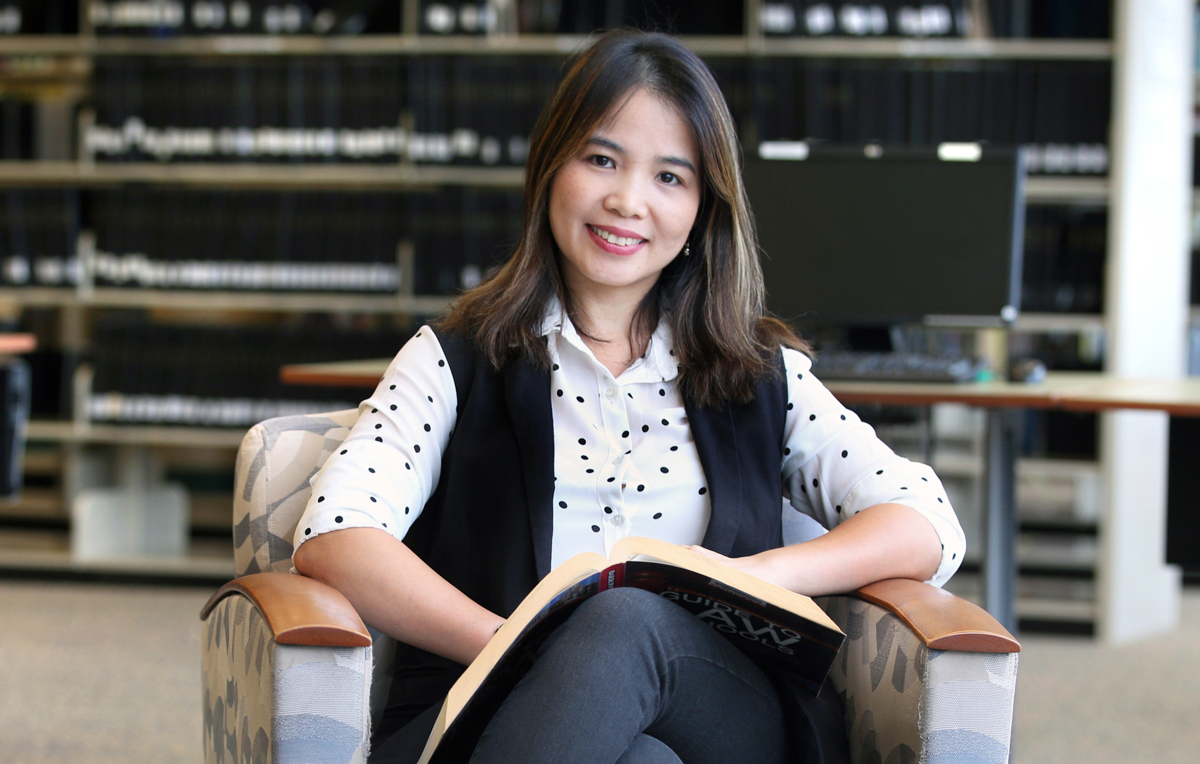 Freshman Thanh Haas said the Marx Library is her favorite location on campus at the University of South Alabama. "I like the view from the second floor. You can sit next to the big windows and look out over the lake," she said.
---
After managing a Vietnamese restaurant and doing other jobs in Mobile, Thanh Haas got the idea for a new business venture – a coffee shop near the University of South Alabama.
Then she changed her mind and chose a new direction in the same neighborhood.
"I heard this voice in my head and decided not to invest in this business, but in my education," said Haas, 36. "I thought, this school is where I want to go. So I went to the German department, talked to them, and they said OK."
Haas was born in Vietnam, but left to live and work in Germany at the age of 20. She met and married a German engineer. Six years ago, his job brought them to Alabama, where their son and daughter were born.
"We wanted to challenge ourselves and take this adventure," she said. "We decided to stay because of the weather, and the local people, and living close to the beach on weekends."
At South, people know Haas by her childhood nickname, "Moon." She decided on a double major of German and hospitality and tourism management, but first she had to improve her English. Now she has a freshman schedule of marketing, public speaking, advanced German and hospitality and tourism management.
Her parents were entrepreneurs in Vietnam.
"My father had a restaurant and was a wedding planner before he retired," she said. "My mom had her own businesses. I learned a lot from them."
Eight questions for Thanh Haas:
What are your first impressions of South?
"One thing surprised me a lot. In Vietnam, we were afraid to meet with our professors, but at South, it's not like that. You can just go and talk with them. My marketing professor, Dr. Robert Thompson, he knew I had children and couldn't start a class during the pandemic, so he met me in the parking lot with my textbook. That made me feel so special."
Do you have a favorite spot on campus?
"Yes — Marx Library. I like the view from the second floor. You can sit next to the big windows and look out over the lake. When I started school at South, I would come and try to read, write and improve my vocabulary."
You mentioned beaches. What's your favorite one on the Gulf Coast?
"We go to Pensacola Beach and Santa Rosa Island. My husband likes to drive to a quiet part and we enjoy the sunset before we go home."
Why did you decide to study hospitality and tourism management?
"I worked for years in the tourism industry in Vietnam. And I'd really like to work in international business. I love to serve people."
What was it like leaving Vietnam for Germany?
"I loved the culture, the people, the education system – I went to a German community college. And I met my husband. I can tell Germany is my second homeland."
What's harder to learn, English or German?
"I learned English before I learned German, but I never studied academic English before I moved to the United States and came to South. I took German in Germany, so it's not that hard for me now. German grammar can be difficult. You have to sit down and analyze, are you doing this or doing that?"
Where do you see yourself five years after graduation?
"My plan is to look for a school where I can work with children and teach them German. Languages have changed my life. I think they're really important, and I love teaching them."
Do you have a hidden talent?
"Baking. I bake German bread a lot – I won't buy it from the store. My husband likes it. He says, 'Oh, it tastes just like my mom's.'"
---
---