On a Fast Track to Giving Back
---
Posted on December 29, 2020 by Thomas Becnel
Thomas Becnel
---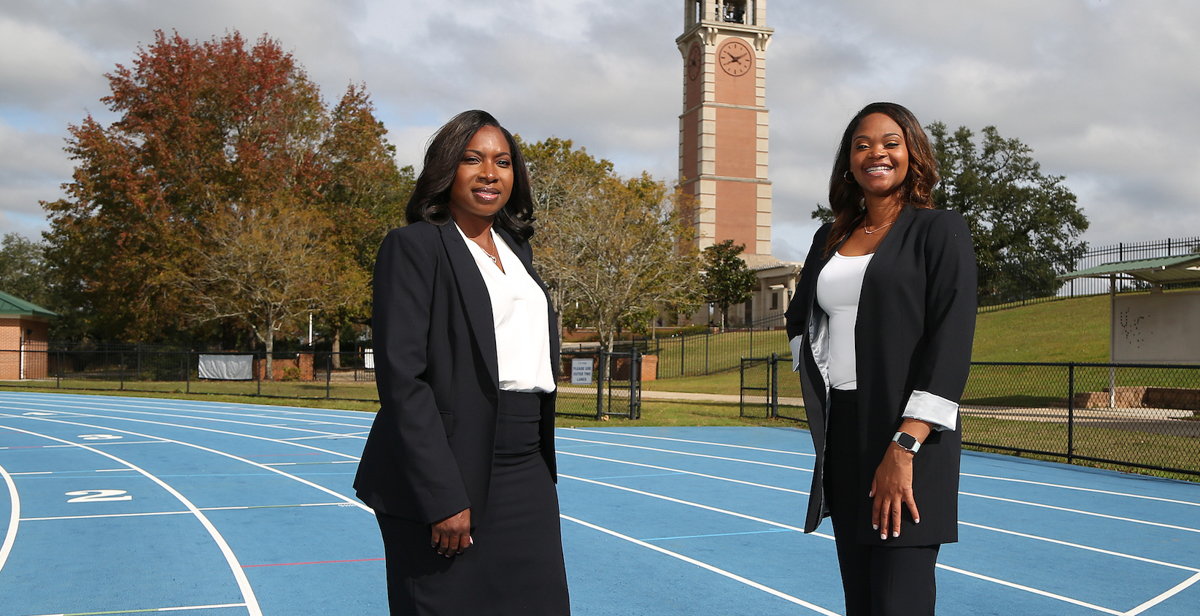 Les'Lee Gilberry, left, and Cassandra Kellum were inspired to start a pair of annual scholarships for student-athletes at South. The awards will be called SWAG, short for Student With Athletic Grit.
---
This story originally appeared in the fall 2020 edition of South Magazine.
After building a career and starting a family in Mobile, Cassandra Kellum began to take stock of her life.
Her two daughters — Jeslyn, 12, and Julia, 9 — helped remind her how much the University of South Alabama meant to her development.
"My oldest already says, 'I'm going to go to South; I'm going to be like you,'" said Kellum, an instructional specialist at Williamson High School. "I've taken them to basketball games and to walk around campus. I'll say, 'Look, that's where Mommy used to live.'"
Thinking about the past and the future inspired Kellum and Les'Lee Gilberry — her South roommate and a fellow track and field athlete — to start a pair of annual scholarships. The awards will be called SWAG, short for Student With Athletic Grit and based on athletic ability, academic success and community involvement.
Both of them want to share their college experience with young Jaguars.
"Everything at South helped mold me into the woman that I am today," said Gilberry, an area sales manager with Amedisys Home Health Care. "Being in class, being a student, being an athlete."
Kellum began considering a scholarship after meeting with Ron Stallworth, a 2003 mechanical engineering graduate who enjoyed a 30-year career at Honeywell. He currently serves on the USA National Alumni Association Board of Directors and encourages former students to become philanthropists.
"A lot of people don't realize they can do it," Stallworth said. "That it's within reach."
To help donors get started, Stallworth will sometimes provide first-year funding for an endowment. That's what he's doing with SWAG, which will begin awarding students in the spring of 2021.
He likes the idea of being a "force multiplier." He wants to help middle-class people begin a tradition of charitable giving. Then they can set an example for their own children.
Alumni don't have to be wealthy to begin an endowment, and some employers and foundations will match charitable donations. Even a small scholarship can make a big difference to a student with financial need.
"We don't need to change the world," Stallworth said. "We just need to help one or two people at a time. If we do that, things will change."
Dr. Joel Erdmann, director of athletics at South, said there are many student-athletes with financial needs. A majority of them are not on full athletic scholarships. Many rely on financial aid and partial scholarships.
"We have a variety of scholarships, some of which are endowment-based," Erdmann said. "This is tremendous, and we're very grateful."
Rivals and Friends
Kellum and Gilberry were both high school sprinters when they met at the state track and field championships.
Neither one of them won the 100-meter dash, but both earned scholarships to the University of South Alabama. The coach who recruited them said they could be roommates.
Kellum came from Madison County near Huntsville in north Alabama.
"I had experience with tornados," she jokes, "and ended up with hurricanes."
Gilberry grew up in Baldwin County, where her parents live. She would drive home on weekends and bring along Kellum.
During the week at South, they shared workouts, study halls and life in the Delta Residence Hall.
"We stayed in D-2, which didn't have kitchenettes, so we would go to the room of Chasity Thrash, who did have a kitchen," Gilberry said. "She would cook chicken and rice, and it was like home."
For four years, the two of them took classes and ran track. One of their coaches at South was Lee Evans, who remains famous for raising his fist in a black power salute from the victory platform at the 1968 Olympic Games in Mexico City.
"He never bragged about it," Kellum said, "but he would share his experiences with you."
Friends and Donors
After graduating from South in 2005, Kellum stayed in Mobile. She became a classroom teacher and reading specialist.
Gilberry moved to South Carolina for her healthcare career and then returned to Prattville, Ala. She also has two children – Caleb, 10, and Sydney, 7.
The two women still talk almost every day. Both of them are 38 years old, born just two weeks apart. They're godmothers to each other's kids.
And they both liked the idea of starting a scholarship at South.
"It made sense to me right from the beginning," Gilberry said. "The timing felt right. With the coronavirus pandemic right now, just being able to fill that gap for somebody could be important."
Kellum stepped up with a name for the scholarship.
"Everything kind of fell into place," she said. "We were trying to think of something and we liked the idea of SWAG. I'm always working on acronyms for our students at school."
They wanted their money to go to track athletes because they think the sport is often overlooked on campus. Plus, it was part of their experience at South. They welcome donations to their endowment from other alumni who could expand the number and size of the scholarships.
Both of them would like to begin relationships with their scholarship recipients. Mentors on and off the track. Investing their time as well as their money.
"This is just a small contribution, compared with everything Les'Lee and I have gotten from the University," Kellum said. "We want to develop our relationship with South Alabama."
---
---