Sisters Serving As Elementary School Principals in Mobile to Speak at Spring Commencement Ceremony
---
Posted on May 7, 2021 by CEPS
CEPS
---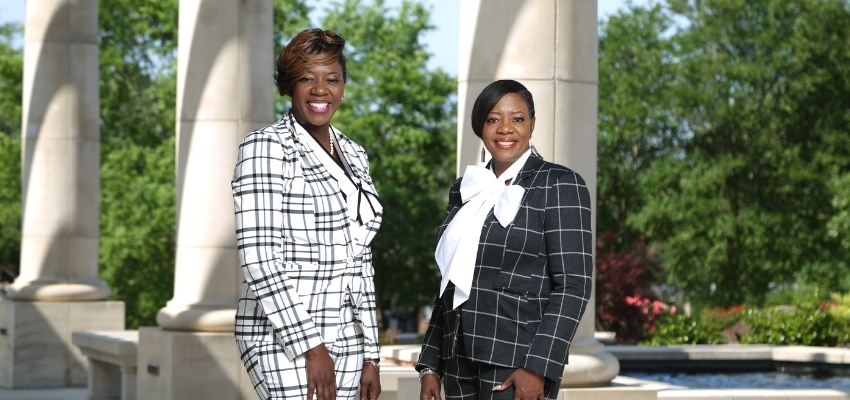 ---
After high school in Mobile, Hope Belle-Payne (left) studied education at the University of South Alabama and became a teacher. Her sister, Faith Belle-Lucy (right), was working as a restaurant manager when she decided to begin her own career in education.
"It was because of Hope," she said. "I'd hear her all the time, talking about her kids, talking about what they were doing in school, and that sounded good to me. Then I got to South, and I was on a mission."
The sisters will share their story Saturday as commencement speakers for the College of Education and Professional Studies.
Belle-Lucy started student teaching at Gilliard Elementary School, then joined the faculty, served as a reading coach and became an administrator. She's never worked at another school. After earning a master's degree at South, she became an assistant principal and then principal in 2016.
"Our parents lived two streets over from Gilliard, so I'm very familiar with the area," she said. "I remember watching the school being built. It opened up in 2006. I graduated from South in May 2007, and began teaching here that August."
Belle-Lucy is the third principal of Gilliard Elementary and its first African American principal. She had full respect of her fellow faculty and staff members, which made for an easy transition.
"You would think, 'Okay, they're not going to respect me because I was once a student teacher in the building.' but it's not that way," she said. "We are one, big happy family. They were my biggest cheerleaders. They were elated that I was going to take the position. When I sat down at Central Office, they continued to say, 'You know, this is not normal. We normally don't place a principal in a school where they previously worked.'"
Belle-Payne's journey to becoming a principal was a different path. Her experience in Mobile County Public School System started in 1998 as a paraprofessional, specifically as a library and media aide. While finishing her coursework, she completed her student teaching at Council Traditional School and later accepted her first teaching position at Morningside Elementary School.
She earned her bachelor's and master's degrees at South while working at several schools in Mobile. Belle-Payne served as a math intervention teacher and Title I facilitator at Maryvale and O'Rourke Elementary Schools before becoming a reading coach and instructional partner at George Hall Elementary and Mae Eanes Middle School.
The two sisters became assistant principals on the same day in 2014. Belle-Payne started her career in administration as an assistant principal at Vigor High School and Belle-Lucy started as an assistant principal at Gilliard Elementary. Faith became a principal soon after in 2017. Two years later Hope became principal of Leinkauf Elementary.
"We celebrated that day," she said. "Hope and I had been promoted to assistant principals on the same day. We were so happy for each other."
Two schools. Two principals. Two sisters.
Belle-Payne's first year as a principal was not typical. The sisters supported each other and made it through.
"The principal of Leinkauf left in July 2019, and I started in late August 2019," she said. "The school year ended early in March 2020 because of the pandemic, and then it didn't start as normal this past fall, so my experience as a principal has been one of building the plane as I fly it."
No one was more proud of the sisters serving as principals than their father, Pastor Fleet Belle of Rock of Faith Missionary Baptist Church. He was a former member of the Mobile County School Board. Everyone knew he doted on his daughters.
"My dad wouldn't introduce us to people, he'd announce us," said Belle-Payne. "He'd say, 'These are my daughters, they're principals in Mobile,' before he'd even say our names."
Pastor Belle died of COVID-19 last year, but not before his girls reached two of their career goals.
"He got to see it," said Belle-Lucy. "So much of what we do comes straight from him."
Belle-Lucy's office at Gilliard Elementary has cinder-block walls painted a soothing beige. She has a collection of inspirational quotes.
"Live, laugh, love." "The future of my world is in my school today." "The perfect place to begin is exactly where you are right now."
The space around her desk used to be decorated with seashells, but now there's a shrine dedicated to her father. There are photos, candles and keepsakes, along with house plants that were given to the family after his death.
The two sisters also lost a cousin to the coronavirus. Their mother was hospitalized. Several other family members contracted the virus and became seriously ill.
"It was awful," Belle-Lucy said. "Worst time of my life. I didn't grieve as much as I should have, which is probably why I still feel it. There are still some days when it's tough."
Belle-Payne said she could not have made it the past year without her sister.
"I caught COVID, and I was sick, grieving and worrying," she said. "I stepped outside of my comfort zone and had to ask Faith and my leadership team for help. Everyone had it in our house, but Faith never got it, even though she was there the entire time taking care of us. "
Dr. Joel Lewis-Billingsley, an associate professor of education at South, met the Belle sisters when they were in graduate school. She followed their careers and learned about their father. She suggested doing a short film about them, which is in production, for the documentary project called Mobile in Black and White.
"They are a special pair," Billingsley said. "That's what I want everyone to see. They exemplify the strength of family and the importance of siblings. It's a joyous experience when I'm around them. They make you smile."
Phaedra Fox, assistant superintendent for the Mobile County Public School System, supervises both of the Belle principals.
"It's amazing to see how they both lead in different ways," she said. "You want them to have their own identities. They're completely different, but they have the same passion for what they do."
Fox knew their father when he was a school board member. She sees him in them.
"They inherited a lot," she said. "The way he carried himself and worked with others. And the respect they have with teachers, students and families."
The Belle principals talk throughout the day, every day, about their meetings, assignments and responsibilities. They live and work in the same world. The Belle sisters share their fears, frustrations and triumphs.
For all their differences, the sisters have much in common.
Same family background. Same education and training. Same success in the school system. In describing their lives, they use the same words and phrases.
They're both career-oriented. They both work hard. They both care about the education of children.
Belle-Payne is just a few hours short of a doctorate degree in educational leadership. She can think of at least one piece of motivation to finish.
"Well," she joked, "it would be one degree my sister doesn't have. But knowing her, she'd probably get one, too."
The sisters hope to inspire others to take advantage of leadership opportunities and to keep moving forward despite challenges.
"We are so excited to talk in front of the graduates this weekend," Belle-Lucy said. "Some of the same professors are still there, and we get to tell these students, 'Look, this could be you next.'"
"It's an out-of-body experience to stand before a group of people in the same place where I sat before, and they will be looking for answers," Belle-Payne said. "My question to graduates will be, 'What mark do you want to leave on the world?' 'Are you leaving a story that future graduates would want to read?'"
---
---