#StudentSpotlight: Meet K-12 Physical Education Major Kaitlyn Brannon
---
Posted on January 22, 2021 by Micaela Pickering
Micaela Pickering
---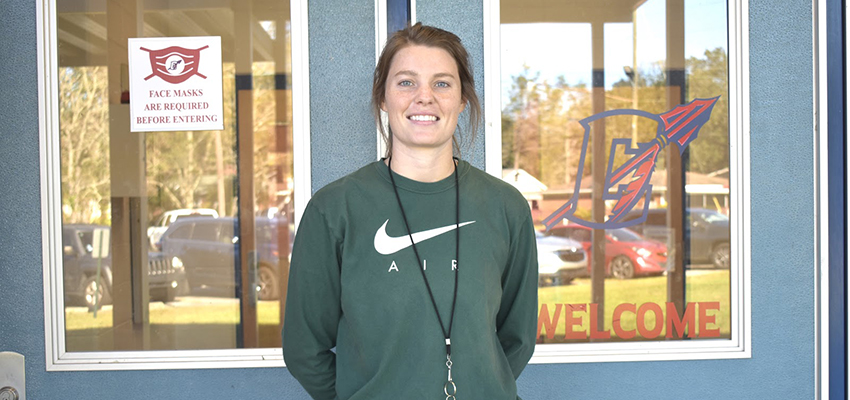 ---
Kaitlyn Brannon majored in K-12 physical education and recently graduated from South this fall.
"I chose the University of South Alabama because of the rich reputation the education program has with the surrounding school districts, specifically the Department of Health, Kinesiology, and Sport," said Brannon, who is originally from Cullman, Ala. "South is known as a premiere southern university that focuses on educating students to be competitive in our field of study and guiding students along the way to reach our full potential."
Brannon recently completed student teaching at Chickasaw Elementary School. During her internship, Brannon shared personal experiences to teach students to understand what it means to live a healthy life.
"I want to instill a love of living a healthy lifestyle into the youth of Alabama," Brannon said. "I played collegiate softball for three years, so I understand the impact sports and proper nutrition can have on a young person's health. Being physically fit and eating a nutritious diet can help your social, emotional and cognitive well being. From an early age, I understood this and developed a passion for teaching young people to be the best possible version of themselves."
During her time at South, Brannon was a founding member and vice president of the Health and Physical Education Majors Club. She was also listed on the Dean's List.
Brannon loved South because of the community and faculty that supported her through it all. She credits several professors for successfully preparing her for a journey as an educator.
"Dr. Parkes has mentored me throughout my time at South," Brannon said. "He takes pride in his students' success and provides every tool necessary to pass edTPA. My student teaching advisor, Mrs. McLean, has provided me with positive feedback that I will take with me to my job as a P.E. teacher. My advisor and professor, Dr. Holden, has been instrumental to my success as well. She equipped me with knowledge and is always an email or phone call away to help solve any issue that may arise."
Brannon also credits her success to her parents, who taught her what it means to persevere during challenging times.
"My mother and father have motivated me to be the best version of myself as a teacher," said Brannon. "I cannot wait to begin my journey as a P.E. teacher."
Brannon recently started a full time job as a physical education teacher at Dunbar Magnet School in Mobile.
---
---