Cammie Adams Selected as Alabama New Counselor of the Year
---
Posted on December 13, 2019 by Amber Day
Amber Day
---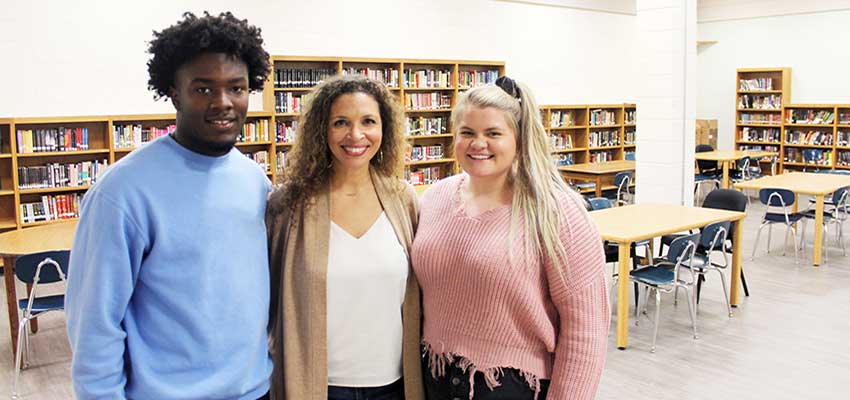 "I love waking up every single morning and going to my school," Adams said. "I feel valued, needed and that I am an integral part of each student's success at Fairhope High School."
---
Cammie Adams' passion for helping students outside the classroom drew her from being a physical education teacher to serving as a high school counselor.
"It wasn't long into my first year of teaching that I became aware of the hardships some of my students were experiencing," said Adams, who was a first generation college student. "We had sisters who lost their mother, a student who told me that he didn't have shoes for school, a child diagnosed with a debilitating illness in need of special accommodations in class, and children whose parents had committed suicide. I wanted to do so much, but I was powerless in my capacity. I was able to purchase shoes for the child who had none, but still, I longed to help the families affected by these other horrible situations. These situations gave me the desire to pursue school counseling."
Adams received her undergraduate degree in physical education and graduate degree in school counseling from the University of South Alabama College of Education and Professional Studies. She is a counselor at Fairhope High School and recently received the Asa Sparks New Counselor of the Year for the state of Alabama.
"Dr. Amy Upton and Dr. John Dagley really made a positive impact on me as a counseling student at South," Adams said. "Dr. Dagley, that man, I am going to cry just talking about him. When he talked to you, you felt like you were the only person in the world. It's been about a year since he passed away, and he loved all the students."
"And Dr. Upton, she was an instant friend. She is another one of those people that, whenever you are talking, she will look you in the eye and give you her undivided attention like there's no one else in the room. The instructors at South taught us that as counselors, we needed to be good listeners."
Adams shared stories of several individuals that encouraged her to 'take the next step' during tough situations throughout her life. And now, Adams is doing the same for students every day in her local community.
"Education was never pushed on me as a child," Adams said. "My brother and I were both first generation college students. My brother went on to junior college, and I thought, maybe, since he went to a junior college, I could too. I followed in his footsteps, and I tried my best in tennis. It was a fluke that I got a scholarship to Coastal Alabama Community College. I spent two years there and got another scholarship to stay a third year. So, I racked up some credits before I transferred."
"My tennis coach at the community college was my mentor, and she came with me to South and helped lead me through the admissions process. I was sheltered and wanted to stay close to home. I couldn't play for the tennis team at South and didn't have any scholarships. I saved up money, worked my way through college, and left debt free."
After receiving her undergraduate degree in physical education from USA, Adams was "scared to death" to take the next step to start her professional teaching career. She worked at South as a student, did a few secretarial jobs after, and a position opened up in Central Office at Baldwin County Public Schools.
"One of my supervisors in human resources encouraged me to use my degree," Adams said. "I had a degree in P.E., and I took two classes at South to reinstate my degree to start teaching."
After teaching P.E. for five years and working as a special education aide for three years, Adams had a turning point. She wanted to do more.
"One conversation in the hallway of my school changed me," Adams said. "Petie Byrd, a parent and school volunteer, mentioned to me that she thought I would make an excellent counselor. What Petie did not know was, I had just applied to the school counseling program at the University of South Alabama. When I was told this, I knew that my decision was the right one. After that one conversation, I received affirmation after affirmation from colleagues, friends, family and college professors that I was well-suited to be a counselor. I wanted nothing more than to make all my family, friends and colleagues proud."
Adams started her path to a master's in school counseling at South and was able to fulfill her passion for helping others in a new capacity.
"I have enjoyed watching Cammie grow and develop as a school counselor," said Dr. Amy Upton, assistant professor in the Department of Professional Studies School Counseling. "Cammie demonstrates professional advocacy in all that she does. Since Cammie has been at Fairhope High School, the culture of the department has changed considerably. She has made her passion contagious and I have seen that as a professional who collaborates with her district and as a parent who is now benefiting from those changes. My son is my third child to attend Fairhope High School. The changes in the counseling program and interaction with the students and parents that my son and I have experienced this year have been remarkable."
Adams has made quite the impact on students at Fairhope High School, including a NCAA-eligible star football player who is thankful for his counselor's willingness to help and encourage him every day.
"She pushes me to make sure I stay on top of my grades and encourages me to reach out for help when I need it," said Cyline Koen, a junior running back at Fairhope. "I am an athlete, and when it comes to the next level, she pushes me there to get looked at and recruited. She helps me to know what classes I need and what classes to take to get to the next level. She's kept me on track and gives 110 percent effort. She wants all her students to succeed and has high expectations for students inside and outside the classroom. It's not a job for her."
A junior that recently transferred from a small, private school to Fairhope says that Adams has been supportive during the move.
"I went to a small private school in Fairhope before I came here, so it was a huge change, and I was really overwhelmed and stressed out because there are so many kids," Mary Katherine Northcutt said. "What I thought about public school is way different than what it is, especially here. I thought there would be just so many people, the teachers wouldn't care as much, and no one would even know I was there. But, coming in and Mrs. Adams seeking me out to make sure I felt comfortable and welcome here was really helpful."
"We didn't have counselors at my old school and it's so great to have Mrs. Adams. She tries her best to reach out to all the juniors and genuinely cares about all the students. She doesn't act like it's just her job, you know it's her passion."
Adams is happy and knows she made the right career move.
"I love waking up every single morning and going to my school," Adams said. "I feel valued, needed and that I am an integral part of each student's success at Fairhope High School. I am committed to developing a program that utilizes data and professional advocacy to impact the students I serve and I wouldn't want to do anything other than school counseling."
To learn more about the USA Counseling and Instructional Sciences Department, click here.
---
---