---
Posted on September 10, 2018 by Dr. Paige Vitulli
Dr. Paige Vitulli
---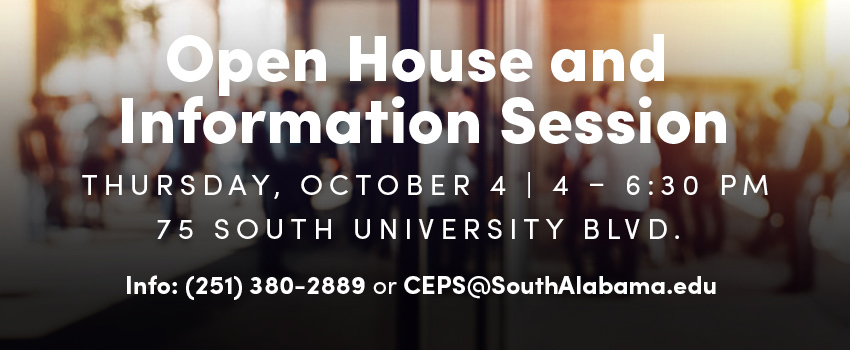 Open House and Information Session for all
College of Education and Professional Studies Departments
Thursday, October 4 from 4 - 6:30 PM
WANT TO REVIVE A DREAM?
The University of South Alabama's College of Education and Professional Studies is a dream machine.
Whether it's becoming a teacher, librarian, counselor, corporate trainer, or leader in industries like tourism or sports, we have a path for you, including customizing your degree in the interdisciplinary studies program.
We have new scholarships for graduate teaching degrees, flexible and online courses, nationally-recognized faculty, and a healthy dose of Gulf Coast pride.
WE ARE WHERE DREAMS GO LIVE.
Join us at our Open House on October 4th from 4-6:30 to meet faculty, staff, alumni and students.
Learn about programs from faculty, alumni and current students.
Information about admissions and financial aid.
Flexible blend of online and in-person offerings.
New scholarships for teaching certification programs.
Advisors available to discuss program options and courses.
Have snacks and beverages while you tour the college and learn more about our various programs.
LIVE the DREAM!
SEE YOU AT CEPS OPEN HOUSE.
We Are South!
GO JAGS!
---
---