Cottage Hill Civitan Club Continues Support for PASSAGE USA
---
Posted on July 20, 2020 by Amber Day
Amber Day
---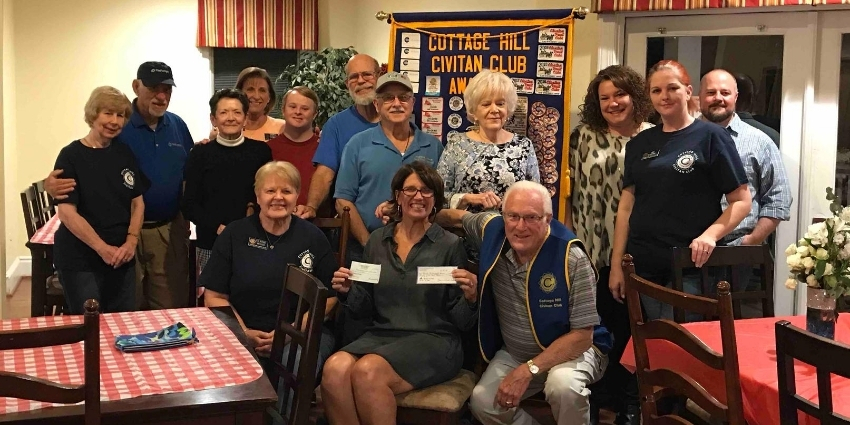 Members of the Cottage Hill Civitan Club are pictured above at an event last year, prior to COVID-19.
---
The Cottage Hill Civitan Club has been an active supporter of PASSAGE USA for more than three years. The club recently donated $1,000 to the PASSAGE USA Gaillard-Neville Reynolds Scholarship fund.
"During my 42 years in Civitan, I have known many young people with intellectual disabilities that did not have the opportunities they find with PASSAGE USA," said Randall Eckhoff, who serves as president of the Cottage Hill Civitan Club and past president of Civitan International. "Many students in the program at South have been an inspiration for our club to help."
PASSAGE USA stands for Preparing All Students Socially and Academically for Gainful Employment. The program started at USA during the spring semester of 2017. The program is for students ages 18-28 who have been diagnosed with an intellectual disability. PASSAGE USA is a two-year certificate program that helps these students become more independent.
Eckhoff is an avid supporter of the University of South Alabama. He is a 10-year ticket holder of South Alabama Football games and has attended baseball and basketball games throughout the years. Eckhoff has a granddaughter that will be in her second year at South this fall, and another granddaughter and his son are South alumni. His wife was an adjunct instructor for many years at the University.
"We believe in PASSAGE USA and it's desire to help young people with intellectual disabilities to become self-sufficient and have a better life," Eckhoff said. "We want to continue to have the South Alabama Campus Civitan Club to be a place for PASSAGE USA students to be involved and call their own. A club that they can have a leadership role in and give them the opportunity to help others."
The worldwide mission of Civitan International is to build good citizenship by providing a volunteer organization of clubs dedicated to serving individual and community needs, with an emphasis on helping people with developmental disabilities. The Cottage Hill Civitan Club helped establish the South Alabama Campus Civitan Club in 2018.
"Cottage Hill Civitan Club has been a wonderful supporter of PASSAGE USA," said Dr. Abigail Baxter, professor of education and principal investigator of the PASSAGE USA grant. "In the past, they have provided lunch and snacks for all students, Peer Mentors, and staff at our beginning of the year 'get acquainted day' at Camp Grace. Their recent donation will provide scholarship money to help students defray the cost of tuition and fees in this difficult time. Cottage Hill Civitan Club has always helped us when we have identified a need."
For full PASSAGE USA eligibility requirements or to receive an application, contact Alexandra Chanto-Wetter at (251) 460-7558 or chantowetter@southalabama.edu. To contribute to the PASSAGE USA scholarship fund, click here.
---
---