#StudentSpotlight: Meet Elementary Education Major Kaylee Cleckler
---
Posted on December 17, 2020 by Micaela Pickering
Micaela Pickering
---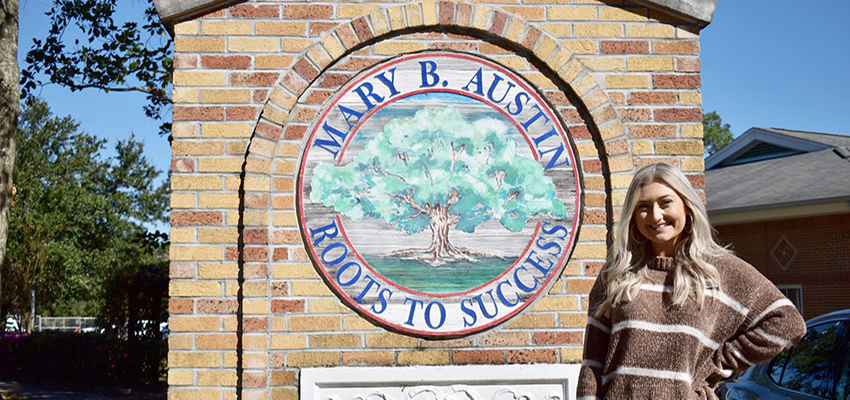 ---
#StudentSpotlight: Kaylee Cleckler majored in elementary education at South and recently graduated fall 2020. Originally from Chilton County, Ala., Cleckler chose USA with hopes of building her independence.
"I chose the University of South Alabama to meet new people and come across new opportunities," Cleckler said.
Cleckler started out with intentions of majoring in the field of health care, but soon realized her calling was in the field of education. When she started her courses in the College of Education and Professional Studies, Cleckler immediately knew that education was her future.
"I have always wanted to be a teacher and make a difference in the lives of children," Cleckler said. "After starting my journey in education, I immediately knew this is what I was meant to do."
During the fall 2020 semester, Cleckler completed student teaching at Mary B. Austin Elementary School in Mobile. During the internship experience, Cleckler worked with Katherine Pope, who serves as a 4th grade teacher at the elementary school. She also credits her USA supervisor, Michelle Shropshire, for her support during the student teaching experience.
"The genuine happiness that I get to see from my students each day motivates me to be the best that I can be," Clecker said.
During her time at South, Cleckler served as a member of Kappa Delta Pi Honor Society, Alpha Sigma Lambda Honor Society and Phi Mu Fraternity. She was also listed on the President's and Dean's List.
Kaylee loved South because of the hospitality and supportive community.
"The professor's that I have had during my time at South have always been genuine and have truly had my best interest at heart," Kaylee said. "I have enjoyed having that close relationship with my instructors."
In January, Cleckler plans to start an interim teaching position followed by taking a permanent position at a local school in her hometown.
---
---