Delmas Receives Alabama Outstanding Contribution to Student Affairs through Teaching Award
---
Posted on March 25, 2022 by Branda Walls
Branda Walls
---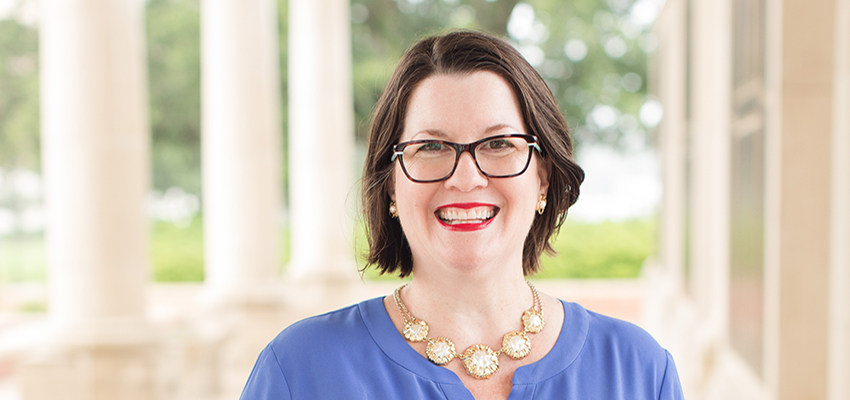 ---
Dr. Peggy Delmas, assistant professor in the Department of Leadership and Teacher Education, was named a recipient of the 2022 Alabama Outstanding Contribution to Student Affairs through Teaching Award by the National Association of Student Personnel Administrators.
"Dr. Delmas' work through the College of Education and Professional Studies has been critically important to providing a fresh pipeline of prepared higher education professionals to the South Alabama community and the region," said Dr. Michael Mitchell, vice president for student affairs and dean of students at the University of South Alabama. "It's been a true joy to see her students matriculate through the master's program and go on to make their own individual impacts in student affairs and higher education. We are lucky to have Dr. Delmas."
The recipient of this award will be the National Association of Student Personnel Administrators Alabama nominee for the Region III Outstanding Contribution to Student Affairs through Teaching Award. The award recognizes a professional with responsibility for teaching graduate or professional school students who wish to pursue a career in higher education administration and student affairs. The recipient of this award demonstrates consistent and excellent mentorship for graduate students as well as scholarly achievement and contribution across the profession.
Delmas has more than 20 years of experience in higher education, working in a variety of areas such as academic advising, registrar's office, student recruitment and retention, alumni affairs, and instruction. She served as chair for the Research on Women and Education special interest group of the American Educational Research Association and is an editorial review board member for the Journal for the Student of Postsecondary and Tertiary Education. Delmas also volunteers for the Alabama School of Math and Science, Mobile County Public Schools, Feeding the Gulf Coast and the MLK Day of Service.
Dr. Brandon Brown, associate dean of students and director of residence life at Birmingham Southern University, nominated Delmas for the award.
"I am so very appreciative for her on-going guidance and wisdom as a young practitioner and professional," said Brown, who earned a master's degree in higher education administration from South and was a student of Delmas' while in the program. "Her level of care and attention to detail to the program's success and her students is unmatched. I nominated Dr. Delmas because her work in advising students, teaching, and researching should be recognized, as each of her students know that she works extremely hard at each of these. I am not sure how she has the time to do it all, but she makes it look so easy. Dr. Delmas' work in the field of higher education has not only inspired me to obtain a terminal degree, but her work has also inspired me to be an educator who cares about the holistic development of students and the people I work with."
Delmas has worked at South since 2006 and started teaching full-time in 2017. During her time teaching in the higher education administration master's program, nearly 70 students have earned master's degrees in higher education administration, all who have taken at least one course of hers.
"I believe education has the power to change a person's life for the better," Delmas said. "It has a positive economic impact and often a profound personal impact on one's thinking and worldview. I educate people to help provide the services that support students in college, in areas as diverse as admissions, housing and residential life, athletics, and multicultural affairs. All of those services help to make up the college experience for a student, and the people who provide those services can be the reason that a student stays to graduate rather than stopping out or dropping out. That's how important higher ed administration is and that's why I'm passionate about it."
Delmas started her career in higher education in the late 1990s when she took a temporary job at a university. That's where she realized it was the right path for her. Delmas loves helping students achieve their academic goals and said that with the higher education administration graduate program at South, her efforts have a "multiplicative effect." The students she helps train become professionals working at community colleges and universities where their job is also to help students achieve their academic goals.
"Receiving this award affirms that what I do makes a difference," Delmas said. "The award recognizes all the work I have put in over the years in creating courses, teaching courses, mentoring students and early career professionals, and conducting research."
Delmas has received other awards and honors, such as the Friend of the Division Award from the USA Division of Student Affairs in 2014 and the Outstanding Membership Recruitment Recognition from the Kappa Delta Pi International Honor Society in Education in 2017.
---
---