Dr. Brooke Forester Receives South Alabama Athletics' Faculty of the Year Award
---
Posted on November 6, 2020 by CEPS
CEPS
---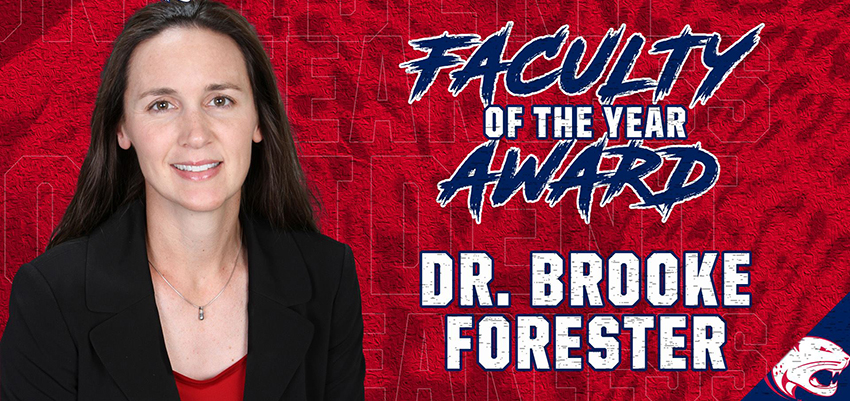 ---
The University of South Alabama Department of Athletics honored Dr. Brooke Forester as its Faculty of the Year Award winner, it was announced Wednesday.
An associate professor in the Health, Kinesiology, and Sport Department at South, Forester was nominated by student-athletes for the Sun Belt Conference Faculty of the Year Award, which recognizes and promotes the importance of exemplary faculty members in the lives of student-athletes at each member institution.
Forester's primary areas of research include corporate social responsibility in the sport industry, coach education, and student-athletes' volunteer experiences. Using both qualitative and quantitative methodologies, her goal is to expand the current body of knowledge within each of these areas, aiding practitioners and academicians alike. In addition to both teaching and research, Forester also serves as a reviewer for several academic journals, has served on the board of the Alabama State Association for Health and Physical Education, and was awarded the Lisa Mitchell Bukstein Foundation Scholarship for Developing Faculty in Education. Most recently, in January 2020, she and her team received an internal grant to enhance the student-athlete life skills program at the University of South Alabama.
Forester — who teaches both graduate and undergraduate courses in sport management — received her bachelor's and master's degrees from South Alabama before earning her doctoral degree in sport management from Florida State. A member of the Jaguar track & field and cross country program as an undergraduate student, Forester assists South's coaches with meet management and serves as a faculty mentor. She is also board member of Pensacola Sports, helping manage local sport events ranging from road races, regional fishing tournaments, and youth tennis and soccer camps.
The Sun Belt Conference Faculty of the Year Award recognizes individuals from member institutions who have a record of outstanding teaching effectiveness both within and outside the classroom, have displayed the ability to inspire, promote, and sustain the academic and athletic development of student-athletes, and play an active role in advising and mentoring undergraduate or graduate student-athletes outside of the classroom.
---
---
---