Career Start at the 'Queen of Southern Resorts'
---
Posted on June 29, 2023 by Thomas Becnel
Thomas Becnel
---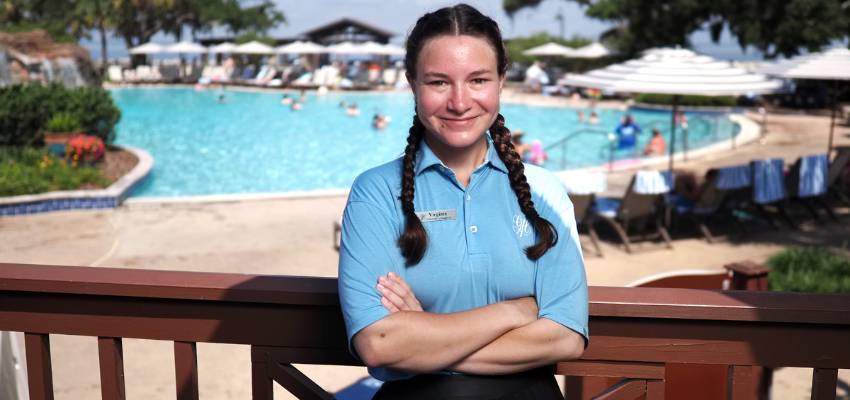 After completing an internship at the Grand Hotel Golf Resort & Spa, Virginia Arata began working full-time as a beverage supervisor at the Jubilee Poolside Grill overlooking Mobile Bay.
---
#MyFirstJob is a series focused on recent graduates of the University of South Alabama.
Virginia Arata left Mobile after high school, then returned to the University of South Alabama for a degree in hospitality and tourism management. Now she's starting her career on the Eastern Shore as a beverage supervisor at the Grand Hotel Golf Resort & Spa.
Family history plays a part in her career path.
Arata's grandfather, Pedro Mandoki, was a celebrated hotelier who managed Callaway Gardens in Georgia and owned Plantation Resort Management in Gulf Shores before being named to the Alabama Tourism Hall of Fame.
"He was my favorite person in the world," she said. "I always wanted to be like him. So I thought I could do this, I could work in hospitality, and honor him."
At South, Arata impressed Amanda Donaldson, an instructor in the Department of Hospitality and Tourism Management. She recommended Arata for an internship at the Grand Hotel, "the Queen of Southern Resorts," a historic landmark built in 1847. Generations of Alabama families return each year to the Point Clear institution overlooking Mobile Bay.
Student work at the Grand Hotel turned into a full-time position for Arata after graduation in May.
"It's my dream job, I love every minute of it," she said. "I'm out in the sun all day and I'm constantly meeting people and making connections. Our peak season just started, so I run around greeting guests, making sure people are relaxed and happy, making sure operations are running smoothly."
During her internship, Arata got a feel for the Eastern Shore resort. She also did research on the Grand Hotel for one of her tourism management courses.
"These are things I use, actually, in my job," she said.
Last summer, Arata traveled to Perugia, Italy, between Rome and Florence, for a Study Abroad program on culture, cuisine and international hospitality. She visited small hotels and five-star establishments. She encountered European ideas of service and welcome.
"It's a lot different from the Southern hospitality that we're used to," she said. "It's not really the customer-is-always-right method. It's more like, we're going to tell you what you want, and we're going to do everything for you."
Donaldson got to know her student better during the Study Abroad program.
"Virginia is an amazing individual," Donaldson said. "She was always so quiet in class, but she showed me her true self over three weeks in Italy. She is hard-working, sarcastically funny and fun-loving, and she is going to do great things!"
A New Perspective
Arata grew up in Mobile. She was a good student. At McGill-Toolen Catholic High School, she took advanced-placement courses in the St. Thomas Aquinas Academy.
Her parents played tennis. So did she. Though she stands just 5-foot-1, Arata played singles on the girls varsity team at McGill.
"I was a Chihuahua," she said, laughing. "Always moving around and making weird noises."
After high school, Arata left Mobile for college. During the COVID pandemic, she did not enjoy Zoom courses or remote learning. She transferred to the University of South Alabama in search of smaller classes and a more personal experience.
"I got to know all of my professors," she said. "I think I got a whole new perspective on Mobile and Fairhope."
As a Jaguar, Arata worked her way through college at a fast-food restaurant on Dauphin Street. This was her start in the hospitality industry.
"If you wanted to work in management, you had to do all the jobs, so I fried the chicken and washed the dishes and did everything else," she said. "I wanted to rush through my classes and earn my degree. I wanted to finish college and go to work."
This summer, Arata moved to Fairhope, which is near her new job. She likes it. She finds the Eastern Shore quiet and peaceful.
She doesn't have much time for tennis these days. In her spare time, she reads fantasy novels and murder mysteries.
When her grandfather died in 2019, there were obituaries and articles that praised Pedro Mandoki for his leadership, humility and sense of humor. His family also shared fond memories.
"He was always kind," Arata said. "He always made time for us. Every Saturday night, we'd have dinner at his house."
She remembers "Grandaddy" taking her on birthday trips when she was a little girl. Travel was part of their lives. Not matter where they went, he made sure there was a birthday cake.
"He knew everyone in the hospitality industry, so we were always cared for in the best possible way," Arata said. "That's what I want to do for people."
---
---