Interdisciplinary Studies Graduate: Starter to Start-up
---
Posted on June 28, 2021 by Thomas Becnel
Thomas Becnel
---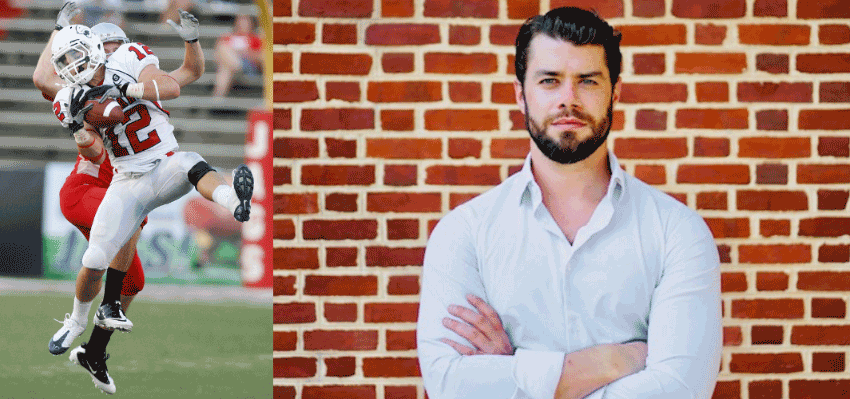 ---
From the home office of Owl Peak Labs, the life sciences company he co-founded in Charlottesville, Va., Tim Harvey leads a national team of doctors and scientists working to save lives with technology that could help detect early-stage colorectal cancer.
He takes Zoom meetings in front of a bookshelf decorated with a University of South Alabama football helmet.
Once a Jaguar, always a Jaguar.
"Yeah, that's my helmet – I love this thing," Harvey said, pulling it down from a shelf. "I have all my jerseys, too."
In 2009, Harvey played safety for the very first Jaguar football team. He was defensive captain for a squad that went undefeated during his senior year. He remains a South supporter and fan.
"Having the opportunity to build a program and see what's happening there, to this day, is very special," he said. "With the company, I've been surprised at how often I've drawn on my athletic and communication skill sets. The ability to make sure everyone's speaking from the same platform. It helps a company, it helps a team, move in one direction. You can really accelerate pace, and get things done."
The mission of Owl Peak Labs is to improve screening for colorectal cancer, the second leading cause of cancer deaths in the United States. The company hopes to use remote diagnostics to reach patients in underserved communities. Its first product is an imaging pill that can scan a patient's gastrointestinal tract for polyps and other signs of cancer.
Harvey and his partner at Owl Peak, Dr. Taison Bell, met in the Darden School of Business at the University of Virginia. They hit it off and launched the company even before earning their MBAs.
Since then, Bell has gained fame in public health during the coronavirus pandemic. As assistant director of medical intensive care at UVA Hospital, he's written and spoken about everything from surges in care to experimental treatments and coronavirus vaccines.
"Oh, he's on TV every 12 minutes," said Harvey. "The pandemic has thrust him into the global spotlight."
He doesn't mind sharing attention, especially when it's good for business. He's still a team player.
In the athletic department at South, people remember him -- even when they claim they don't.
"Tim Harvey? Never heard of him," joked Jinni Frisbey, senior associate athletic director and football chief of staff. "No, no, no -- he was everything you'd want from a student-athlete. Super-driven, loved the game, fun guy. He has this charismatic personality and spirit about everything."
Frisbey was in charge of sports medicine when Harvey was battling knee, thumb and ankle injuries. He went through surgery and rehab several times. If he was told that a recovery might take six weeks, or six months, he would strive to finish in four.
She thought that kind of grit and determination would pay off after college.
"I knew he was very business-oriented, so I wasn't surprised that's what he's done," Frisbey said. "I knew he was going to be successful at whatever he did."
Harvey, 33, grew up in Evanston, Illinois, where both of his parents worked in finance. After graduating from South in 2010 with a bachelor's degree in interdisciplinary studies, he returned home for postgraduate work in finance at Northwestern University.
In Chicago, he worked as a commodities trader. In New York, he worked on Wall Street and became executive director of an equity research firm. He has advised several start-up companies, including LostOnes Studio and Digital Direct Infrared.
These kinds of finance and technology connections led Harvey to Virginia, the Darden School and Owl Peaks Labs. He worked and went to business school at the same time. "It was tough, it was definitely tough," he said. "But it's just discipline, right? There is an extreme level of efficiency, and a lot of it comes down to time, what you're willing to sacrifice and how you're determined to get there."
Harvey lives in Charlottesville near the University of Virginia campus. Work begins with what he calls a morning huddle. His days are long – "I'm a 100-hour-a-week guy" – but he enjoys a flexible schedule.
He runs in the morning, makes time for yoga and saves some exercise or weight training for the evening.
"Less routine, more rhythm," Harvey said. "I'm trying to find a balance with work, meetings and workouts."
Harvey often visits the West Coast for meetings with employees, advisers and investors. He enjoys travel with his girlfriend Miriam, who works as an ICU nurse in Boston.
In pre-pandemic days, he enjoyed visiting Mobile. He stayed at the Battle House Hotel and went to Wintzell's for roasted oysters. He imagined himself getting ready for a Saturday night game at Ladd-Peebles Stadium.
Harvey hasn't seen the new Hancock Whitney Stadium on campus, but says he will have to make a trip. He stays in touch with several football players and coaches from South. He still loves the game.
He started his college football career at Drake University, a small private college in Iowa, before heading south to join a brand-new program in Mobile.
"We were all new recruits and a bunch of transfer students," he said. "I was so lucky to be on those teams and have such a blast. It was exciting to see Bama and Auburn fans also become South fans. We didn't lose, so we set a pretty high standard for everyone to meet."
---
---