Hospitality Grad Lands Job in Private Aviation
---
Posted on October 7, 2021 by Thomas Becnel
Thomas Becnel
---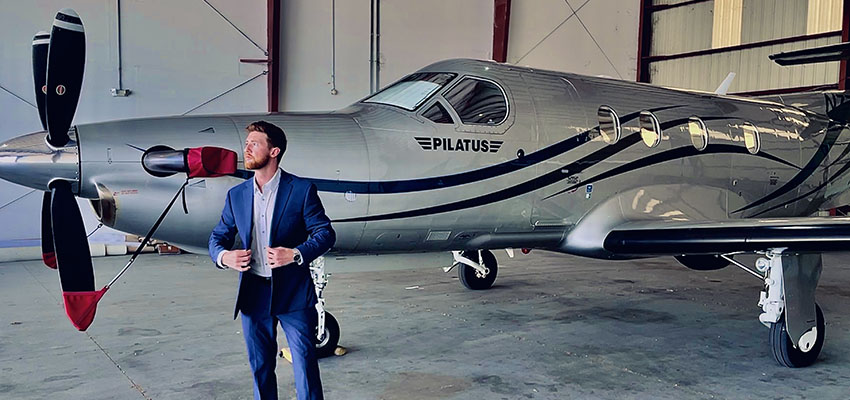 ---
Aaron White, a 2019 University of South Alabama graduate, believes in the power of relationships, conversations and connections that lead to career opportunities.
When the Hoover, Ala., native tells his story, everything comes together. Eventually. One of his business skills is leading people on the journey that ends with his job as a research analyst with AirplaneIQ, a private aviation company based in Sarasota, Fla.
After earning a bachelor's degree in Hospitality and Tourism Management, White headed to Nashville, where he stayed with a friend, worked at a hot chicken restaurant and took a marketing internship to begin his career.
"One day at the restaurant, I see this lady sitting at the bar, and she's wearing a suit and carrying a laptop, looking out of place," he said. "I hear this almost audible voice that said, 'Go talk to her.'"
The woman turned out to be a software creator who hated sales and marketing. He volunteered to help in his spare time. Later on, that meeting led to a position as a business development executive.
In the meantime, he took a job with a recruiting firm, where he spent his time cold-calling managers and executives.
"The recruiting world is tough," he said. "You're doing 90 or 100 calls a day. It's very equalizing."
When the software company from the bar was sold, the new owner hired White to lead teams in business development. Then came the coronavirus pandemic, which slowed things down and reduced his hours. He was considering his options when a sales call with a client turned his boyhood dream of aviation into an achievable goal.
Training to become a pilot can be very expensive, but he learned that there are other jobs in the field. He used his cold-calling experience to contact anyone he could find in the aviation industry. He started applying for jobs.
"I had 26 interviews and I got 26 No's," he said. "Then this guy called me from Sarasota, and I flew down to meet with him the next day."
Now White works to help match buyers and sellers with aircraft that range from small planes to corporate jets. The company slogan is "Wherever you want, whenever you want." He plans to work for AirplaneIQ in Nashville after training for several months in Sarasota.
The Gulf Coast city is famous for blue water and white beaches, but his time there has coincided with an outbreak of red tide.
"It's killing me," he said. "The water's so pretty that it's hard to stay away."
At South, White was active with the Pi Kappa Phi fraternity. He worked at the Student Rec Center for several years. One of his hospitality mentors was David Clark, president and CEO of Visit Mobile.
Before graduation, White did an internship at a Fairhope clinic for the Mitchell Cancer Institute. Renee Sanford, a nursing supervisor who later died of cancer, was another mentor. She encouraged patients and gave them hope for a better life.
"She taught me a lot about hospitality," he said. "She explained that my real job was talking with patients and helping them think about anything other than dying. Music can speak to a lot of people, so one of the things I would do is ask about their favorite music or bands, look them up on Spotify while we were talking, and then hand them one of my earbuds."
White thinks about that experience sometimes when he's talking with clients and searching for airplanes that meet their needs. He chose a Hospitality and Tourism major because it seemed less about business and more about relationships. When networking in Nashville, he tries to be efficient, friendly and helpful.
"That's the essence of hospitality," he said. "Service to others."
---
---