Hospitality and Tourism Management Students Study Abroad in Italy
---
Posted on February 10, 2023 by Amber Day
Amber Day
---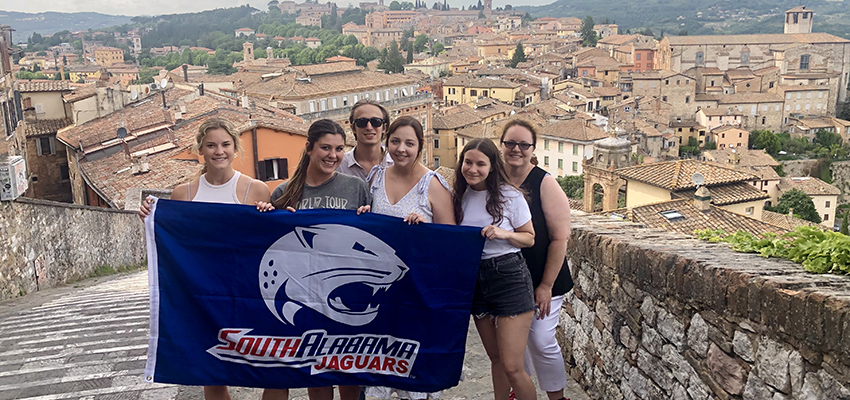 ---
Six hospitality and tourism management students recently traveled to Perugia, Italy, for a faculty-led study abroad program. This trip involved two courses titled "International Hospitality and Tourism Management" and "International Culture, Cuisine and Culinary Practices." Students were fully immersed in Italian culture.
"Studying abroad gave me a worldly perspective into the hospitality and tourism industry and really showed me new industry trends and methods and potential career paths," said Sarah Simpson, a current hospitality and tourism management student from Gulfport, Mississippi. "I am so grateful I took the jump and decided to go on the trip. It is hard to put into words the value of the experience and the lessons I learned about Italian culture and how that will shape my future career in the hospitality industry."
The trip included tours of five-star hotels led by general managers, authentic Italian cooking classes with a Michelin star chef and a visit to the world-renowned art museum the Uffizi Gallery. Students had a chance to speak with top managers in Perugia's hospitality organizations and connect with expatriates who moved to Italy to start their own businesses. Students also toured organic and sustainable vineyards and an agriturismo, where they made cheese, toured the farm, viewed rooms for rent and ate at the on-site restaurant.
"I loved the relaxed Italian lifestyle," said Cindy Golembiewski, a current hospitality and tourism management student from Mobile, Alabama. "We would wake up and stroll through the cobblestone streets. I loved taking part in the passagate in the afternoons and eating gelato with friends."
The hospitality and tourism industry was hit hard by the pandemic, but leaders have worked diligently to bounce back with a vengeance. Speaking with employees, owners and managers of hospitality organizations in Italy allowed students to see that employee shortages and higher expectations from guests are not just a local challenge in Alabama, but an international one. The trip also allowed students to see the differences in service and engage in discussions about different solutions to some of these challenges. Not only did students make national and international connections and friendships, but they also made lifelong memories.
"One of my favorite parts of the trip was our visit to the agriturismo," said Cindy Golembiewski, a current hospitality and tourism management student from Mobile, Alabama. "We got to tour the sustainable farm, make cheese, and eat lunch on their beautiful patio in the Italian countryside. I plan to return to Italy to complete a minor in Italian and possibly complete my internship."
The Department of Hospitality and Tourism Management plans to travel to Seville, Spain, from May 16 to June 8. Students will be immersed in the Spanish culture by attending cooking classes, eating local cuisine, meeting with local hospitality and tourism professionals, exploring unique neighborhoods, participating in Flamenco dancing lessons, and much more. The 21-day study abroad trip to Seville is open to all students. The cost is $4,499 and includes tuition for six credit hours and all items on the itinerary. A $500 scholarship is available to the first 10 students that commit to the program and apply. There are other study abroad scholarships available.
The deadline to apply for the summer 2023 trip to Seville is February 14. Click here to apply.
"I would recommend studying abroad with the Department of Hospitality and Tourism Management if you have the chance," Simpson said. "Every dollar spent was well worth it, and you will not regret the experience."
Open your eyes to the countless opportunities available in hospitality and tourism management and see how a degree in this industry can take you anywhere in the world. Have questions about the summer 2023 trip itinerary or the courses associated with the program? Would you like to donate to the hospitality and tourism management study abroad program? Contact Amanda Donaldson at AmandaDonaldson@SouthAlabama.edu for more information.
---
---