Thompson Serves as an Inspiration Across the World
---
Posted on July 21, 2021 by Amber Day
Amber Day
---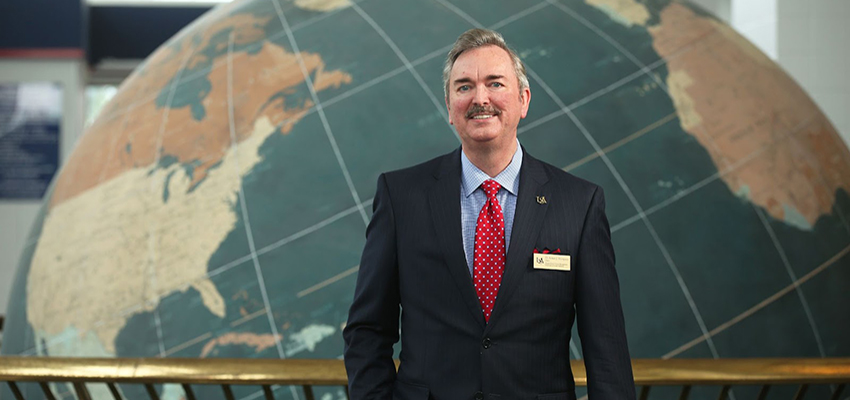 ---
From a busboy at the Biloxi Hilton to department chair for Hospitality and Tourism Management at the University of South Alabama College of Education and Professional Studies, Dr. Robert Thompson has quite the vitae.
Most recently, Thompson was elected vice president/president elect for the Southeast, Central and South American Federation of International Council on Hotel Restaurant and Institutional Educators, after serving as director of marketing for the past year. He has also served as a guest lecturer at more than 15 colleges and universities in India, Pakistan and Ecuador to address the COVID-19 pandemic and its impact across the world.
After high school, Thompson received a scholarship to attend Jackson County Community College, which gave him the opportunity to 'test the waters' in higher education.
"My father was in the military, so both of my brothers went into the service and I always felt like I was expected to follow suit," said Thompson. "And I remember one day, I was driving with my dad down Highway 90 between Ocean Springs and Gautier, Miss., and he looked at me and he said, 'I hope you don't think I'm expecting you to go into the service like myself and your brothers.' And I said, 'yes sir, I do.' He said, 'no, I want you to do whatever makes you happy, and if you want to go to college, we will find the money for you to go.'"
Thompson continued his education at the University of Southern Mississippi and earned a bachelor's degree in fine arts. He then moved out to Las Vegas and worked at Circus Circus Hotel and Casino. From there, Thompson worked at Le Parc Hotel in Los Angeles and served as assistant manager at the Beverly Pavilion in Beverly Hills, all before moving home to help take care of his mother, who became terminally ill with cancer.
"After moving back home, I worked as a cruise director for Europa Cruise Lines and spent time with Royal d'Iberville Hotel in Biloxi, before serving as general manager of Gulf Hills Resort & Country Club and director of development for Rabex of Japan Resorts," Thompson said. "And then, I was with Wyndham working in marketing for nearly 20 years. It's amazing how certain doors open."
Thompson served as director of regional marketing for Wyndham Hotel Group and director of field marketing for Wyndham Worldwide.
"I took advantage of the tuition reimbursement program while I was at Wyndham to get my master's and Ph.D.," Thompson said. "The week before I defended my dissertation, I had an interview at the University of South Alabama. I defended my dissertation on a Friday, I came down here Sunday night to go to dinner with the search committee, I was on campus on Monday, and the following week I had the offer. Within a year, I was asked to serve as interim chair for the department."
Thompson earned his MBA from the University of Guelph in Ontario and Ph.D. in Human Capital Development from the University of Southern Mississippi. Thompson is able to use his degree in human capital and development to help address issues in workforce shortage in Mobile and Baldwin counties.
"I try to ensure that our students have connections for those jobs and understand what's underneath the umbrella," Thompson said. "Sometimes students don't realize what encompasses hospitality and tourism. They just automatically default to thinking it's hotels and restaurants, and I always say, we are so much more than making beds and waiting tables. Yes that's out there, that is a key component of our industry, but it is not everything, by any means, and that's something that we have to work on as faculty and as an industry. It's not a stop gap employment opportunity."
Thompson said a degree in hospitality and tourism management provides a 'world of opportunities,' and his professional career in the field gives a view of potential outcomes.
"My time in hospitality and tourism has allowed me to work in Beverly Hills, Las Vegas and for a fortune 500 company for 20 years. I've been a cruise director and country club manager, and I've managed resorts. This degree can take you anywhere. That's why I always say this is the degree that travels. You can go anywhere you want to go. It's a global industry."
The Department of Hospitality and Tourism Management in the College of Education and Professional Studies prepares students to become leaders in one of the fastest growing industries in the world.
"Hospitality and tourism management accounts for one out of 10 jobs globally and adds a new position every 2.5 seconds. It's a powerhouse, and if you look at what happened with COVID-19, everything came to a screeching halt when they took travel out of the equation. Travel is the cornerstone of our industry."
One of South's institutional priorities is to strengthen the connections and collaborations between the University and the larger world. And since the pandemic, Thompson has done just that.
"I received a heart wrenching email from a contact at Kanya Maha Vidyalaya, an all girls school in Jalandhar, Punjab, India," Thompson said. "The pandemic is raging in India, and you can only imagine these young people questioning their futures and career choices and wondering what the world will look like post pandemic. He basically asked me to give them some encouragement and hope, and that's really why I've been doing this."
Thompson has spent several late hours with the time difference over many weekends committed to helping inspire students in India, Pakistan and Ecuador. He has served as a virtual guest lecturer at more than 15 colleges and universities during the pandemic.
"It's very rewarding," Thompson said. "The students abroad are like little sponges, and they just soak it all up. They're so appreciative."
The general message during Thompson's presentations abroad address the impacts of COVID-19 on hospitality and tourism, employability after the pandemic and planning for the future. He's presented before audiences of more than 300 individuals at a time.
Thompson has been asked to present to students, faculty and community partners at RKDF University in Jharkhand, India; Kurukshetra University in Haryana, India; CT University in Ludhiana/Punjab, India; GNA University in Phagwara/Punjab, India; Seth Jai Parkash Mukand Lal Institute in Haryana, India; CVM University in Gujarat, India; IMS Unison University in Uttarakhand, India; Kanya Maha Vidyalaya in Jalandhar/Punjab, India; Assam down town University in Kolkata/New Delhi, India; Le Cordon Bleu India in Mumbai, India; NRI Institute of Research and Technology in Bhopal, India; Guru Kashi University in Bathinda, India; Charutar Vidya Mandal University in Gujarat, India; Seth Jai Parkash Mukand Lal Institute in Haryana, India; Suresh Gyan Vihar University in Jaipur, India; Bahria University in Islamabad, Pakistan; and the Universidad San Francisco de Quito in Quito, Ecuador.
"I have to control my schedule and my time and realize that my sole responsibility is chair of this department," Thompson said. "But again, it's such a difficult time in India and they need to know that people around the world care. They need to know they're not alone in their endeavor and that they have everyone's prayer, support and encouragement."
---
---