Captain Kane Jones Receives Young Alumni Rising Star Award
---
Posted on November 4, 2022 by Amber Day
Amber Day
---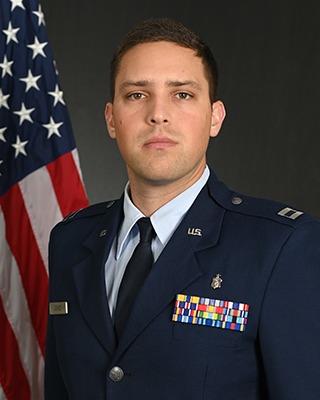 Captain Kane Jones, who received a Ph.D. in Clinical and Counseling Psychology from the University of South Alabama, has been recognized by the University of Alabama at Birmingham College of Arts and Sciences with a Young Alumni Rising Star Award.
"During his time at South, Captain Jones spent considerable energy studying and implementing programs to help adolescents and young adults who have experienced trauma and adversity live healthier, safer and more prosocial lives," said Dr. Trés Stefurak, associate dean of the College of Education and Professional Studies who also served as Jones' mentor. "He also built a strong foundation of skills in consulting with and evaluating mental health programs. He has carried these values and interests into his career as an Air Force Medical Service Corps psychologist."
While a student at South, Jones ran a young men's counseling group at St. Mary's Home and Strickland Youth Center in Mobile, where he provided many psychological evaluations for both settings.
Since entering the Air Force, Jones has been stationed in Qatar at the U.S. Central Command, Biloxi at the Keesler Air Force Base, and most recently in Guam at the Andersen Air Force Base.
During these deployments, Jones has served as an active duty military personnel and a clinical and counseling psychologist. He and his wife have also started a family, and they are with him now in Guam.
During his military service, Jones has also served as a policy and administrative consultant within a child welfare facility. He conducted needs assessments within residential drug treatment facilities and performed formative and iterative evaluations on leadership workshops for Air Education and Training Command courses.
Jones served on the Air Force Medical Readiness Agency's mental health technician's cultural competency working group and engaged with Air Force Special Operations Command inaugural assessment. Jones also participated in a selection event for potential squadron commanders.
In 2021, Jones received the Air Force Commendation Medal and the Air Force Achievement Medal.
To learn more about this recent honorable achievement, click here.
---
---