#StudentSpotlight: Meet Interdisciplinary Studies Major Silje Lindstad
---
Posted on March 11, 2021 by Micaela Pickering
Micaela Pickering
---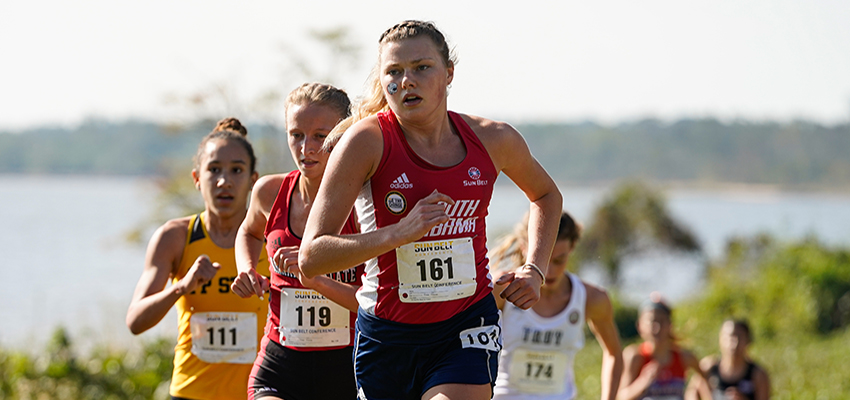 ---
Silje Lindstad, an international student from Norway, is a senior at the University of South Alabama majoring in interdisciplinary studies with a concentration in professional studies. Lindstad is also a member of the track and field team at South.
While in high school at Ulrikke Pihl Vidergaende Skole in Norway, Lindstad participated in track and field as an extracurricular activity in a local club. Sports are not offered through the high schools in Norway like they are in the U.S.
"We cannot participate in sports and marching band in the way Americans can choose to participate in those activities in high school," Lindstad said. "I therefore studied general education in high school and participated in track and field and handball in the morning and night surrounding my school schedule."
Lindstad was a part of a teacher education program at the University of Western Norway before moving to the U.S. She worked as a substitute teacher and intern at two schools surrounding her college called Ulsetskogen Skole and Løvås Oppveksttun.
"As I studied to become a teacher, the educational program I was part of cooperated with several elementary schools in Bergen," Lindstad said. "As a part of our teacher education, we had six weeks of internship each year in some of these elementary schools."
Lindstad chose to move to the U.S. because of American track and field. She had always dreamed of training with a large group of people. She also enjoys learning about other people and cultures.
"American track and field was the main reason why I chose to study in the U.S.," Lindstad said. "I had for a long time been dreaming of training with a large, passionate group of people, and the track and field team the University of South Alabama really seemed to match this dream of mine," Lindstad said. "Additionally, I get easily curious about other people and cultures, so I did not mind moving somewhere new. What I got to realize later on, was that moving far from home helped me develop as an athlete and as a student, but more importantly as a person. The experience of adapting to a new culture helped me become a better listener."
After talking with the USA track and field team head coach, Lindstad investigated the University by visiting the school's website and athletics page.
"It was something about the warm sun that got me," Lindstad said. "Also, the school's website made it look very professional."
At the same time that Lindstad became interested in South, she realized that another Norwegian student was already a part of the track and field team.
"I knew about her because she is a very good athlete and she had developed a lot while she was here," Lindstad said. "I began to talk to her and one of my first questions was actually about the water, because in Norway we have very fresh water. I also contacted a student from Denmark and she talked great about the program."
When Lindstad decided to attend the University of South Alabama, she chose to part ways with teacher education because the qualifications are different in Norway. She first majored in communication, but then realized she wanted to study psychology.
"When I first started at South, I started studying communication," Lindtsad said. "Then I figured out that even though it was a very good program, it was a bit too business oriented for me. So I ended up choosing to study psychology, which is what I am doing now."
As an interdisciplinary studies major in the USA College of Education and Professional Studies, students can customize their degree based on personal interest and in many instances, credits can be transferred. Lindtsad chose the professional studies concentration within the interdisciplinary studies program, which allows her to take a variety of psychology courses while receiving a holistic education to prepare her for many potential careers.
"I am really thankful for the flexibility offered by the interdisciplinary studies program," Lindstad said. "This gives me some freedom to plan and organize my studies, which is helpful since we compete in track and field and cross country throughout the whole year. I am very thankful for the classes I was able to include in my major as a student in the Department of Integrative Studies. My preferred field of study is psychology, and thanks to good communication and flexibility provided by the Department of Integrative Studies and the Department of Psychology, I could decide to have that as my main discipline in my undergraduate degree."
Lindstad will graduate in Spring 2021. She plans to study cognitive science at the University College Dublin, which is located in Ireland. Lindstad would like to conduct more research on neurological and developmental disorders. Later in life, she hopes to do work in either the health sector or education sector dealing with cognitive behavioral therapy for people in the early stages of dementia.
Lindstad enjoys track and field for many reasons including the competition, friendships, memories and lessons. She plans to continue her athletic career, but she will miss the Jaguars.
"Although I leave after graduation, a part of me will always be a Jaguar," Lindstad said.
Lindtsad was recently interviewed on the "Next in Ed" podcast series. To listen to her interview, click here.
The Department of Integrative Studies in the University of South Alabama College of Education and Professional Services includes faculty who are professionals from various backgrounds including business, political science, military, instructional design, teacher education, interdisciplinary studies, community counseling, educational research, and child development. The faculty and advisors are committed to the recruitment and retention of talented students with the potential to have a positive impact on their profession and the community. The department offers an online interdisciplinary studies bachelor's degree, which builds skills in communication, cultural competency, analytical thinking, leadership, and teamwork.
The interdisciplinary studies online bachelor's program is designed for new undergraduate students, as well as students who are entering college later in life or who have some undergraduate coursework and want to complete their degree. It's a completely customizable program geared toward individuals who are seeking a career change, pursuing a promotion, embarking on a first-time career, or preparing to enter graduate study.
---
---