USA Literacy Center Makes Impact in Local Community
---
Posted on March 5, 2020 by Amber Day
Amber Day
---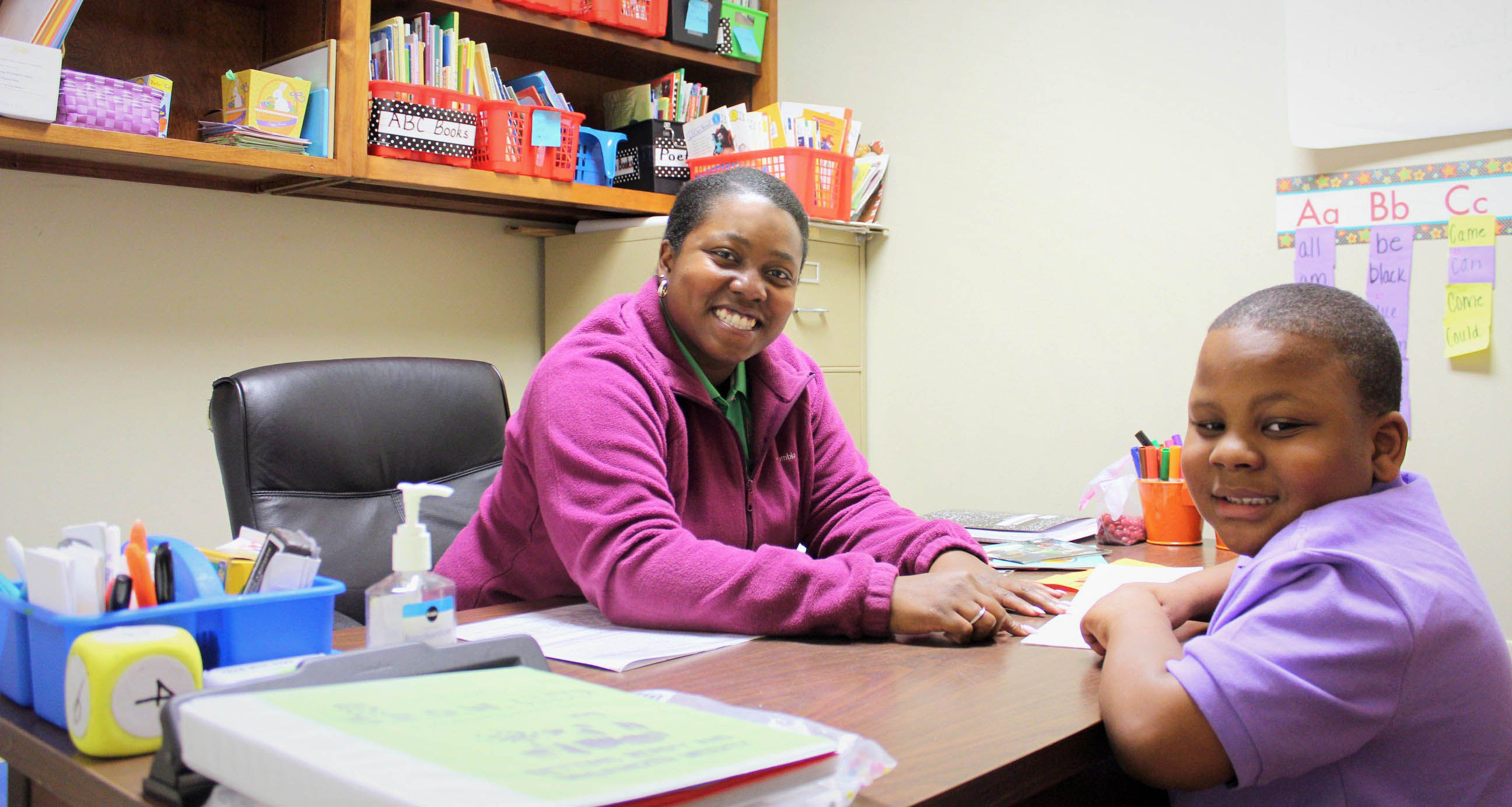 Angie Brown, a student in the University of South Alabama College of Education and Professional Studies, working with Jackson Tucker, a kindergarten student, at the USA Literacy Center.
---
"My favorite book is 'Elephant and Piggy,' because I like the funny things they say in it," said Jackson Tucker, a kindergarten student at Eichold-Mertz Magnet School of Math, Science and Technology in Mobile. "Mrs. Joan helps with my homework, and we get to do my sight words and read books."
Tucker started school in August 2019, and his mother wanted to be sure he had full support to be successful at the magnet elementary school.
"Jackson went to a pre-K program, and I was not sure how he would adapt from going from that to a kindergarten program at a magnet school," Kimberly Tucker said. "I was always told magnet schools are a little more challenging, and I did not want him to face that challenge without having some assistance. I asked some friends to recommend resources in the community."
Tucker is a University of South Alabama alumna and currently works as a nurse manager at USA Health University Hospital. She also serves as an adjunct instructor for the USA College of Nursing. She decided to enroll her son in tutoring sessions at the USA College of Education and Professional Studies Literacy Center, where program director Joan Holland works with K-12 students to individualize plans to improve reading skills for students throughout the local community.
"USA is known for being a center of excellence in healthcare and education, and I feel that I see the same cutting-edge type of care that we try to provide at the hospital level here at the Literacy Center as well," Tucker said. "Seeing how Mrs. Holland has taken the time to individualize Jackson's care plan and focus toward the things he's challenged with, has really improved his grades. I can really see the difference in my son."
USA's Literacy Center opened in June 2016 and provides children in the local community opportunities to enhance their reading and writing skills. The center also hosts a fun, interactive literacy and video production summer camp each June. Holland and Dr. Joe Gaston, assistant professor in the Department of Counseling and Instructional Sciences' Educational Media and Technology program, coordinate and teach at the camp.
"The establishment of the Literacy Center is the brainchild of Dean Andi Kent," said Holland, who also serves as an instructor for the Department of Leadership and Teacher Education. "It is designed as a community outreach program to provide best practice literacy instruction and educational support to K-12 students and families seeking to acquire the skills necessary for success in academics. It is also a hub for advancing the teaching, research and service goals of the College of Education and Professional Studies."
The center offers individual private and small group tutoring sessions throughout the year. Holland coordinates the program, which also provides opportunities for College of Education and Professional Studies students to gain hands-on experience outside the classroom.
Temple Zimlich received her undergraduate degree from South in interdisciplinary studies with a concentration in community services. Zimlich is currently enrolled in the College of Education and Professional Studies elementary education master's program and will graduate in May 2021.
"Working at the Literacy Center has been an incredible opportunity for me as a future teacher," said Zimlich, who started working at the Literacy Center in Fall 2018. "Through my work as a literacy tutor, mentor and camp leader, I have been able to learn, practice and further develop many crucial skills. I have learned many lessons from my time at the center about content principles, effective pedagogy, strategies for behavior management, collaboration with parents, and how to most fully love my students.
"Through my work with the Literacy Center I have experienced the joy of being a part of a student's journey to improve and succeed academically and socially. In addition to increasing my passion for teaching, these experiences will carry over into my classroom and continue to enhance the lives of many students."
During Zimlich's time working at the Literacy Center, she tutored students from many public elementary schools throughout the Mobile area, such as Kate Shepard, E.R. Dickson, Eichold-Mertz, Dodge, John Will, Mary B. Austin, Allentown, Orchard, Forest Hill, Leinkauf, O'Rourke, Ella Grant, Collier, and Booker T. Washington, as well as students from several private schools such as St. Paul's and St. Luke's, and parochial schools, including St. Ignatius, Corpus Christi and St. Mary's.
"The Literacy Center is committed to making a difference in the greater community, and I am blessed to be able to play a small part in this incredible mission," Zimlich said.
Holland trains USA students to help run the Literacy Center. Duties include tutoring, office work, welcoming guests to the center, organizing the book room and helping with assessment appointments.
"I love planning for each client based on his or her individual needs and interests," Holland said. "As clients come to the center, we have to learn about how they are taught in their regular classrooms as well so we are able to support school efforts, while adding to our clients' literacy strategies tool belts.
"I would also say working with parents to provide home support for their children is also at the top of my list of reasons I love tutoring. Parents are so busy these days, and they need specific efficient ideas to help build the love of literacy at home. We work to make real-life connections for parents and their children."
Jackson is now excited to learn and read books like 'Elephant and Piggy,' because of the individualized planning and work that the Literacy Center has provided him for the past seven months.
"Jackson now loves to learn, and that has to do with the people at the Literacy Center," Tucker said. "Now, all of sudden, he really wants to do it. They are making it fun for him and teaching him at the same time. I can tell that his reading has improved tremendously.
"Mrs. Holland is wonderful. She worked with Jackson, and almost right away, his grades dramatically improved. I can actually see it in real time. She has such a love for education and for children. You can just feel it. It's almost tangible, her passion for really wanting the children to grasp the concepts. It's a great match, because his teacher is the same way, so he's flourishing in this environment."
Registration is now open for 2020 spring and summer reading and writing tutoring and the June 2020 summer camp. Learn more at www.SouthAlabama.edu/literacy.
---
---