Helping Children Find a Love for Reading
---
Posted on December 1, 2022 by Ensley Lawrence
Ensley Lawrence
---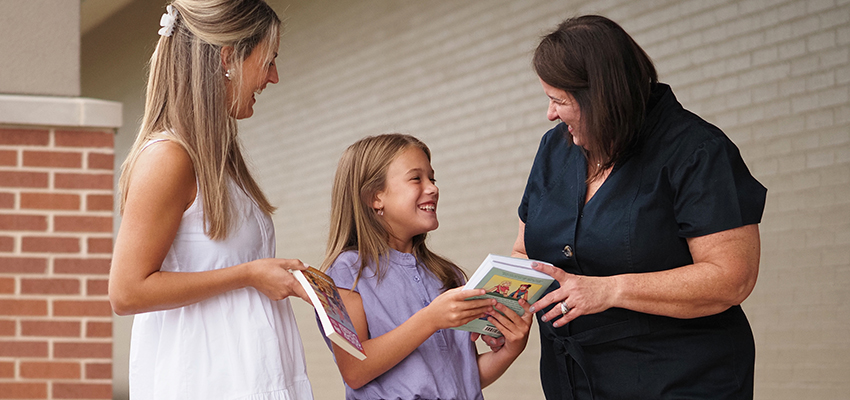 ---
Appie McMurphy is a fifth grader at UMS-Wright Preparatory School. Thanks to the University of South Alabama College of Education and Professional Studies Literacy Center, McMurphy now has the skills and confidence needed to be successful in her schoolwork.
"I do not like to read, but when I visit Ms. Joan, I enjoy doing it," McMurphy said.
Joan Holland, director of the USA Literacy Center, has more than 30 years of experience in education. Holland serves as the face of this community engagement program, which provides local children with tools to improve reading and writing skills.
Between pre-K and first grade, McMurphy's mother, whose first name is also Appie, noticed a shift in her daughter's literacy skills.
"Ms. Joan was a name I kept hearing in the community," McMurphy's mother said. "She is the biggest blessing that has fallen into my child's lap."
McMurphy began her journey with the Literacy Center at the age of 4. Once teachers suggested additional work in the summer to prepare her for kindergarten, it was only a matter of time before Holland and McMurphy established an unbreakable bond.
McMurphy was struggling with phonemic awareness (the ability to hear and manipulate individual sounds in spoken words), working memory and number sense after switching schools. The foundational work that Holland focused on improved McMurphy's ability to speak more confidently while believing in herself.
"I cannot put into words how much the change was black-and-white," McMurphy's mother said. "It was absolutely unbelievable."
During the COVID-19 pandemic, sessions between the two became remote. Holland continued to support not only McMurphy, but her mother as well. Holland provided strategies and tips to help the two with teaching and learning at home during quarantine.
In early 2020, McMurphy's mother felt they needed to take the next step. They started meeting with Holland twice a week to work on reading and math problem-solving skills. There was still what McMurphy's mother described as a "disconnect" with reading. Prior to third grade, McMurphy was diagnosed with dyslexia and dyscalculia. The diagnosis helped clarify her academic struggles.
"Mrs. Holland has become another figure in my child's life that is supportive, loving, caring and accountable," McMurphy's mother said. "It is all the things needed to boost her confidence."
McMurphy's favorite books are graphic novels such as "The Baby-Sitters Club" series, "Smile" and "Sisters." Holland has helped McMurphy find a way to like reading. She understands McMurphy's interests and recommends books based on this knowledge.
"I really hate reading, but these books make it more enjoyable," McMurphy said.
The Literacy Center offers support to all students who need help with reading and writing. The center provides flexible scheduling and individualized sessions based on the needs of each client.
"Ms. Joan has been so helpful in finding time for Appie," McMurphy's mother said. "I feel it is just as important for a child to be loved and affirmed as it is for them to learn how to read and write. Mrs. Holland and the Literacy Center can offer that."
---
---