---
Posted on January 10, 2023 by Thomas Becnel
Thomas Becnel
---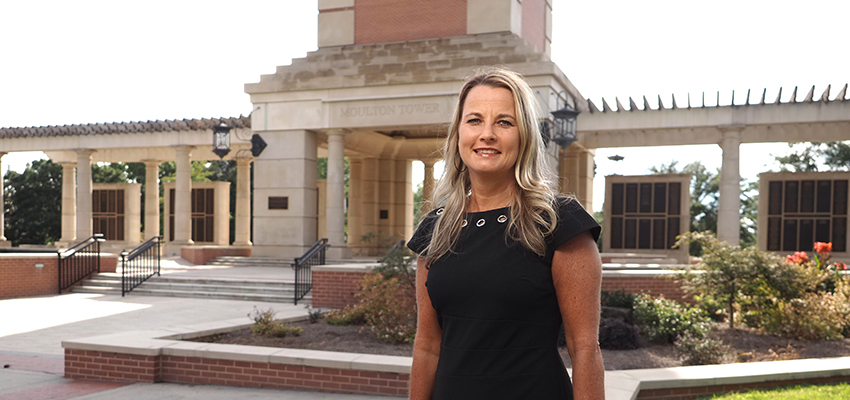 ---
Even in kindergarten, Dr. Andi Kent knew she wanted to become a schoolteacher.
"From K through sixth grade, I never missed a day of school," she said. "I was one of those students who loved going to school. I remember all of my teachers."
Kent grew up in Tillmans Corner, southwest of Mobile, where her father owned an auto supply store and put in long hours to make sure the family always had more than they needed. She and her brother and sister helped sort invoices on the living room floor. Cloverleaf Auto Supply was a family business.
Education was important to her family, though neither of her parents earned a four-year college degree. Her mother was a licensed practical nurse who found her true calling in raising her children and supporting the family.
"My first-grade teacher, Jackie Brunson, often told a story about me saying I was going to get a Ph.D.," she said. "Just like my Uncle Doyle."
Kent did become a schoolteacher, and she did earn a master's degree in early childhood education and a Ph.D. in instructional design and development from the University of South Alabama. Her goal was to work in curriculum and instruction at the central office for the Mobile County Public School System.
She never planned a career at South, but mentors convinced her otherwise.
"I was working really hard to make an impact in the lives of children, and I wasn't sure I could make that kind of impact in higher ed, because I'd be further removed from them," Kent said. "At some point, I realized that, perhaps, the impact could be exponential. If you're teaching future teachers, and they're going back to teach their students, then you're able to reach more people."
In the College of Education and Professional Studies, Kent rose from assistant professor and director of field services to professor and then associate dean. In 2015, when the dean of education retired, she was asked to serve as interim dean and encouraged by many to apply for the position. A few months later, she was named dean.
Five years later, the same thing happened.
The University needed a new provost and senior vice president for academic affairs. President Tony Waldrop made a surprise visit to Kent's office and asked her to serve as an interim administrator. She told Waldrop that others were more suited. Waldrop was insistent, though, so Kent took on the challenge.
This spring, after Jo Bonner became the fourth president of the University of South Alabama, he initiated a national search for the provost position. Following that, he appointed Kent as provost and decided to combine the role with that of the executive vice president. As a nontraditional college president, the former congressman has relied on her academic background and institutional knowledge of South.
On a listening tour of meetings with students, faculty and community leaders, Bonner liked to joke that Kent was coaching him through questions and grading his answers.
"I still haven't gotten my report card from her, but her role has been incredibly valuable in our getting off to a strong start," he said. "Dr. Kent commands respect and is admired for her work on campus and in Mobile. She's an optimist. She's dedicated to the core. And she's tireless."
Both of them put in long hours designing and implementing strategic initiatives in an effort to expand the reach of the University.
"Often, my first email of the day is from Andi, around 5 a.m., and my last email of the day is from Andi, about 11 p.m.," Bonner said. "I realized on day one that no one was going to put more into their job than Andi Kent. That was obvious."
Meetings, Emails and Exercise
Kent – her name is Andrea, but she's always been Andi – describes herself as family-focused.
After dorm life and living with friends during her first years as an undergraduate student, she lived at home with her parents until she married Derek Kent, her high school sweetheart. Derek is a South graduate and nurse manager in surgical services at USA Health Children's & Women's Hospital. They have a son and a daughter.
The Kents live in West Mobile. They enjoy visiting Orange Beach and taking sea cruises. In town, they share casual meals at various restaurants.
"My favorite food is Mexican," Andi said. "I would eat it every day of the week if I could."
On most days, she rises at 4:45 a.m. to exercise on an elliptical trainer. In the Whiddon Administration Building, back-to-back meetings often fill her day. In the evenings, she's usually going through more than 100 emails.
"I'm not a great sleeper," she said. "The nights are often filled with thinking about how to best embrace the many opportunities in front of us."
Kent makes time in her demanding work/life routine for volleyball games at Baker High School. Her daughter, Mary Elizabeth, plays on the junior varsity team. Mom roots for the Lady Hornets.
"I try not to embarrass her," she said, laughing. "That's my goal. But I do cheer her on."
Her son, Andrew, is a freshman at the University of South Alabama, and is loving being a Jaguar.
"We looked at eight different universities," she said. "I was elated that he chose South."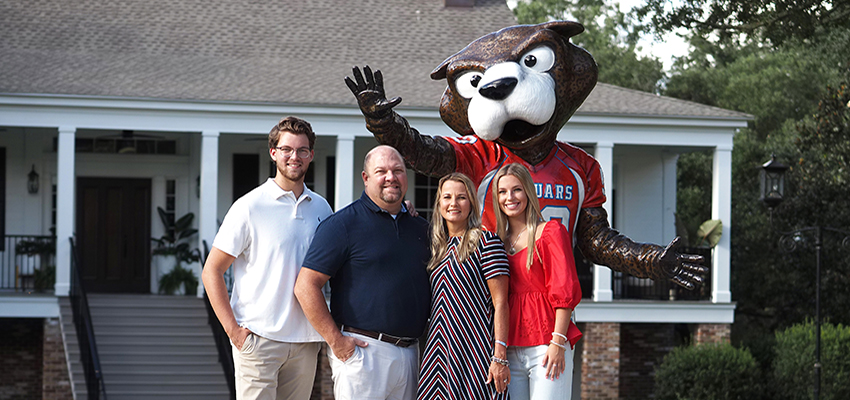 Dr. Andi Kent is pictured with her husband, Derek, and their two children, Andrew and Mary Elizabeth. Andrew is a current student at South majoring in exercise science.
Mentors and Colleagues
When Kent attended Theodore High School, she was elected president of her class. Principal Richard Davis became one of her first mentors.
"He was definitely my second dad," she said. "He valued and respected my opinion. To this day, he calls me 'Madam President.'"
After earning a bachelor's degree in education from the University of Mobile, Kent began teaching and working on her master's degree at South.
Her first permanent teaching position was at Burroughs Elementary School in Theodore. She was 22 years old. Dr. William Foster, who later became a member of the Mobile County Board of School Commissioners, was her first principal.
Kent made an impression.
"You kind of see things in people," Foster said. "You know they're going to be successful. She was on top of everything, extremely well organized. And she was a sponge. If somebody told her something, she'd take it all in. She was one of those people. And I followed her career over the years.
"If she has a job to do, somebody's going to notice, and that leads to the next job. Andi's really good with people, and she's really good in groups, and not everybody is."
Kent became one of many Mobile educators who taught during the day and worked on their graduate degrees in the evening. It meant years of sacrifice for her entire family. And a grueling schedule.
"I can remember teaching and then staying after school to 5:30, preparing for the next day, and then going to class at 6 at South. Classes took a lot of time. The Instructional Design and Development graduate program required several statistics courses, which were not my forte, so I studied 24/7. If I was going to do it, I was going to do it right.
"And I worked alongside fabulous educators and made great friends, lifetime friends. If I had to redo it, I would do it exactly the same way."
This kind of experience helped prepare Kent for career building as a faculty member and administrator at South.
As a professor, she was a recognized scholar with dozens of publications and hundreds of scholarly presentations, and she has authored and edited multiple books. She directed student research and secured nearly $7 million in external research funding. During her tenure in the College of Education and Professional Studies, she served in many administrative roles, while also teaching and mentoring undergraduate and graduate students.
As interim provost, Kent supported creation of the School of Marine and Environmental Sciences. She implemented the Start South dual enrollment program for high school students. She supported the growth of research in health sciences, engineering and business.
Dr. Paige Vitulli, chair of the Department of Integrative Studies, watched Kent rise through the College of Education and Professional Studies into University administration.
"I wasn't surprised," Vitulli said. "She always had the determination, the work ethic, the drive. She also had the right temperament. Her ability to listen and keep her cool has always impressed me. She doesn't have to be the center of attention. She doesn't have to control every situation. But with that said, she's never afraid to say what she's thinking."
For Kent, Bonner's listening tour of South this spring was an opportunity to re-connect with her constituencies.
"Visiting all of the areas on campus and at USA Health with President Bonner provided me the opportunity to further develop a shared vision for where the University is going," she said. "Each visit was valuable and reminded me of what makes South so special — the people."
Kent hasn't lost any of her enthusiasm for teaching, coaching or recruiting. The goal of improving education remains the same, whether she's teaching third graders, encouraging elementary-school reading teachers or recruiting postdoctorate researchers. She is driven by a desire to make a difference.
She's never been tempted to leave South, her graduate alma mater, and says that she is honored to serve. As she looks to the future, she is excited about the direction the University is headed.
"Working alongside President Bonner and incredible people at South," Kent said, "we are committed to making a bigger impact than ever before, embracing the opportunities to make a difference.
"I love it here," she said. "I love the mission. I love the people. I love the University."
---
---