DuBose Adams Honored in Washington, D.C. for National Principal Award
---
Posted on December 5, 2019 by Amber Day
Amber Day
---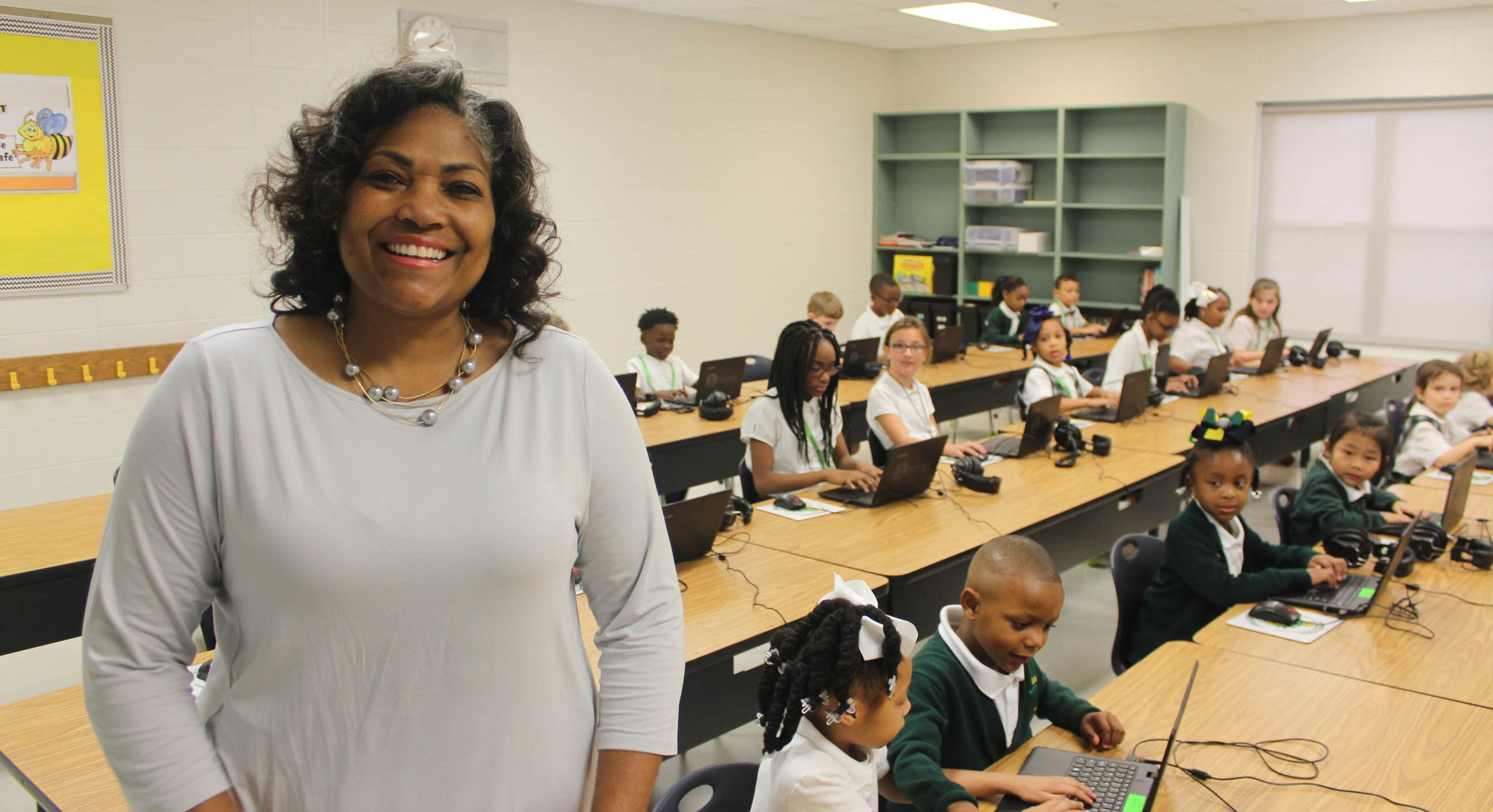 ---
Michelle DuBose Adams, who was a student at the University of South Alabama College of Education and Professional Studies, was recently honored at the National Blue Ribbon Schools awards ceremony in Washington, D.C., as a recipient of 2019 Terrel H. Bell Award for Outstanding School Leadership. Adams was one of only 10 principals nationwide to receive this award.
"The recognition is breathtakingly unexpected, for something I simply do everyday," said Adams, who received her educational administration certification at South. "I am excited for the doors the honor has opened, yet remain challenged for whatever comes next."
Adams is principal at Eichold-Mertz Magnet Schools of Math, Science and Technology, the only school in Mobile County to recently score 100 percent on the Alabama Department of Education's report card.
"Bell awardees are truly extraordinary principals," Secretary DeVos said. "These principals are models of transformative leadership, capable of articulating—and realizing—a vision of school as a community where every student and every adult thrives through learning. They are also skilled communicators who convey faith in the ability of students and staff to rise to high expectations."
Named for the second U. S. Secretary of Education, the Bell Award honors school leaders who are committed to education as a powerful and liberating force in people's lives. The award is part of the National Blue Ribbon Schools Program.
Because of Adam's recent success, the City of Mobile and the Mobile City Council declared November 5, 2019 as 'Michelle Dubose Adams Day.'
"I was heavily encouraged by my first principal Mrs. Gertrude Nettles Baker to pursue my certification at USA," Adams said. "She saw in me the ability to organize and lead."
Adams said there were a number of colleagues who were in the program at USA that she remains in contact with today.
"I distinctly remember Dr. Larry Turner who etched an indelible mark," Adams said. "He was as down to earth and country as a 'dozen of brown yard eggs.' He frequently told stories and related accounts of incidents that occurred in schools that we needed to think through. He also taught me one of the most valuable lessons ever."
Dr. Turner was recently appointed to the Alabama Commission on Higher Education and serves as a representative of the state at large. Turner is a retired president of the Alabama School of Mathematics and Science in Mobile. His career has included School of Education dean at the University of Mobile, assistant professor at the University of South Alabama, and an instructor at Alabama Southern Junior College in Monroeville and Southern Union State Community College in Opelika. He also served as executive director for the Council for Leaders in Alabama Schools and as superintendent of education for the Washington County Schools.
"I was in a hurry, because I had procrastinated an assessment till the last hour," said Adams, recounting her class at South with Turner. "I submitted the paper without proofing. When I received the graded paper back it looked as if a stuck pig had bled all over it. He also had a bit of advice for me too. He said, 'Now, young lady, you get into the habit of reading every single item you publish. If not, a parent might decide to send it to your superintendent or even the Mobile Press Register.'"
Adams has worked for 12 years with Eichold-Mertz, formerly Chickasaw School of Math and Science and after a number of moves and even name changes, the school became Eichold-Mertz Magnet School. She previously served as principal of the former Woodcock Elementary for more than 10 years.
The U.S. Department of Education, together with the National Association of Elementary School Principals, the Association for Middle Level Education, and the National Association of Secondary School Principals, present the Bell Awards to principals of National Blue Ribbon Schools for their outstanding work and the vital role they play in guiding their students and schools to excellence, frequently under challenging circumstances.
Learn more about National Blue Ribbon Schools and the Terrel H. Bell Award at: https://www2.ed.gov/programs/nclbbrs/index.html?utm_content=&utm_medium=email&utm_name=&utm_source=govdelivery&utm_term=
---
---