College of Education and Professional Studies Students Selected in MLB Draft
---
Posted on July 21, 2021 by Zoe Blair
Zoe Blair
---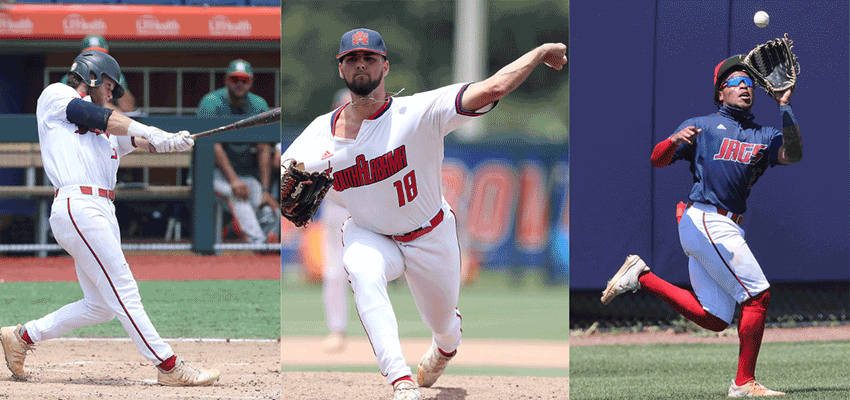 ---
University of South Alabama College of Education and Professional Studies students Ethan Wilson, Michael Sandle and Tyler Samaniego were selected in the 2021 Major League Baseball Draft.
Samaniego, a sport and recreation management major, was selected 433rd overall and will play for the Pittsburgh Pirates. He is the first Jaguar left-hander to be drafted since Locke St. John was selected by the Detroit Tigers in 2014.
"Tyler is a student who has a clear idea of what he wants to accomplish and how he can get there," said Mitchell Woltring, an assistant professor in the Department of Health, Kinesiology, and Sport. "Unsurprisingly, he is very passionate about baseball and sees the game as a career path, both as a player and eventually in coaching. He particularly wants to coach high school baseball, and I believe he will be successful both in his playing and coaching career."
Sandle, an exercise science major, was selected 298th overall for the Houston Astros. He was named to the 2021 Sun Belt Conference Championship all-tournament team, and was also selected to the all-tournament team at the NCAA Gainesville (Fla.) Regional.
"I'd say my time at South was a lot of fun," Sandle said. "I learned more than I ever thought I could and gained friendships for life. I think South has given me the opportunity to have a successful career as well as making me a better person."
Dr. Geoffrey Hudson, an assistant professor of exercise science in the Department of Health, Kinesiology, and Sport said he really enjoyed having Sandle as a student.
"He was a student in my Exercise Physiology, Statistics, and Strength & Conditioning courses," Hudson said. "He was a humble and quiet student, but was always willing to answer questions when called upon during lectures. Michael was engaged in our lab activities and worked well with his lab groups. His background in sports was an advantage in helping him to apply the physiology, bioenergetic and kinesiology concepts that we covered in my courses. Being able to apply these scientific concepts to his work on the field was valuable for Michael both in the classroom and in his athletic career."
Wilson, a sport and recreation management major, will play for the Philadelphia Phillies and was drafted 49th overall.
"I always enjoyed having Ethan in class because even though he was a highly touted baseball prospect, he has a very realistic approach to the idea that there will be a life after playing baseball," Woltring said. "He was always engaged in class discussion and was able to add a unique perspective as an athlete."
In 2019, Wilson was named the Collegiate Baseball National Co-Freshman of the Year, SBC Player and Freshman of the Year, First-Team Freshman All-America by Collegiate Baseball, Baseball America and the National Collegiate Baseball Writers Association, Third-Team All-America by Collegiate Baseball and the American Baseball Coaches Association/Rawlings, First-Team All-Central Region and first-team all-Sun Belt Conference.
"First of all, I just want to thank God for blessing me with the ability to play this game," Wilson said. "I want to thank my family, friends and coaches who have made sacrifices for me to be where I am today. I'm just so excited to be a part of the Phillies organization. I'm ready to get to work and prove that I belong. There are just a lot of emotions right now. I don't really know what to think, but I am super excited and ready to make that next step in my career."
"It's just a dream come true," Samaniego said. "It is like all of the hard work is finally paying off. It is exciting, but it was like a roller coaster. I am thankful for the opportunity the Pirates organization has given me, and I am going to go and make the most of it."
---
---