Removing Barriers in STEM Education
---
Posted on July 14, 2023 by Joy Washington
Joy Washington
---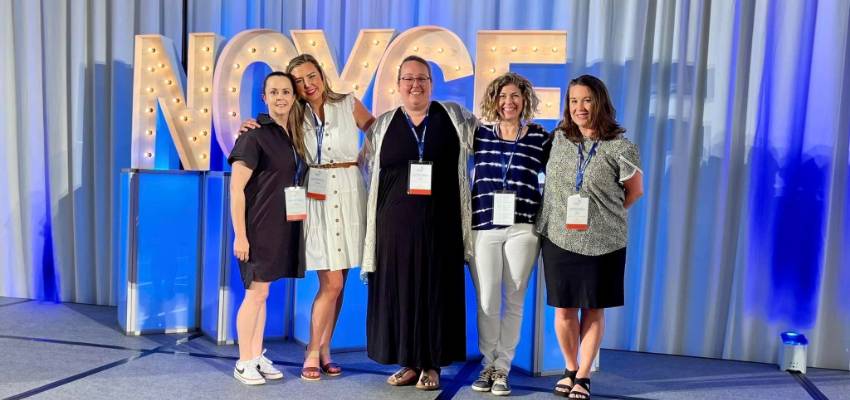 Noyce Fellows attending the 2023 Southeastern Robert Noyce Teacher Scholarship Conference Druhan "Dru" McCleave and Maura Smolinski are focused on helping students have a better educational experience in the classroom.
---
The Southeastern Robert Noyce Teacher Scholarship program gives scholars, future teachers and educators an opportunity to share ideas for teaching mathematics and science in high-need K-12 schools.
The 2023 Southeastern Regional Robert Noyce Conference: Removing Barriers in STEM Teacher Education was held recently in Mobile. It included some of the upcoming South Alabama participants in the Noyce Science Teacher, Research, Education and Methods (STREAM) program, which trains new Noyce Scholars to become science teachers.
Also at the conference were participants in the upcoming Noyce Pathway to Mathematics 2 program, which trains scholars to become math teachers.
The conference and its associated programs share the goal of improving education in STEM subjects — science, technology, engineering and mathematics.
"We had a successful five-day conference, which included participants from Alabama, Mississippi, Louisiana, Florida, Georgia, Tennessee, North Carolina, South Carolina and Virginia," said Noyce Project Director Dr. Susan Ferguson, associate professor in the Department of Leadership and Teacher Education. "The new scholars were allowed to network and learn from other educators."
The principal investigator of the STREAM grant is Dr. Katie Guffey McCorrison, assistant professor of science education in Department of Leadership and Teacher Education of the College of Education and Professional Studies. She is also the co-principal investigator of the Pathway to Mathematics 2 program grant
"We are preparing the Noyce Scholars to help increase the number of diverse middle and high school science teachers," McCorrison said. "They were able to attend the Noyce conference and engage in the professional learning communities."
Noyce Scholars and educators attended the conference at no charge.
"The participants don't have to pay anything to attend this conference," Ferguson explained. "The registration fee, travel expenses and entire conference, including educational excursions to places like the Dauphin Island Sea Lab, the Environmental Studies Center and Flight Works at Airbus, are supported by the Noyce grant. The participants also attended informative and inspiring workshops with professional speakers. For many of the new scholars, this is the first conference they have attended."
Dr. Andre Green, associate vice president for academic affairs and professor of science education, and other faculty members have been the foundation of the Robert Noyce Program at South Alabama. Green has been awarded $9 million in grant funds from the National Science Foundation Noyce Grant program for science and mathematics and the annual Robert Noyce Conference. Overall, Green has been awarded more than $50 million in grants and contracts throughout his career.
"This has been a major effort. The needs of the students and teachers are constantly changing and evolving," Green said. "We were able to add a mental health component to the conference this year. Our teachers must have this kind of support. Teachers must be healthy to help students be successful in the classroom. And our goal is for the Noyce Scholars to mentor and support current and future teachers.
This successful Robert Noyce program is helping professionals to pursue teaching careers and students are getting the best classroom instruction.
A 2019 South Alabama graduate and Noyce Fellow, Druhan "Dru" McCleave, said he had a great experience as a participant in the Noyce program. McCleave is a seventh-grade mathematics teacher at Palmer Pillans Middle School in Mobile.
"I understand the educational barriers that many students experience," he said. "Attending the Noyce Conference allows me to recharge and connect with other professional educators. This conference allows us to focus on why this work is so important, and why we chose the field of education."
Maura Smolinski is a 2017 graduate of South Alabama and a Noyce Fellow who teaches ninth-12th grade physical and earth science at W.P. Davidson High School in Mobile. She is also the department chair and athletics academic advisor at the school. Smolinski said the Noyce program allowed her to live her dream of being a teacher. She has a bachelor's degree in theater and a minor in biology.
"I had a heavy science background," she said. "I am grateful for the opportunity to learn how to be culturally responsive and give my students a better chance for success. We are providing real-world experiences for our students through the support of Noyce. And we are getting to come back and help mentor and support Noyce Scholars."
---
---