Robert Noyce Teacher Scholarship Program Promotes Culture of Family
---
Posted on November 20, 2020 by Amber Day
Amber Day
---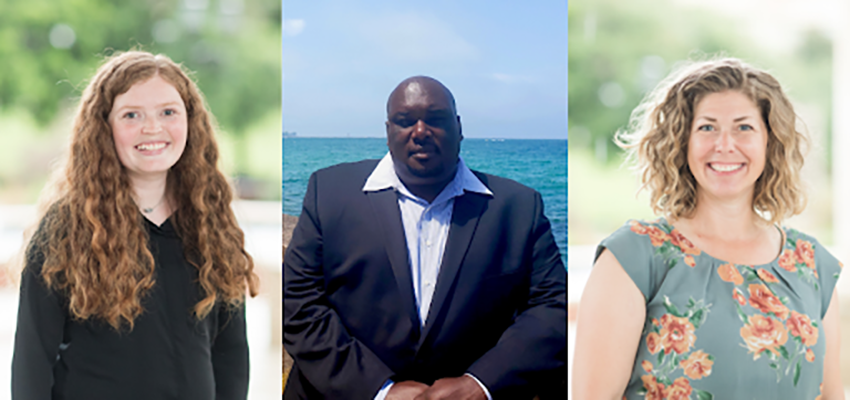 Robert Noyce Teacher Scholarship Program scholars (l-r) Peyton Barlow, Anthony Thames and Pamela McPherson share how the scholarship changed their trajectory.
---
The Robert Noyce Teacher Scholarship Program, funded by the National Science Foundation in the USA College of Education and Professional Studies, seeks to encourage talented science, technology, engineering and mathematics (STEM) majors and professionals to become K-12 mathematics and science teachers. The program provides funds to institutions of higher education to support scholarships, stipends and academic programs for undergraduate STEM majors and post-baccalaureate students holding STEM degrees who commit to teaching in high-need K-12 school districts.
"The U.S. continues to suffer a deficit of qualified teachers of mathematics and science," said Dr. Susan Ferguson, Department of Leadership and Teacher Education secondary program coordinator and programs advisor who serves as the Noyce project director. "The Robert Noyce Pathway to Mathematics and Pathway to Science programs help undergraduate STEM majors decide whether a career in education is something they want to pursue by providing a pre-residency experience wherein they shadow mentor teachers to see what the classroom looks like from the educator perspective.
Those who complete the pre-residency experience interview before a panel to be selected to receive funding for their alternative master's in education in mathematics or science. Noyce scholars become part of a cohort that completes the graduate program in four semesters with support from faculty, local educators and Noyce alumni.
"The total package is around $30,000 to pay for a graduate program and provides a stipend for students to use toward living expenses and materials," Ferguson said. "In return, scholars teach for three years in a high-needs school. Schools get to employ highly qualified teachers, while educators complete their program debt free."
Peyton Barlow is currently pursuing an alternative master's in secondary education with a concentration in mathematics through the Noyce Scholars Program. She plans to graduate in May 2021. Barlow graduated with a bachelor's in meteorology from South in May 2019.
"I had reached out to one of my meteorology professors about potentially transitioning to education after graduating," Barlow said. "He saw a listing in the USA Daily Digest about the Noyce program in April 2018 and sent it to me. I emailed Dr. Ferguson and the rest is history."
Barlow is originally from the Mobile area, and she encourages others to consider the Noyce program.
"If you think your heart belongs in the classroom, but you do not have a traditional education background, I would encourage you to look into the Noyce program," Barlow said. "You can participate in a pre-residency the semester before the program would be set to begin, without any major obligations after, to see if this is something you'd like to pursue."
Barlow is thankful for all the experiences the Noyce program has provided so far. "The Noyce Scholars program has provided me the opportunity to go back to school to receive an education without having to worry about finances," Barlow said. "I was hesitant about going back to receive another degree, but the transition to my alternative master's program has been easy thanks to the Noyce program. The past Noyce students, math and science, are a family and are incredibly supportive of those currently going through the program."
Pamela McPherson graduated in May 2020 as a Noyce Scholar and earned an alternative master's in secondary education with a concentration in general science. Prior to going back to school in August 2018, McPherson owned a local swim school where she taught the Infant Swimming Resource program.
"After deciding on a career change, I met with Dr. Susan Ferguson to decide if the education program at South was right for me," McPherson said. "At that time, I knew that I was a teacher at heart, and I was pretty sure I wanted to be a secondary STEM educator. Dr. Ferguson explained that the Noyce scholarship would pay for my entire education. I loved the classroom experience, and I committed to the Noyce program the following semester."
McPherson returned to the chemistry classroom at South almost 20 years after she graduated the first time. She earned a bachelor's in chemistry in 2001, and after graduation, she worked as an environmental consultant for nine years.
"It felt so surreal being in the classroom again," McPherson said. "But, my chemistry professors made me feel at home, again, and they really helped me deepen my understanding of chemistry. The science content that I will be teaching in the classroom can be learned from a book, but the kindness and empathy that a teacher shows their students can only be learned from experience. Dr. Guffey showed me what it means to be a cheerleader and advocate for my students. She made me feel like my successes were hers too, and I want my future students to feel cared for and supported like I did while attending this program."
McPherson said Dr. Andre Green and Ferguson have created a "Noyce family" that she is proud and honored to be part of. "It is clear that they share a passion for educating teachers, particularly in the STEM field. And that passion is contagious."
"If any student is interested in becoming a Noyce Scholar, they should know that the education program is intense, but the support that you will receive makes it all worth it," McPherson said. "I am thankful for the mentors and friends that I have come to know as part of this program. I now have a plethora of friends with big minds and even bigger hearts that I can call on if I need anything at all." McPherson began her teaching career at Baker High School this fall.
Anthony Thames earned a master's in secondary education with a concentration in mathematics from USA in 2015 as part of the Noyce Scholars program. Thames graduated from South with a bachelor's degree in chemistry in 2013.
"After I graduated, Dr. Forbes, who was the chemistry department chair at the time, saw me kind of struggling with what to do after I graduated with my chemistry degree," Thames said. "He told me about a program that Dr. Andre Green was leading in the College of Education and Professional Studies. Dr. Forbes sent an introductory email to Dr. Green, and from there, Dr. Green recruited me to the Noyce Scholars program."
Thames said he was called to teach. "It's funny because all while I was in undergrad, my grandfather used to tell me all of the time that 'you love kids and you love math, why not get into teaching,'" Thames said. "And I would always reject the idea because 'teachers don't make a lot of money.' As I got older, I started to realize that I loved helping my fellow students. I loved teaching chemistry labs. I loved tutoring, and I loved working with young people. Then a light bulb just kind of came on, and I said 'Why not get into teaching,' just like my grandfather said."
Since graduating as a Noyce Scholar from South, Thames has taught at Baker High School (2015-2017); Hazelwood East High School in Spanish Lake, Mo. (2017-2018); and Webster Groves High School in Webster Groves, Mo. (2018-2020).
"The Noyce program provided me with the teaching skills I needed," Thames said. "My undergraduate degree gave me the content knowledge that I needed for math. The Noyce program showed me how to take that content knowledge and become not just a teacher, but a great teacher." Thames was mentored by several professors that he's still in touch with today.
"Dr. Andre Green and Dr. Susan Ferguson were definitely great mentors to me while I was in the program, and they both continue to be great resources for me to this day," Thames said. "Dr. Green just has a way of having those difficult, very honest conversations with you, but he does it in a way that leaves you feeling empowered and encouraged, not defeated. Dr. Ferguson did a great job of bringing everyone together, and she made sure that we all fellowshipped together. You are not just applying for a program. You are applying to a family."
---
---