Open House Set for Adult Learners
---
Posted on January 15, 2020 by Joy Washington
Joy Washington
---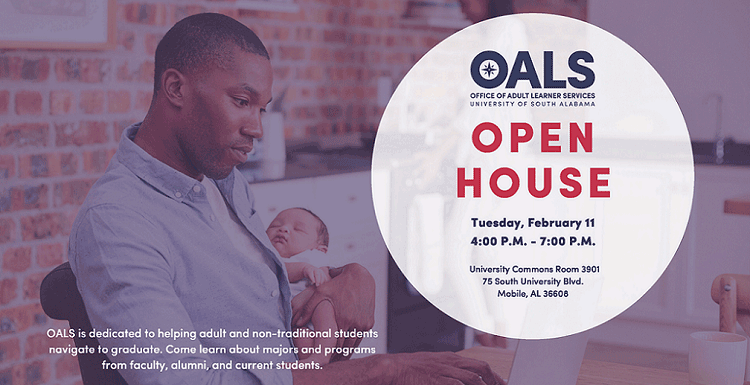 ---
One year ago, USA created the Office of Adult Learner Services to better support adult students looking to start or resume their college education and get a degree. OALS is a University-wide effort and serves students interested in any degree program at South. An open house will be held in Room 3901 of University Commons from 4 p.m.-7 p.m. on Tuesday, Feb. 11.
According to Bob Charlebois, director of OALS, the office serves a diverse student body providing guidance and support, and is tailored to each student.
"The Office of Adult Learner Services wants to provide adult and non-traditional students with a supportive entry or re-entry point into higher education and realize their own value there," he said. "Two major reasons that adults do not return to school are either a bad previous experience with higher education or just general fear of being unprepared and/or out of place.
"OALs provides concierge services to meet the individual needs of each student. A retiree deciding to complete his or her bachelor's degree needs different support than a 23-year-old who has children, works full time and seeks a bachelor's degree in order to get ahead at work or to get a higher paying job. We want to help every student identify educational experience that will fit with their life and work for them to be successful."
According to Charlebois, OALS partners with students helping them navigate the admission process, explore ways to fund their degree, decide on an academic program, connect with the University community and help students understand options to earn college credit for prior learning outside the classroom.
"We have adopted the unofficial motto of 'Navigate, educate, graduate,'" he said. "The goal of OALS is to support adult and non-traditional students with the answers and resources they need from initial contact until they walk across the stage at graduation."
For more information about OALS, email adultlearner@southalabama.edu.
---
---