PASSAGE USA Receives Gift from Cottage Hill Civitan Club
---
Posted on October 19, 2022 by Hadyn Henderson
Hadyn Henderson
---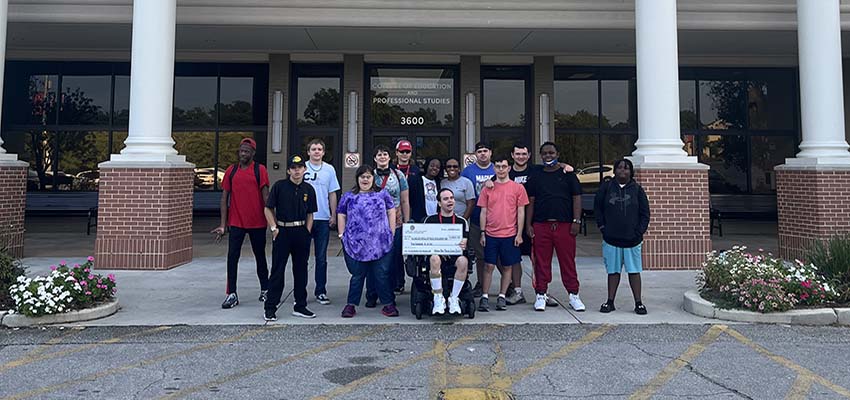 ---
University of South Alabama's PASSAGE USA program recently received a $5,000 donation from the Cottage Hill Civitan Club. PASSAGE USA, a two- and four-year non-degree certificate program, focuses on life, social, employment and self-determination skills for students with intellectual disabilities. The donation will help fund the Gaillard-Neville Reynolds Scholarship for PASSAGE USA students.
"As a retired special educator, I was so excited when the decision was made to share our John Simpson Scholarship funds with our campus clubs," said Peggy Windham, recent president of Cottage Hill Civitan Club. "I am honored to be associated with PASSAGE USA and the USA Campus Civitan Club. I can think of no better use for these funds than to assist with the education of individuals with IDD (Intellectual or Developmental Disability)."
PASSAGE USA was founded in 2017 with the mission to improve the quality of life for students ages 18-28 who were diagnosed with an intellectual disability. The Cottage Hill Civitan Club has generously supported PASSAGE USA for more than five years.
"The Cottage Hill Civitan Club's generous gifts to the Gaillard-Neville Reynolds Scholarship for PASSAGE USA have helped make going to college a reality for many of our students," said Dr. Abigail Baxter, professor of education and principal investigator of the PASSAGE USA grant.
The governor for the Alabama Florida Civitan International district, Mike Barrington, presented the donation to PASSAGE USA. Barrington is a former student of instructional design and development at South.
"The mission of Civitan International is to build good citizenship by providing a volunteer organization of clubs dedicated to serving individual and community needs, with an emphasis on helping people with developmental disabilities," Barrington said. "This pairs well with the focus of PASSAGE USA, which is designed for students who need extra support to be successful in the community."
Civitan International was founded in 1917 in Birmingham, Alabama. The organization seeks to further research into the treatment of developmental disabilities like autism, Rett syndrome and disorders of the brain. There are more than 30,000 members across the world. The Cottage Hill Civitan Club assisted in establishing the South Alabama Campus Civitan Club in 2018.
For full PASSAGE USA eligibility requirements or to receive an application, visit SouthAlabama.edu/PASSAGE. To contribute to the PASSAGE USA scholarship fund, click here.
---
---