Peer Mentoring is a Two-Way Street
---
Posted on December 3, 2021 by Amber Day
Amber Day
---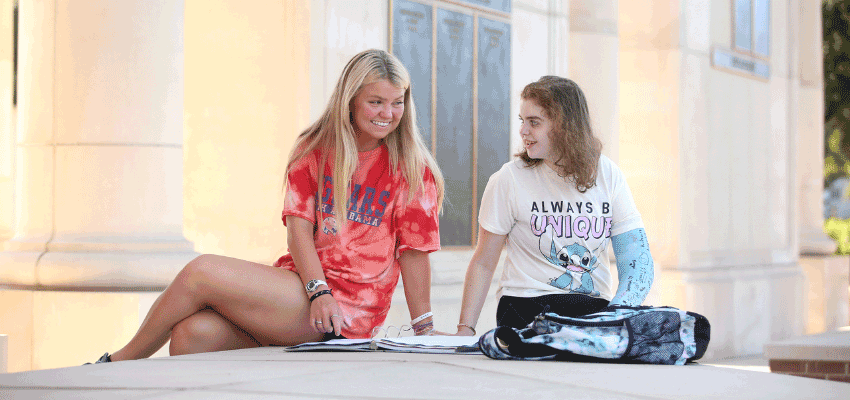 Mia Pennison, left, serves as a peer mentor for PASSAGE USA. Hannah James, right, says she would be lost without her mentor. Mentors serve as natural supports in social, academic and employment situations for PASSAGE USA students at South.
---
The term mentor, in the traditional sense, means to be an advisor or supporter. For peer mentoring on a college campus, PASSAGE USA thinks mentoring means more than that. It is about developing meaningful relationships that benefit all who are involved and should be considered a two-way street where both learn from the other, improving the quality of life for all involved.
PASSAGE USA (Preparing All Students Socially and Academically for Gainful Employment) is a two-and four-year non-degree certificate program that focuses on independent living, social, employment and self-determination skills. Students in the program are diagnosed with intellectual disabilities and attend elective classes with other USA students as well as specialized classes that target the skills they need to achieve their goals.
Hannah James recently started her second year as a student in the PASSAGE USA program. After attending Shelton Academy in Mobile, James wanted something more.
"Before South, I was just staying at home, helping my mom around the house," James said. "I was scared at first. I liked making new friends."
Mia Pennison, who is from Louisiana, will graduate from South in May 2022 with a bachelor's degree in secondary special education with a concentration in English. She recently started her fourth year as a PASSAGE USA mentor.
"I love working with the PASSAGE USA students because I have a passion for working with special needs adults," Pennison said. "Not only am I able to mentor them, but I am also there to be a cheerleader, friend and motivator for them so they can learn what they are capable of."
Like Pennison, all mentors advocate for students in PASSAGE USA to have privileges on campus that other students do. Pennison has worked with James for one year and said James has grown in multiple ways.
"She is already a very motivated student who completes her school work and takes care of her responsibilities as a student," Pennison said. "The best change I have seen in Hannah was her ability to narrow her focus on what is important in life. This not only positively impacted her, but also her peers. Getting to watch PASSAGE USA students work together is one of the most rewarding parts of being a mentor."
James hopes to work full time in a daycare setting one day. She started an off-campus job at United Way this fall.
"My mentors make me feel good, and I like knowing I have friends I can talk to," James said. "We like to go to Starbucks, do homework together and go shopping. I would be lost without a mentor. Mia is my favorite mentor!"
All PASSAGE USA students are paired with peer mentors who serve as natural supports in social, academic and employment situations. Mentors work with students from one to 15 hours per week depending on the mentors' and students' schedules. Peer mentors commit for one full semester and serve as friends, study buddies, advocates and role models for PASSAGE USA students.
Most recently, 118 South students served as peer mentors for PASSAGE USA. More than 16,000 hours have been logged by volunteer mentors since January 2017. Responsibilities for mentors vary. Some go to classes with students, others go to work with them. Some help with homework, and some just hang out with PASSAGE students and socialize or engage in campus activities.
"Overall, we want mentors to help the students in PASSAGE USA learn what it means to be a student at South," said Dr. Abigail Baxter, professor of leadership and teacher education. "We also want them to help the students learn to make their own decisions and do what needs to be done to act on those decisions."
PASSAGE USA and the peer mentor program impact the University campus in many ways.
"We have had at least two doctoral dissertations focused on peer mentoring," Baxter said. "We have other students who are mentors become interested in the students in PASSAGE USA and complete undergraduate honors theses related to PASSAGE USA. The mentoring program allows students access to a population
that they may work with later but whom training programs typically do not include. PASSAGE USA and our mentors have also helped the larger University community better embrace the diversity dimension of ability."
Many mentors have gone off to graduate study and careers in medicine, radiology, nursing, occupational therapy, physical therapy, speech therapy, engineering, teaching and more.
"In the future, I would like to work with special needs adults either in a college environment or a day program environment," Pennison said. "This past summer, I worked at Alabama's Special Camp for Children and Adults, where I was able to work with special needs adults giving them the summer of a lifetime while bringing genuine value to who they are despite their disabilities. I thoroughly enjoyed the experience and would like to do something of that nature after college."
---
---