Gaston Hosts Podcast Training Workshop for MCPSS Teachers
---
Posted on July 21, 2022 by Amber Day
Amber Day
---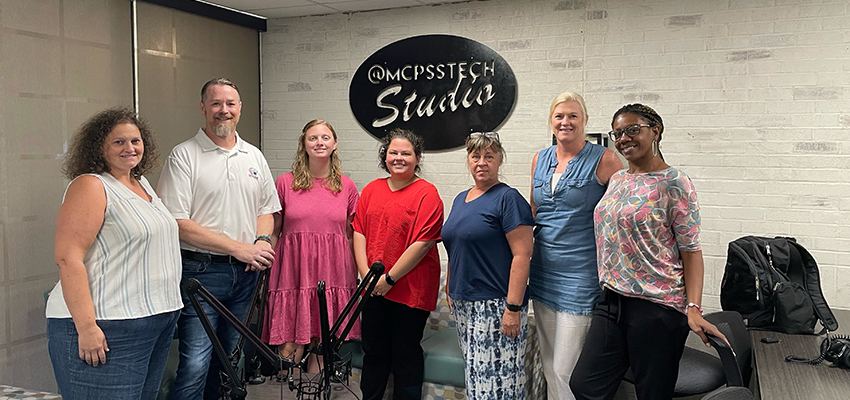 ---
Teachers from five local K-12 public schools recently participated in a podcast training workshop developed by Dr. Joe Gaston, assistant professor in the Department of Counseling and Instructional Sciences at the University of South Alabama College of Education and Professional Studies.
"Podcasting is such a powerful way to develop student voice," Gaston said. "Podcasting also requires many of the skills students will need to be successful in today's world, such as effectively communicating, collaborating, problem solving and listening. I am very excited to see what the students at these schools come up with for their podcasts."
The two-day workshop provided training on setting up and operating podcasting equipment, editing audio and publishing completed podcasts. The workshop was held in the Technology Studio at the Mobile County Public School System's Central Office.
"I feel so blessed by what I learned at Dr. Joe Gaston's podcasting training," said South alumna Kim Wakefield, who teaches at Phillips Preparatory School. "Not only did I learn the fundamentals to start the very first Phillips Prep podcast, we were also gifted by Marcie McNeal and MCPSS with the equipment to get us started. 'Talk the Plank' is going to be the best experience for our Pirates, our faculty and our parents."
The school system's Department of Information Technology purchased equipment for each of the participating schools to launch their own podcasts. Participating schools included Mary G. Montgomery High School, Phillips Preparatory School, Semmes Elementary School, Maryvale Elementary School and Hutchens Elementary School.
"Our teachers continually embrace technology as a primary source of learning," said Marcie McNeal, who serves as digital media supervisor for Mobile County Public Schools. "Teachers are eager to utilize all areas of tech, especially with instruction, and we are honored to provide those tools to enhance learning and make it fun."
McNeal indicated more equipment and training will be provided for additional schools in the coming year.
The University of South Alabama is also collaborating with the Mobile County Public Schools through the "Next in Ed" podcast, which features teachers, administrators, policymakers and members of the business community discussing current issues in education. The co-hosts of the podcast are Gaston and Julie Neidhardt, a South alumna and science curriculum specialist for MCPSS. McNeal is the executive producer.
"After years of working with Dr. Gaston, I know he thrives on stepping outside the box," McNeal said. "His past experiences as an elementary teacher and technology resource teacher allow him a deeper understanding of education in a technology-driven world. I knew he would be the perfect partner to host a podcast, and in his current position at USA, he also brought with him a new outlook and contacts as a college professor."
Gaston also hosts the College of Education and Professional Studies podcast 'Sincerely, South,' which features meaningful conversations with students, alumni, community partners and faculty that center around the core values of the college, such as professional excellence, lifelong learning and civil discourse.
"I am so thankful to have been given the opportunity to attend podcast training with Dr. Gaston," said Kaitlyn Mount, a teacher at Semmes Elementary School. "As educators, we should always be looking for ways to incorporate and integrate technology into our respective schools. And sometimes our students just need something fun, which is what podcasting should be. I'm very grateful to be taking this knowledge back to my school and cannot wait to see what our students will accomplish on our podcasting journey."
---
---