PowerSchool Donates $80,000 to College of Education and Professional Studies
---
Posted on December 1, 2021 by Amber Day
Amber Day
---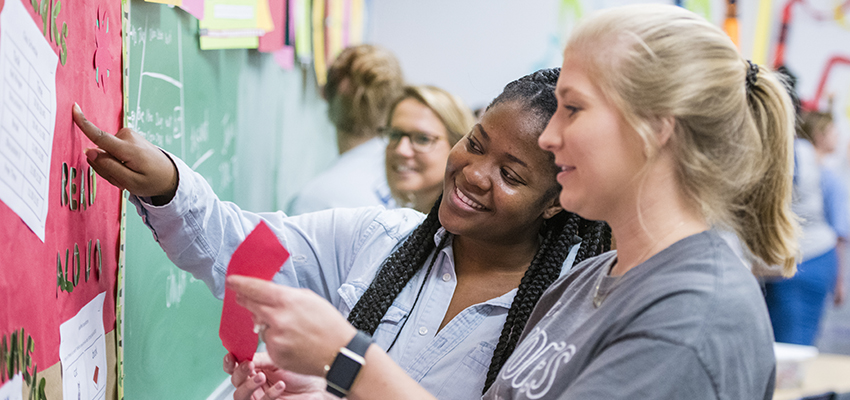 ---
The University of South Alabama College of Education and Professional Studies recently received an $80,000 donation from PowerSchool, a provider of cloud-based software for K-12 education, to help students in teacher preparation programs pass the Praxis teacher preparation test.
The donation, which was made through the PowerSchool Education Fund, will be distributed to students from underrepresented backgrounds and/or students who demonstrate financial need and will assist students with preparation for the Praxis test, which is required of all students entering a teacher preparation program or seeking teacher certification. If an undergraduate or graduate student experiences a Praxis test failure, the funds will cover the cost of test preparation workshops. The funding also will cover the cost of test administration for students demonstrating financial need and who attend a preparation workshop.
"As a lifelong educator and teacher from a family of educators, I am grateful for PowerSchool and its support of our preservice teachers," said Dr. Paige Vitulli, interim chair and associate professor in the Department of Leadership and Teacher Education. "Especially during this time of scarcity, it is more important now than ever to give our students and future teachers the resources to launch their successful careers. We are excited about this partnership and very thankful for PowerSchool's support of the College of Education and Professional Studies."
PowerSchool is the leading provider of cloud-based software for K-12 education in North America. Its mission is to power the education ecosystem with unified technology that helps educators and students realize their full potential. PowerSchool, widely recognized as the most comprehensive suite of mission-critical K-12 education solutions, connects students, teachers, administrators, and parents, with the shared goal of improving student learning outcomes.
"The University of South Alabama College of Education and Professional Studies is a critical partner in meeting the education needs of their community," said Hardeep Gulati, CEO of PowerSchool. "PowerSchool is excited to partner with the University through our PowerSchool Education Fund because it is committed to educating the next generation of impactful teachers."
To learn more about the teacher education programs offered at South, click here. Students can major in education to earn certification in elementary and secondary education, early childhood education, special education, and health and physical education. Students can also major in early childhood studies. The college also offers multiple Master of Education (M.Ed.) and Educational Specialist (Ed.S.) graduate degree programs and the Doctor of Education in Educational Leadership.
---
---