December Graduate Has Passion to Recreate Image of Physical Education
---
Posted on November 27, 2019 by Amber Day
Amber Day
---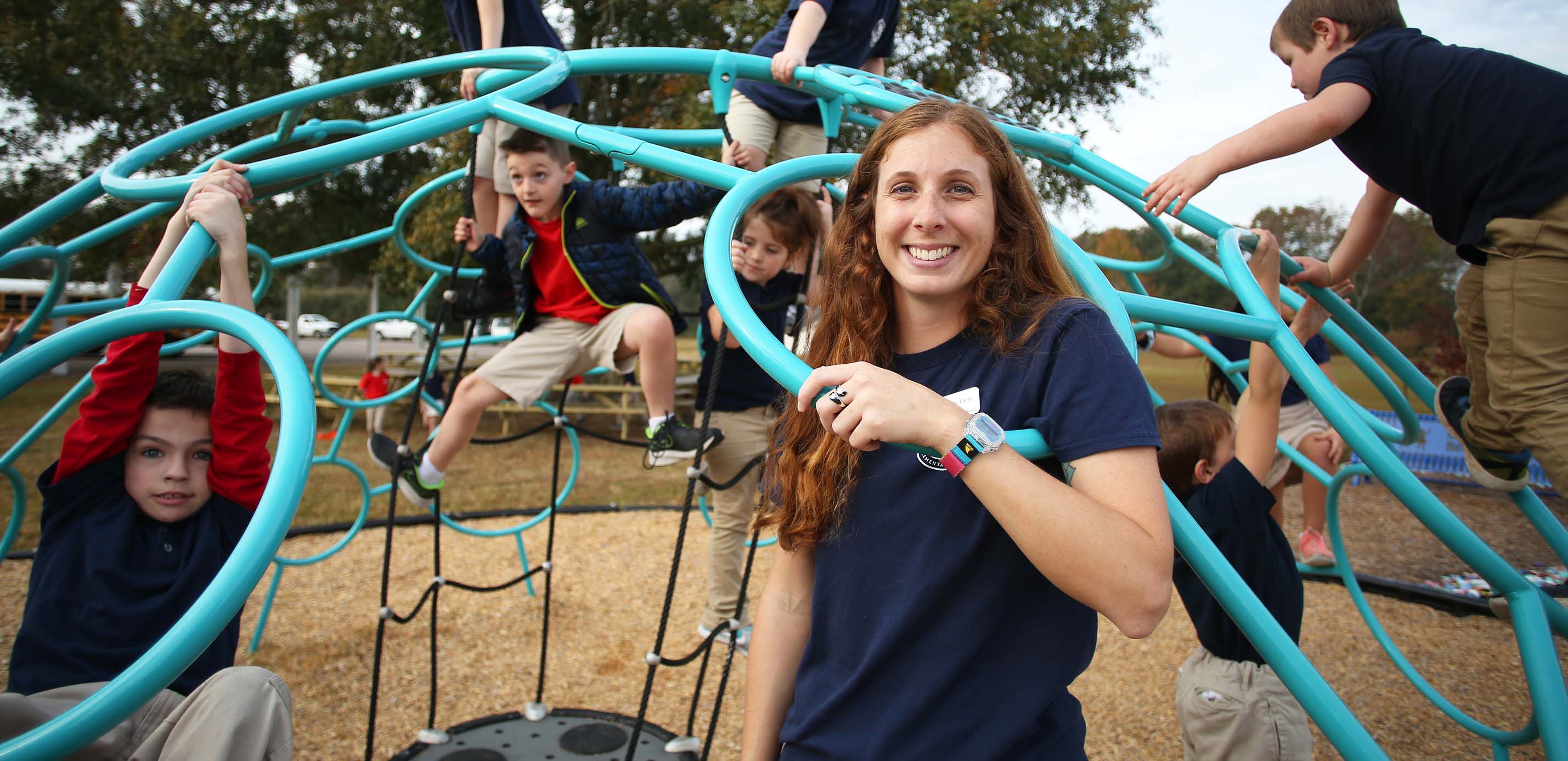 ---
Physical education, also known as "P.E." in K-12 schools, is much more than recess. Shelby Lynn, who will receive her master of education in physical education from the University of South Alabama in December 2019, wants people to know that P.E. classes involve standards that progressively build motor skills, movement characteristics, fitness and social responsibility.
"I believe continuing my knowledge in physical education has given me the tools to help recreate the image of P.E.," said Lynn, who is a physical education teacher at Breitling Elementary School in Grand Bay, Ala., and coaches archery to fourth and fifth graders. "I write my lesson plans based on state standards just like other teachers. My P.E. class is not just a play time for the students. Instead, it is a structured class of activities and games that include a learning objective. My students are evaluated on their ability to demonstrate movement and skills to the best of his or her ability."
With this type of structure, Lynn is able to teach her students new things in a fun and safe environment. She also credits the research and theories she studied while at South that helped her further understand the true dynamic of student learning.
"Just like in the classroom, children learn motor skills differently, and I need to be able to accommodate each student's ability," Lynn said. "My students learn through exploration, differentiated instruction, and feedback. I have already seen a great amount of success from my students with the pedagogy I use."
Lynn credits USA College of Education and Professional Studies faculty for persuading her to return to school, which led to a full-time job in a career she's most passionate about.
"I wanted to pursue my master's at South because I was familiar with the professors," Lynn said. "I enjoyed all of my courses as an undergraduate, so I was interested in completing my graduate courses on campus and online with some of the same teachers. South Alabama's online portal is very easy to use and the professors have always been helpful."
"Of course, there are financial incentives for earning a master's degree, but I also wanted to continue my education for the students," Lynn added. "My professional goal is to have the knowledge and resources so I can serve my population of students the best that I can. Being a knowledgeable and prepared teacher is my responsibility."
Lynn received the College of Education and Professional Studies' Educator Excellence Scholarship, available to graduate students majoring in a teacher education program who have previously earned an Alabama Professional Educator certificate. This scholarship equates to 20% of tuition cost each semester for six consecutive semesters. Students granted admission to an eligible program automatically qualify and are awarded the scholarship.
"A professor that influenced me the most in undergraduate school was the first to encourage me to complete my master's degree," Lynn said. "Once I applied for graduate school, my advisor suggested the scholarship to me. The scholarship has been very helpful by taking the financial strain away from getting a higher education. From personal experience, employers have been very pleased to know that I am continuing my education to be a better teacher."
Lynn learned to balance her work, school, and personal life during the past several months, but it has been an endeavor that paid off.
"Balancing graduate school, work, my archery team and my personal responsibilities has been a huge learning curve," Lynn said. "The most important thing I have learned is how to prioritize and manage my time. This is a critical skill to learn while starting a career in teaching, and it has made me a better professional."
After Lynn graduated with her bachelor's in physical education from South, she worked as a paraprofessional at Hollingers Island Elementary School. While working on her master's, she applied for the position at Breitling.
"When she came in, she seemed really excited to be a P.E. teacher and had a lot of experience, but she didn't get to shine at her previous school," said Amy Blake, who is principal at Breitling and earned her master's in educational leadership at South. "Shelby and I agree on building relationships with students as far as teamwork and team sports. She is very innovative, wants to do new things, and has a lot of good ideas. I love her attitude. She's a go getter, and always excited to teach."
Blake emphasized the importance of professional development and continuing education as a teacher.
"I feel like it's not just about the money," Blake said. "I try to encourage teachers to go back for their master's because teachers sometimes get in a rut, and the last thing we want is a teacher who doesn't want to come to work. That affects every child at a school. We want everyone to come to work happy. Sometimes other opportunities can come available when you further your education. You can go into administration, become a librarian or a specialist. There are other avenues if you get burnt out."
Health, Kinesiology, and Sport Department Chair Dr. Shelly Holden remembers reaching out to Lynn when the Educator Excellence Scholarship was announced.
"She was an exceptional undergraduate student, and I knew she would excel as a graduate student," Holden said. "With the Educator Excellence Scholarship opportunity, I knew it was a great time for her to return to school. I am very proud of Shelby because I know how difficult it is to work full-time as a teacher yet find the time to take classes. She has done a very good job balancing both her job and her academics. Shelby is a leader in the field and adding a master's degree to her resume is an outstanding accomplishment."
"I knew there was more to learn after I graduated with my bachelor's degree," Lynn said. "The past year and a half of graduate school has been a very challenging, humbling and, most of all, a positive journey. The University of South Alabama was easily my first choice for my master's in education because of the process they created throughout my student teaching experience and the appropriate challenges they give students."
To learn more about the Educator Excellence Scholarship, visit https://www.southalabama.edu/colleges/ceps/educatorexcellence/. Potential students can enroll in one of the 19 online and on-campus graduate-level teacher education programs today. No GRE/MAT required.
Spots for Spring 2020 semester are still available. Deadline to apply for Spring 2020 semester is January 10, 2020.
---
---