Living in Kuwait, Investing in South
---
Posted on January 17, 2020 by Joy Washington
Joy Washington
---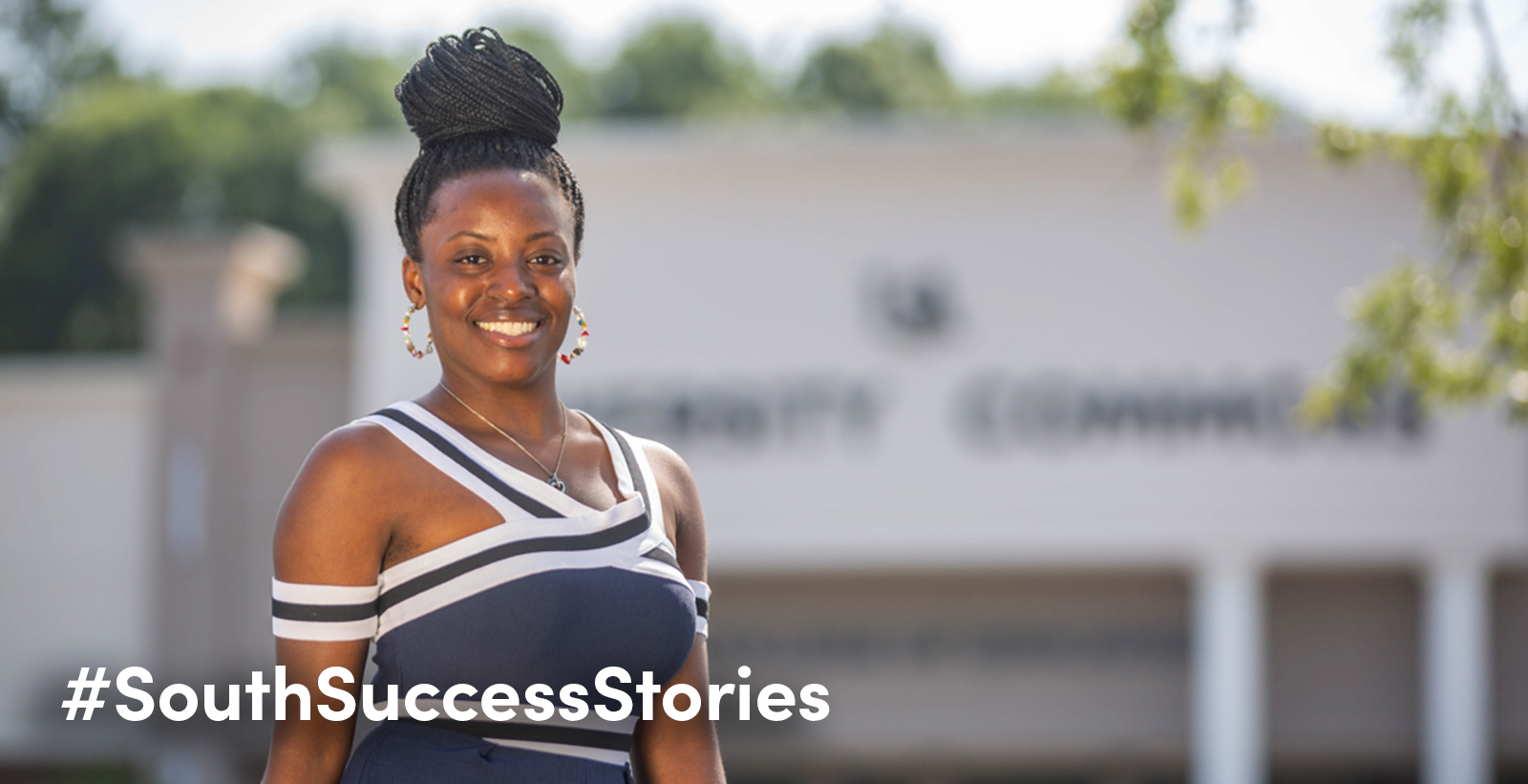 South Alabama alumna Tiffany Whitfield started the Tiffany Whitfield Scholarship for Undergraduate Students to help others pursue a degree at South. Whitfield teaches at the American Creativity Academy for Boys in Kuwait.
---
#SouthSuccessStories is an ongoing series featuring University of South Alabama alumni who are life-savers, innovators, game-changers, music-makers and creative-thinkers, successful in their careers and supportive of their communities.
Tiffany Whitfield wanted to pack up, live and teach abroad, and planned to do so immediately after graduating in 2015 from the University of South Alabama College of Education and Professional Studies, where she earned her dual certification in elementary education and special education. But she was told she needed at least two years of teaching experience. So, Whitfield decided to work at Allentown Elementary School in the Semmes community as a special education teacher.
"I fell in love with teaching," she said. "My mom is a school counselor, and she inspired me to teach. At South Alabama, I learned about the different ways you can engage with students in and outside the classroom. I really enjoyed helping my special needs students develop and grow."
While teaching at Allentown, Whitfield went back to South to earn her master's degree in education. After working as a teacher for a couple of years and completing her graduate degree, she started researching again about companies that hired teachers to work abroad.
Initially, Whitfield wanted to teach in Dubai, but after researching and finding that she might need a slower-paced environment to stay focused, she looked at Hawally, a city in Kuwait that's about the size of Mobile, with a similar humidity.
"I took a leap of faith and followed my heart. After submitting my application, I interviewed over the telephone with Teachaway, a company located in San Francisco, Calif.," she said. "I also had a second face-to-face interview, and they hired me on the spot.
"Prior to signing my contract and accepting the final offer, I decided to travel and visit Hawally and make sure I could teach and live there. I was happy to find that housing was nice and everyone was helpful. I accepted the offer. I am teaching all subjects at the American Creativity Academy for Boys. I teach 25 energetic and intelligent first graders. I love my students. I am teaching them how to speak English fluently, and they're teaching me how to speak Arabic. The parents have invited me over to their homes for dinner. They send me gifts. I am treated with kindness and respect."
The school where she would be working held an orientation to educate her about the culture and how to live there before she started her new job.
"It was an extreme culture change for me," she said. "I had to adapt and adjust. During the orientation, I learned about the honeymoon phase where everything is fascinating, and then you experience missing your family and wanting to go home. But, now, I love it there. I also learned about appropriate dress along with other aspects of the culture. The country has vast desert landscapes and white sandy beaches."
Whitfield has taught in Kuwait for one year, and while she was there she made the decision to save a large amount of her hard-earned money. There are no taxes on what she earns there. In addition, she doesn't pay for housing. Her vacation is from May-August.
"Initially, I didn't have any plans for my savings," she noted. "I was just saving money to have a more stable future and to travel. But I began to think deeply about how I could impact the lives of others by sharing some of my savings. I also thought about how tough it was for me to work and go to college. My parents were helping me with my tuition, and then I decided to not take my education seriously at first. My parents decided to let me pay my own tuition so that I could learn the value of money and an education.
"So, I decided that I wanted to create a scholarship and donate $10,000 to hard-working and dedicated students who are in the education program at South Alabama. I have started the Tiffany Whitfield Scholarship for Undergraduate Students. The scholarship was awarded to a deserving student in the fall of 2019. If it wasn't for South Alabama, I wouldn't be living my dream working in Kuwait."
Whitfield spends 12 hours a day teaching and tutoring, and she is happy it has allowed her to share what she has earned. And South's education program is grateful, too.
"Tiffany's generosity to the College of Education and Professional Studies is overwhelming," said Kelly Byrd, senior instructor and academic advisor in the department of leadership and teacher education. "She wants to help other future teachers be successful in their journey, and is able to do that through her generous contribution. I am not surprised, however. Tiffany was always so kind and giving as an undergraduate student at USA. Her spirit is infectious and this opportunity to give back is her way of sharing that spirit with others. I am so proud of her accomplishments."
---
---