Upton Receives Alabama Counseling Association's Publication Award
---
Posted on January 12, 2022 by Amber Day
Amber Day
---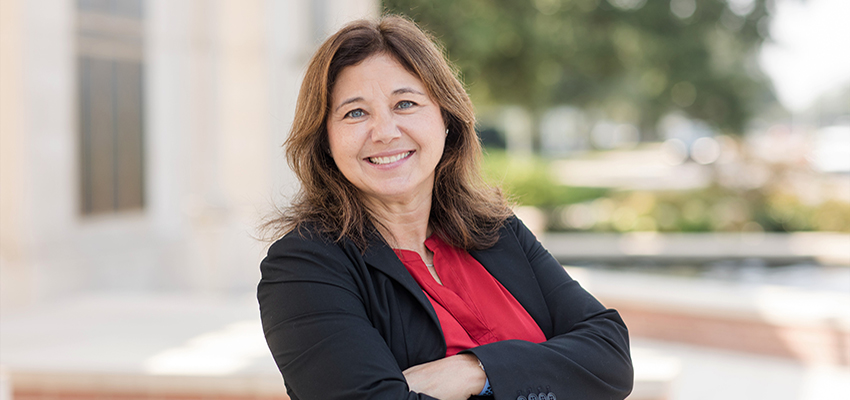 ---
Dr. Amy Upton, assistant professor of school counseling at the University of South Alabama, recently received the Alabama Counseling Association's Individual Publication Award at its annual conference held in November.
"I am so honored that my work was recognized," Upton said. "The Alabama School Counselor Association provides leadership, support and advocacy in Alabama for school counselors. These efforts impact counselors, schools, students and communities. Collaboratively, that association works closely with the Alabama Counseling Association to support counselors holistically across the state."
Upton is a passionate school counselor educator who has served on the governing board for the Alabama School Counselor Association for the past five years. This year, she serves as president.
The Alabama Counseling Association's publication award honored Upton's article titled "School Counseling District Supervisors' Experiences and Perceptions Regarding School Counselor Preparation for Practice." The article was the result of a dataset from a study conducted by Upton and her colleagues Dr. Emily Goodman-Scott, an associate professor at Old Dominion University, and Dr. Anita Neuer Colburn, a clinical associate professor at Northwestern University.
"The study provided an opportunity for the voices of district supervisors to be heard on topics related to the preparation of school counselors and the gaps that need to be filled between preparation and what is needed in school counseling practice," Upton said. "This article demonstrates the beneficial nature of collaboration between school counselor educators and district supervisors in creating opportunities for better outcomes for students through a multitiered perspective regarding needed knowledge, attitudes and skills for novice school counselors."
Upton's primary work has been around advocacy for the association and profession, which includes providing testimony in the legislature around bills that impact school counselors and collaboratively writing white papers around bills and legislation that school-based mental health practitioners, including school counselors, feel either in support or opposition of based upon the impact of these bills on youth and the profession.
"I truly believe in the work that school counselors do to change outcomes for students, families and communities," Upton said. "I believe it is my calling and my privilege to be part of the process of preparing such outstanding professionals that go out and do this work."
Additionally, Upton has worked closely with the association, Alabama State Department of Education, regional school districts and individual school counselors providing training and support to school counselors across the state in delivering comprehensive data driven school counseling programs. This past year, 15 schools across Alabama received national recognition for their programs. Alabama was third nationally for number of schools receiving this recognition, with only Virginia and California having more schools recognized. This year, five of Upton's graduates serve on the governing board and provide leadership to school counselors. More than five of her graduates have received distinguished school counseling awards in the past few years.
"I am so thrilled to see the amazing work that is being done by my graduates in our schools and community," Upton said. "The positive outcomes for K-12 students, the true reason we are all in the business of K-12 education, are truly impacted as a result of these school counselors and their school counseling program. There is no greater honor than having been part of their journeys."
Upton is a school counselor educator who spent 16 years working as a middle and high school counselor prior to becoming full-time faculty. She passionately believes in the importance of the profession of school counseling and the impact that school counselors can have on students and the communities in which they work. Raised in Virginia, she and her family moved to the Mobile area in 2013 to work at the University of South Alabama. She earned a bachelor's degree in theatre art, master's degree in school counseling and Ph.D. in counselor education from Old Dominion University.
"Working at South is both professional and personally rewarding," Upton said. "The University has truly grown and matured since I arrived eight and a half years ago. I enjoy being part of an organization that provides such a breadth of opportunities to students and also supports faculty endeavors in teaching, research and scholarship. As a faculty member at South, I am supported in my endeavors to grow and enhance my program, to conduct research that I find meaningful and valuable, and to engage professionally within the community. I personally benefit from working and collaborating with my colleagues in the College of Education and Professional Studies. They truly are some amazing people!"
Upton serves as coordinator of the school counseling graduate program in the College of Education and Professional Studies. The Master of Education in School Counseling provides primarily face-to-face instructional experiences. However, some classes can be taken online. The program can be completed in five or seven semesters, and all classes are held in the late afternoon or evening. Counseling faculty utilize a variety of instructional methods, including lecture, discussion, student presentations, team-based learning strategies, role playing and use of simulated clients and experiential learning methods. The school counseling master's program is accredited by the Council on Accreditation of Counseling and Related Educational Programs.
---
---