Alumna Named Teacher of the Year as First-Year Teacher
---
Posted on January 7, 2020 by Amber Day
Amber Day
---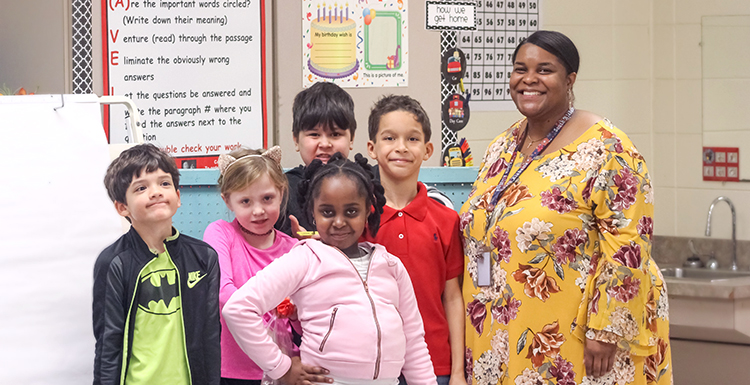 ---
Nina Wansley always pictured herself teaching near her hometown community in Mississippi. After earning her bachelor's in elementary education from the University of South Alabama in December 2018, Wansley started working full time as a second grade teacher at Oak Park Elementary in Ocean Springs.
"I ended up at Oak Park because South partners with their school district for student teaching assignments," Wansley said. "It was the closest driving district for me, and I had always heard great things academically about schools in Ocean Springs. I fell in love with Oak Park the moment I stepped in the doors."
Wansley was recently named Oak Park Elementary Teacher of the Year.
"There are no words that can truly describe the joy and excitement that I feel," Wansley said. "It is absolutely an honor."
Dr. Jennifer Pope, principal at Oak Park Elementary, explained that awarding a first-year teacher as Teacher of the Year has never happened during her tenure.
"Nina stands out because she has made such a difference in the lives of children," Pope said. "Her interpersonal skills are genuine and outgoing. She has gained the respect of all of the teachers at Oak Park."
Teachers nominate their peers at Oak Park to vote for the school's Teacher of the Year award.
"Nina is well respected by her peers," Pope said. "She is humble, kind, dedicated and strives daily to become the best she can be. She asks questions, researches best practices, and builds relationships with everyone she meets. She is a genuine soul."
Wansley recently started the spring semester at the USA College of Education and Professional Studies as a graduate student in the master's in Collaborative Teacher Special Education K-6 program.
"USA is an amazing school," Wansley said. "My mother graduated from South, and she enjoyed her experience. I wanted to have that feeling of true nurturing in my college experience, and I felt that South would give me that and keep me humble and grounded in my goals. I chose to return to pursue my master's because I was so impressed with the knowledge, support and great professors I was surrounded by during my undergraduate career."
Wansley shared her appreciation for the dedicated faculty and staff in the College of Education and Professional Studies.
"Dr. Linda Reeves and my supervisor, Debra Thompson, truly kept me encouraged and focused," Wansley said. "Every class brought a new experience and made me challenge myself even when I was afraid of my own capabilities. Dr. Brennan, Jennifer Simpson, Kelly Byrd, Dr. Giles, Josh Wooden, Dr. Andre Green, Dr. Todd Johnson, and Joan Holland played an imperative role in my success.
"The instructors created a classroom atmosphere that was engaging, fun and challenging. They cared about their students, and they pushed me to always be the best that I could be. I remember when I was accepted to be part of the Summer Enrichment Program. That was the best preparation that I could have ever had to prepare me for my career. South used real-life experiences and scenarios and supported you through your journey."
Wansley encourages other first-year teachers to keep all of the assignments from South, because she guarantees "the notes will come in handy."
"There have been several times that I have gone on my USB and was able to find all types of resources I had utilized in the classroom," Wansley said. "Joan Holland had us create a book for a substitute that included a letter, all the drills, seating chart, class role, and anything you could possibly need for a substitute. My very first time I actually needed a substitute, I was already prepared because of the importance of that assignment. Although we all complained about how much work went into creating this binder, I can definitely say that binder has gotten me through."
Wansley is a team player and attributes her success to never being afraid to ask questions.
"I am very big on communication," Wansley said. "My teaching style is student-driven and centered around the growth of each individual in the classroom. I am very direct with my style of teaching and set high expectations for all of my students, even my strugglers. I like to delegate my students to teach and empower them to learn from mistakes and never give up. I want all of my students to have a growth mindset. I want them to feel comfortable asking questions and also know how to debate on things that they disagree on."
While completing her student teaching at Oak Park, Wansley credits Deanna Caviness, a second- grade teacher, for her joy and inspiration.
"Deanna was always there to push me and give me encouraging words," Wansley said. "Dr. Pope and assistant principal Mr. Joey Lee were always giving me positive feedback and being honest in how I was doing with the students. There is truly an open-door policy, and we all work together as a team to give our students the best academically, mentally, physically and socially. Oak Park is a positive place that allows you to grow, and they give you the tools, resources and empowerment you need to keep going. My heart has truly been fulfilled at Oak Park."
Wansley encourages other recent graduates to return to South to pursue a master's degree in education.
"Continuous learning as a professional is important," Wansley said. " At the graduate level, you are able to hone in to your particular field of interest and gain even more knowledge about the subject to make sure you are truly gaining what you need to better yourself and your career."
Wansley received the College of Education and Professional Studies' Educator Excellence Scholarship, available to graduate students majoring in a teacher education program who have previously earned an Alabama Professional Educator certificate. This scholarship equates to 20% of tuition cost each semester for six consecutive semesters. Students granted admission to an eligible program automatically qualify and are awarded the scholarship.
To learn more about the graduate programs offered at USA's College of Education and Professional Studies and financial assistance for students, click here.
---
---