Emergency NP Post-Graduate Certificate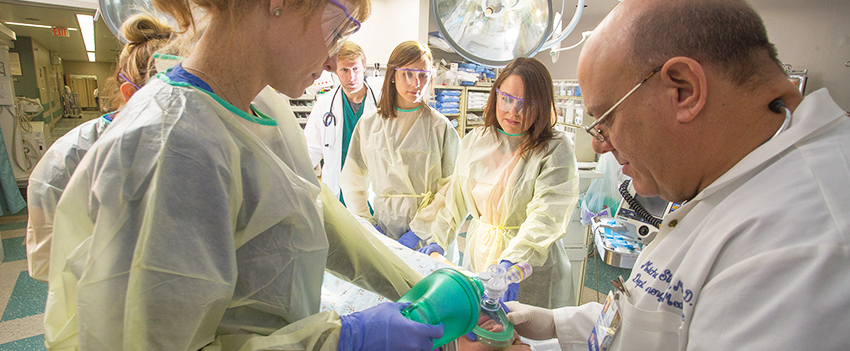 The Emergency Nurse Practitioner (ENP) post-graduate certificate prepares nurses with the experience necessary to provide direct patient management in the urgent, emergent, and trauma setting. The University of South Alabama (USA) ENP option is offered as a post-graduate certificate to Family Nurse Practitioners or as an add on post graduate certificate to students enrolled in the USA College of Nursing Family Nurse Practitioner or Dual-Role (Family NP/Adult-Gerontological Acute Care NP) concentrations.
With the combination of dynamic coursework, on-campus skills intensives, and clinical experiences, the ENP curriculum prepares students to provide care to patients of all ages. Clinical settings may include urgent care offices, emergency departments, and emergency ground/air transport services. Our rigorous post-graduate certificate curriculum consists of the following:
15 credit hours
4 semesters
420 emergency practicum hours
2 on-campus clinical intensives (3 on-campus clinical intensives starting 2023)
Upon graduation, students will be eligible to sit for the Emergency Nurse Practitioner exam for board certification offered by the American Academy of Nurse Practitioners Certification Board. Graduates must hold certification as a Family Nurse Practitioner in order to apply and become eligible for the Emergency Nurse Practitioner board certification exam. Career opportunities for ENPs include a variety of clinical settings, such as urgent care clinics, emergency department fast-track areas, main emergency departments, and trauma resuscitation units.
▼ Advanced Practice Clinical Skills Intensive
Students in the Post-Graduate Certificate Emergency NP specialty are required to attend two* NP Clinical Skills Intensives (CSI) provided by the USA Simulation Program. The first CSI provides hands-on instruction for common advanced practice assessments and procedures pertinent to the emergency clinicals starting that fall. The second phase includes simulation scenarios and standardized patient encounters to demonstrate clinical skills for evaluation prior to completing the program.
Students must sign-up to attend one session for each phase and can select preferred dates on a first come, first serve basis. Simulation will contact students with information via JagMail on how to sign-up three months prior to the scheduled dates.
Please note the dates are for Clinical Skills Intensives only. The track coordinator may provide orientation dates, which are separate from CSI and Simulation.
Phase 1: The first mandatory CSI will cover emergency clinical skills and is offered in May. Students are required to complete clinical skills before the first clinical course NU 571, offered in the fall.
ENP Phase 1 Clinical Skills Intensive Session Dates
*Session 1 is tentative and may be canceled depending on student numbers.
Phase 2: The second mandatory CSI will be during the fall semester when the student is enrolled in the last clinical course NU 577.
Clinical Skills Intensive Check-Off (Dual Role Phase 3) Session Dates
▼ Curriculum
Post Graduate Certificate students complete all support and specialty courses for a total of 24 credit hours. Students who have successfully completed the 3 P's (NU 518, NU 545, NU 578) may request a waiver of these courses. The Post Graduate Certificate must be completed within two years.
Curriculum
Support Courses
NU 518 – Advanced Nursing Assessment 3 credit hours
NU 545 – Physio-pathological Basis of Advanced Nursing 3 credit hours
NU 578 – Pharmacology for Advanced Practice Nurses 3 credit hours
Emergency NP Specialty Courses
NU 570 – Emergency Nursing I 2 credit hours
NU 571 – Emergency Nursing Practicum I – 180 Clinical Hours 3 credit hours
NU 572 – Emergency Nursing II 2 credit hours
NU 573 – Emergency Nursing Practicum II – 60 Clinical Hours 1 credit hours
NU 574 – Emergency Nursing III 2 credit hours
NU 575 – Emergency Nursing Practicum III – 60 Clinical Hours 1 credit hours
NU 576 – Emergency Nursing IV 2 credit hours
NU 577 – Emergency Nursing Practicum IV – 120 Clinical Hours 2 credit hours
Contact Information
For more information about this specialty, please feel free to contact the ENP coordinator, Dr. Wesley Davis: wesleydavis@southalabama.edu.
At this time, we are not accepting students for the ENP specialty from the following states: Louisiana, South Dakota, and New York . Contact the College of Nursing for updates regarding acceptance for the ENP post-graduate certificate.