USA College of Nursing Secures $3.4 Million to Grow Nursing Workforce
---
Posted on August 31, 2023 by Joy Washington
Joy Washington
---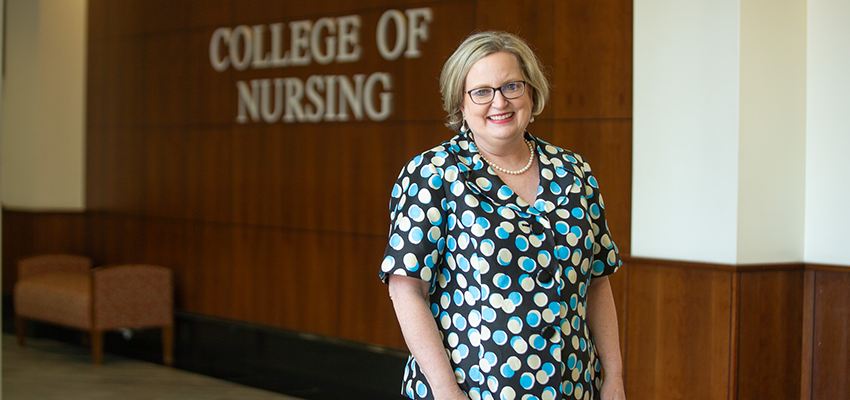 Dr. Leigh Minchew, associate dean for academic affairs in the College of Nursing, serves as the project director for a $3.4 million grant to transition licensed practical nurses and licensed vocational nurses into registered nursing careers.
---
The University of South Alabama College of Nursing has been awarded a $3.4 million, four-year grant focused on growing the number of registered nurses in clinics and hospitals, particularly in rural and underserved communities.
The Health and Human Resources and Services Administration funding will be used to develop a program to transition licensed practical nurses and licensed vocational nurses into registered nursing careers. The program, Leveling Education and Social Support Resources to Advance Professional Nursing Practice, or LEAP, will provide social and financial support for LPNs/LVNs to advance their careers.
"I am proud of our team of faculty who have worked diligently to receive this outstanding award to develop and manage the LEAP project," said Dean of Nursing Dr. Heather Hall. "This new project will build on the college's current BSN program pathways, including the traditional BSN, accelerated BSN and RN to BSN pathways. Overall, we are providing programs that will lead to the success of all of our students and continue to serve our great local and rural communities."
South's College of Nursing is the only one in the Southeast, and one of nine nationwide, to receive this grant. Serving on the nursing LEAP team and assisting Project Director Dr. Leigh Minchew are Associate Professor Dr. Theresa Wright, Assistant Professor Dr. Kimberly Jordan, Assistant Professor Dr. Jo Ann Otts, Associate Professor Dr. Kristina Miller, Assistant Professor Dr. Emily Sawyer Bentley, Clinical Placement Advising and Assessment Coordinator Kimberly Mundy; and Information Technology Specialist James (Caleb) Howard.
"The LEAP project offers an innovative online pathway to prepare LPNs and LVNs from disadvantaged backgrounds for career advancement into the BSN-prepared professional RN Role," Minchew said. "LEAP will allow our college to offer academic, financial and social support resources to students through credit for previous training and work experience as an LPN/LVN, mentorship by faculty and peers mentorship and financial stipends to promote academic success."
Minchew, who also serves as associate dean for academic affairs and associate professor, said LEAP students will gain valuable knowledge and experience in the care of vulnerable populations through clinical rotations within rural and underserved communities, where they will serve to promote health and reduce barriers to care. In addition to filling a shortage of registered nurses, the program aims to increase the diversity of the registered nurse workforce.
"LEAP aims to increase the supply and geographic distribution of professionally trained RNs by reducing barriers often faced by LPNs/LVNs in achieving their goal of higher education," Minchew said. "This program will allow students to remain in their current LPN/LVN jobs and attend school online, with faculty and peer group mentorship and virtual simulation activities scheduled along the way.
"The LPN/LVN to BSN pathway will emphasize important concepts to the profession such as social determinants of health, health equity and health literacy; leadership and skills; community health nursing competencies; and integrated behavioral health services, all of which are imperative to the future health of our communities. We will assist nurses to realize their goals for higher-level nursing positions and prepare them for future leadership roles."
An informational open house has been scheduled for 6 p.m., Tuesday, Sept. 19, to discuss LEAP's curriculum plan, pre-requisite course requirements and program application details. The first cohort of students will be admitted in spring 2024. For more information or to register for the LEAP virtual Open House, email conlpn2bsn@southalabama.edu.
---
---