Carolyn Dolan Receives 2023 AANP State Award for Excellence in Alabama
---
Posted on January 27, 2023 by College of Nursing
College of Nursing
---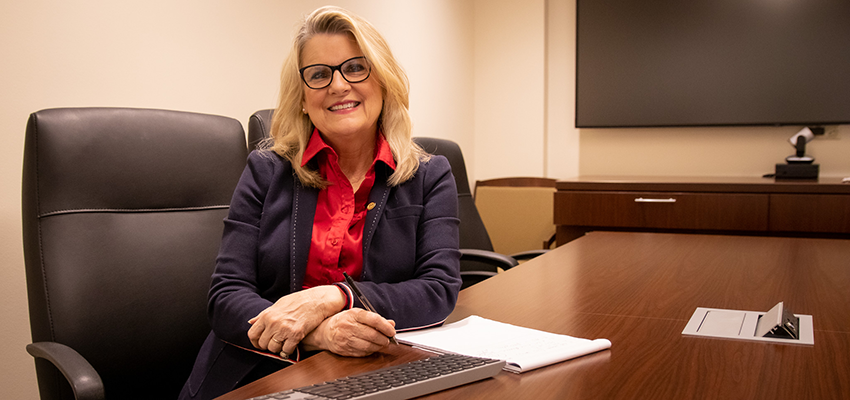 ---
In recognition of her excellence in clinical practice, Carolyn Dolan, JD, MSN, FNP-BC, PPCNP-BC, SANE-A, SANE-P, PI HRSA-SANE/ANE Grant, is being honored by the American Association of Nurse Practitioners® (AANP) as the 2023 recipient of the AANP State Award for Excellence in Alabama. Each year, nurse practitioners (NPs) across the nation are nominated by their colleagues to receive this prestigious award. Dolan, who specializes in community/mental health nursing, is a professor at the University of South Alabama College of Nursing in Mobile.
Dolan earned her juris doctorate degree from Faulkner University (Jones) and her master's degree in nursing from the University of South Alabama. She earned her bachelor's degree in nursing from Auburn University Montgomery and her associate degree of nursing from Polk College.
Dolan's research interests include forensic nursing curricula, trauma recovery, advanced practice roles and prescribing issues for nurse practitioners.
"To be chosen by the AANP for the state of Alabama's NP Excellence in Clinical Practice is an honor of a lifetime. I am deeply appreciative of the award and accept with great humility cognizant of the fact that there are hundreds of NPs around the state who also work tirelessly to provide excellent patient care, collaborate within Alabama's healthcare system and elevate the visibility and the status of the NP. I am fortunate to serve alongside a legion of leaders at South and also at Victory Health. To my colleagues, student NPs, Drs. Lightfoot, Wing and Leytham (my MD collaborators), patients who call me their NP and others who have touched my professional life, I say thank you," Dolan said.
The AANP State Award for Excellence was established in 1993 and is given to an NP in each state who demonstrates excellence in clinical care. In 1993, the AANP Advocate State Award for Excellence was added to highlight the efforts of individuals who have made a significant contribution toward increasing the awareness and recognition of NPs. Awards are distributed to the recipients throughout the year, with recipients honored during the annual AANP national conference. AANP is the largest professional association for NPs of all specialties, with more than 121,000 members and headquarters in Texas and Washington, D.C.
---
---