Inaugural USA College of Nursing DAISY Award
---
Posted on November 16, 2022 by College of Nursing
College of Nursing
---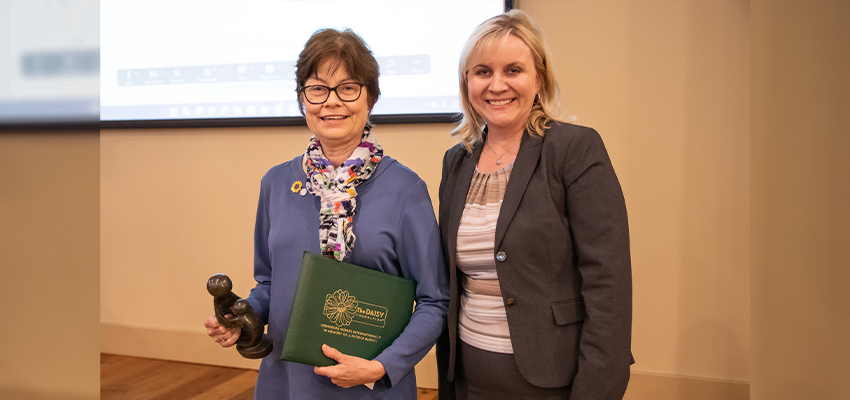 ---
Dr. Brenda Woodmansee, assistant professor of adult health nursing, has been selected as the recipient of the inaugural USA College of Nursing DAISY Award for Extraordinary Nursing Faculty. The DAISY Award for Extraordinary Nursing Faculty was created to celebrate the inspirational influence faculty members have on the nurses of today and tomorrow.
Seven faculty members from the College of Nursing were nominated for the inaugural award and recognized for their impact as early role models for student nurses. Nominees include Dr. JoAnn Otts, Dr. Rebecca Thomas, Brady Urquhart, Dr. Terry Ann Sturm, Judy Azok, Micki Korn and Dr. Brenda Woodmansee.
"It means a lot to me to even be nominated for the Daisy Award. I'm very honored to be the first recipient of the award at the College of Nursing. I appreciate that my peers thought of me when this opportunity arose," Dr. Woodmansee said.
The DAISY Foundation was created by the family of J. Patrick Barnes with the intention of being able to give back to the nurses who give so much of themselves to patients and families every day. Now, more than 4,500 academic and healthcare organizations are recognizing nurses around the world through The DAISY Award.
When asked what is her favorite part about teaching future nurses, Dr. Woodmansee said, "By far, the lightbulb moment -- when I can see a student grasp a difficult subject or when I see a student make a connection between what we have taught in class and what they see in the clinical setting taking care of patients."
Dr. Woodmansee earned her Doctor of Nursing Practice degree at Samford University. She earned her master's and bachelor's degrees from the University of South Alabama. She began her nursing career after earning an associate's degree from Mississippi Gulf Coast Junior College.
---
---