Be Your Best with the Best: University of South Alabama College of Nursing's Online RN to BSN Program is Highly Ranked
---
Posted on June 28, 2021 by Jamie Walden
Jamie Walden
---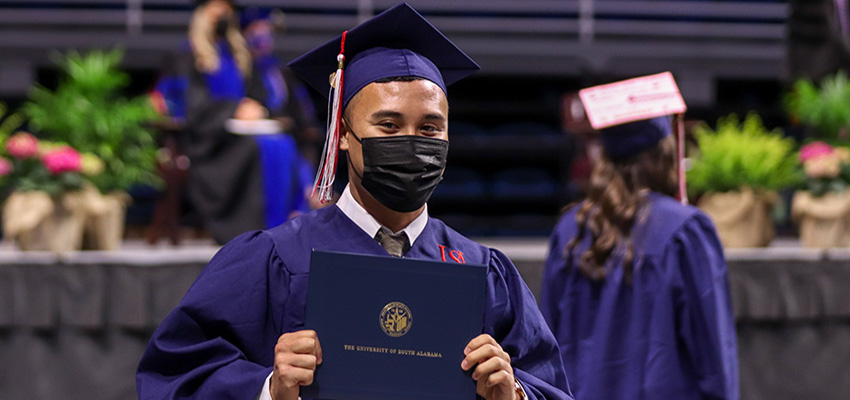 ---
You've done it, you've locked into the hustle and you're getting or have already gotten your RN. Thoughts of getting your BSN swirl in the back of your head. If you're hesitant about making the jump, wait no more! The University of South Alabama College of Nursing (USACON) has the program built just for you to fast track yourself to a BSN with the one of the best, fastest, and most affordable online BSN program in the state.
USACON's accolades speak volumes about what you can expect when you're taking your career to the next level. Here are a few reasons to choose USACON:
As the fastest RN to BSN program in the state, your next degree can take as little as two semesters to complete with a full-time schedule. If that's too much schooling to handle all at once, USACON's program is flexible and lets you tackle your degree at your own pace.
As the most affordable online RN to BSN in Alabama, USACON's program won't break your bank account and helps you put money back in your pockets faster. We have some of the most competitive online prices in the country. With a recent 30% decrease in tuition costs—down to $328 per credit hour—it's now more affordable than ever to pursue your RN to BSN degree. Additionally, you can complete all of your direct and indirect clinical hours at your current place of employment. That's a deal you can put money on.
Ranked #2 as the best overall RN to BSN online program in the state by RNtoMSN.org, you know you're getting the best when you join the USACON team. Our students have incredible NCLEX pass rates and our program has strong ties with area hospitals. At USA, our hospital supports a regional burn unit and a rapidly expanding Level 1 Trauma Center along with the only Level III neonatal ICU in the surrounding Mobile and Baldwin County areas. Our students also have the opportunity to gain clinical hours at USA Heath Children's and Women's Hospital, USA Health University Hospital, USA Health Mitchell Cancer Institute, or USA Health Ambulatory Centers. We prepare for real-world healthcare experiences and have the professional relationships to make sure you find a job upon completing your degree.
Fast-tracking your future at your convenience
The beauty of a fully online program means you can advance your degree on your own schedule. You can work full-time and fulfill your school responsibilities on the side. Plus, you can work from anywhere. There's no getting up super early to rush to campus, find parking, and stumble into lecture. . No, your education happens at your own pace in your own environment. We believe in having accessible healthcare courses for healthcare providers, because we get it. We know what it's like to be in scrubs, working the long hours, grabbing a bite of food on the run, and skipping breaks. Choosing USACON's RN to BSN program means choosing a renowned educational opportunity created with working nurses in mind.
Coursework for the RN to BSN program can be completed in as little as two semesters. USA admits students every semester so you can start your program at any time during the year. Additionally, all classes are offered each semester to keep you on track to graduate without the delay of waiting for certain course offerings. This ensures you can take the classes you need, when you need them.
The USACON difference
One of the most unique experiences of studying with USA is the fact that our students have full and unrestricted access to a state-of-the-art simulation program housed in a brand new 39,000-sq.-ft. facility. The College of Nursing works in collaboration with the simulation to offer realistic clinical learning experiences. A vast number of simulations are available to our student body which allow our trainees to practice and advance their knowledge in a safe, stable environment to better prepare students for the ever-changing world of health care.
Let us help you level up your learning with the USACON RN to BSN program. Your future is filled with possibilities. The more knowledge you have to your name, the better opportunities open up to you. Don't wait any longer. Check out our program online and apply today!
Top School Summer Giveaway!
Apply for enrollment by Friday, July 30, 2021 for a chance to win a $150 Gift Card. Even if you haven't started your application yet, just click, enter your name, email address and phone number and you'll be entered to win a $150 Gift Card once your application is completed by July 30. Winners will be notified the first week of August 2021.
---
---