Honoring Veterans Through Excellent Healthcare: The Critical Role of Nurses Working with Our Nation's Heroes
---
Posted on November 18, 2020 by Jamie Walden
Jamie Walden
---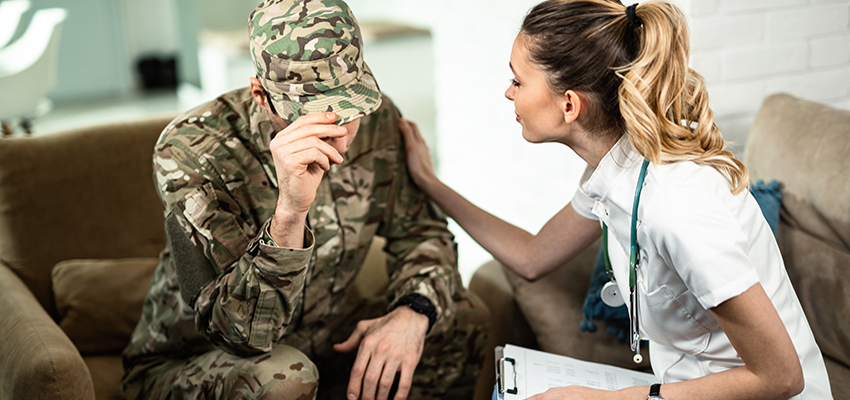 ---
There are approximately 22 million military Veterans living in the United States. Nurses in all practice settings likely will have Veteran patients — many of whom have special healthcare needs. In addition to serving U.S. military Veterans by providing high-quality, compassionate care, nurses play a significant role in their patients' recovery.
Serving as a nurse working with Veteran populations requires a special personality and passion for the job. According to Dr. James L. Harris, Professor and Coordination of the Clinical Nurse Leader Track at the University of South Alabama College of Nursing, one of the greatest opportunities for any registered nurse is privilege of caring for America's hero, the Veteran. For a 25-year period, Dr. Harris has provided direct care to Veterans and their families who have experienced the trauma and challenges associated with mental illness.
The National Council for Behavioral Health (NCBH) estimates that approximately 30% of military veterans deployed in Iraq and Afghanistan have a mental health condition that requires treatment, adding that many are experiencing PTSD and major depression. The NCBH also estimates that less than half of returning veterans in need of care have received mental health treatment and that approximately 22 veterans commit suicide each day. Meanwhile, The National Institute of Mental Health (NIMH) reports that approximately 1 in 5 United States adults lives with a mental illness. For all these reasons, the need for qualified mental health professionals within the Veteran healthcare services community is critical.
"I've gained much insight into the challenges and coping styles of Veterans as a direct care provider and therapist. These roles positioned me to be a better nurse who truly understands the challenges of trauma and effective coping," said Dr. Harris. "These opportunities validated the value of my undergraduate education at the University of South Alabama and opened new venues to coach and lead other nurses in the Department of Veterans Affairs as clinicians, educators, researchers, and leaders."
Nurses who are interested in helping this population may find that completing an advanced degree, such as an online Master of Science in Nursing with a specialization in Psychiatric Mental Health (PMHNP) can propel them toward that goal. Graduates of PMHNP programs often have the skills and expertise needed to work as an advanced care nurses at VA jobs.
"As Veterans continue to manage the challenges of mental illness, I encourage registered nurses to advance their education and skills and consider a career in mental health nursing. Every skill and the knowledge gained during a nursing program of this study will be used," notes Dr. Harris.
Key Skills Necessary for Nurses Working with Veterans
There are several skills vital for nursing roles that engage directly with Veterans. For example, these nurses should demonstrate enhanced leadership, critical thinking, and social skills, as well as proficiencies that may be unique to working with Veteran patients, such as advanced knowledge of combat injuries and a sensitivity to discussion topics that may trigger PTSD symptoms.
Leadership
Professionals who want to pursue jobs working with Veteran populations must have strong leadership skills. They must be confident and honest and apply a positive approach to patient care. Ultimately, these competencies help build higher levels of patient trust. Patients who trust their doctors and nurses are more likely to share information about their health, such as whether they're experiencing anxiety or depression, which can lead to better treatment outcomes.
Critical Thinking
Critical thinking will be necessary to interpret, analyze, and evaluate patient data. This skill is critical in helping nurses to spot subtle symptoms, such as weight loss or insomnia, which may indicate a patient is developing a mental health or substance abuse problem. RNs who are adept critical thinkers can identify and analyze important patient information to help save lives and improve the overall quality of life for the Veterans they serve.
Interpersonal Skills
Nurses are frequently the first healthcare professional a patient interacts with when seeking treatment. In addition to having advanced medical knowledge, nurses who work with Veteran populations must have strong social skills so they can receive and relay information accurately. The nurses who demonstrate strong interpersonal skills often find they have better relationships with patients and colleagues alike.
Advanced Knowledge of Combat Injuries
Veterans may have experienced one or more combat-related injuries, such as gunshot wounds or the loss of a limb. According to the American Sociological Association, this combat exposure increases Veterans' likelihood of experiencing poor health and exhibiting disabilities later in life. Nurses who possess advanced knowledge of combat injuries—as well as their possible short-term and long-term effects—provide an advanced quality of patient care.
Emotional Intelligence
A nurse's emotional intelligence has a direct impact on the level of care he or she provides. For example, according to Dr. Harris, nurses who work at the VA must understand how their own body language and their tone of voice, as well as common sounds/noises, might impact a patient who suffers from PTSD.
"Veterans have a voice, and as nurses we must actively listen and guide them toward many successes as they manage their individual and collective challenges. That is the key to a mental health nurse caring for Veterans," says Dr. Harris. "The rewards you experience working with our nation's heroes far outweighs any challenges you may face on the job. The stories you'll hear and the lessons you'll learn from this incredible group of men and women will change you for the better. Caring for Veterans is a true honor, and they deserve the very best healthcare we can provide them."
Learn More About Nursing Career Paths with Veterans
The University of South Alabama College of Nursing offers several tracks that allow and facilitate registered nurses the privilege of working with our nation's heroes. Upon completion of the Master of Science in Nursing Program, students will have developed the fundamental skills they will need to excel in a career devoted to serving those who have served their country.
As a longtime advocate and now a proud faculty member at the University of South Alabama College of Nursing in his second career, Dr. Harris challenges each of you to choose the University of South Alabama College of Nursing for lifelong learning opportunities. Go Jags!
NEW YEAR, NEW START GIVEAWAY - ENTER TO WIN A $150 GIFT CARD
Take the next step! Enter your email address to be contacted by USA College of Nursing for more information about our online RN to BSN program. Those who provide their email address will be entered to win a $150 Gift card! Click here for details.
---
---